Weaver to see specialist for neck issue
Angels starter has mild degenerative changes in cervical spine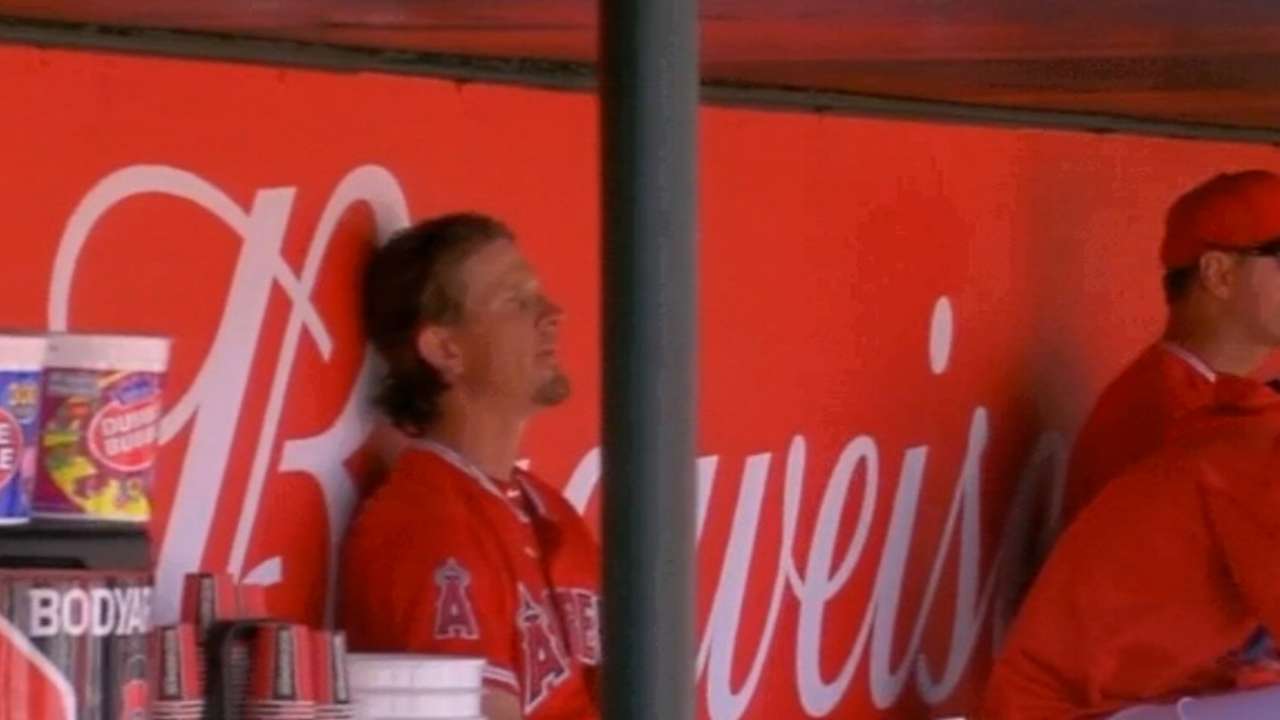 TEMPE, Ariz. -- The diagnosis on Jered Weaver: mild degenerative changes in his cervical spine.
The medical terminology probably makes it sound a little bleaker than it actually is, but Weaver will nonetheless visit with a spine specialist Monday. The 33-year-old right-hander won't make his scheduled Cactus League start that day, but he will continue to play catch.
Weaver topped out at 81 mph while serving up three home runs against the Dodgers on Wednesday, then complained of neck tightness and underwent an MRI the following morning.
• Spring Training: Schedule | Tickets | Information
On Friday, Weaver spoke of "neck tension that is causing me to not be able to throw the ball like I want to." Some form of neck tightness has "always been there," he said. "I just didn't think it had anything to do with the throwing motion."
Weaver said the neck issue is "not painful, just restricting."
Weaver has played catch on back-to-back days and took part in pitchers' fielding practice Saturday morning, but the Angels won't know when he can return to game action until early next week.
C.J. Wilson, recovering from a brief bout with shoulder tendinitis, and Tyler Skaggs, easing his way back from Tommy John surgery, are each expected to start the season on the disabled list. If Weaver does, too, the Angels will be left with five starters for their Opening Day rotation -- Garrett Richards, Andrew Heaney, Hector Santiago, Matt Shoemaker and Nick Tropeano.
Pitching prospect Nate Smith, a 24-year-old who struggled mightily with his Triple-A promotion last summer, will take Weaver's place Monday and would be next on the organizational depth chart.
Weaver is set to make $20 million in his final season before free agency, and many have wondered if he will retire if he doesn't rekindle some of the life on his fastball.
Alden Gonzalez is a reporter for MLB.com. Follow him on Twitter @Alden_Gonzalez and Facebook , and listen to his podcast. This story was not subject to the approval of Major League Baseball or its clubs.