Uehara makes spring debut, ready for new role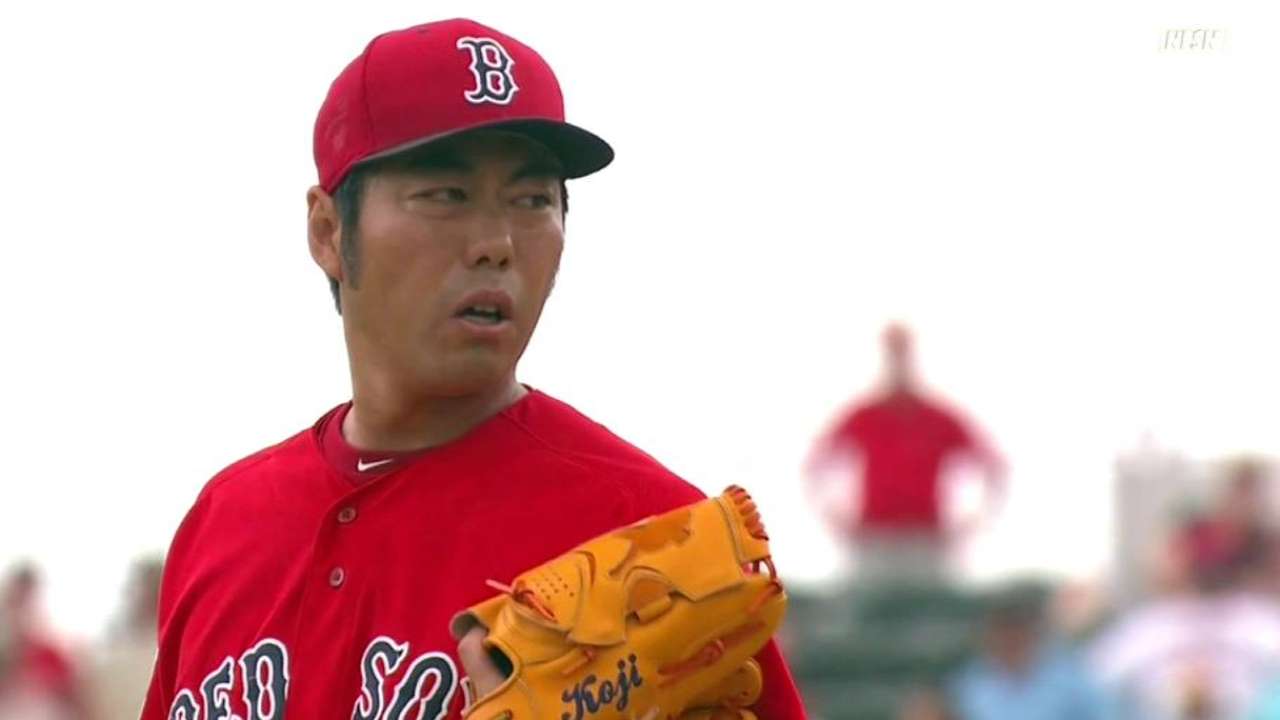 FORT MYERS, Fla. -- Red Sox reliever Koji Uehara returned to game action on Saturday for the first time since Aug. 7 when a line drive off the bat of the Tigers' Ian Kinsler fractured his right wrist, ending his season.
Uehara went one inning against the Marlins in Saturday's 11-8 loss. Facing six batters, he gave up one run on three hits with two strikeouts. He threw 19 pitches, 13 for strikes.
"I think Koji's first action since August was as anticipated," manager John Farrell said. "They execute a hit-and-run, a couple of ground balls found some holes. But I thought he showed some decent action to his split, and with each added appearance, there'll be additional arm strength and action to his fastball."
• Spring Training: Schedule | Tickets | Complete info
Although it wasn't the lights-out inning that had become Uehara's signature, for his first appearance in a game in more than seven months, he was satisfied with his performance.
"I feel great that I was able to get out on the mound and come off the field healthy," Uehara said.
Despite the long layoff and the injury to his pitching arm, he didn't notice any difference in his grip.
"Since it's the first outing after a long while, I can't really tell if there was a difference," Uehara said. "My out pitch is the split, and I wanted to make sure I could throw it, and that's what I did."
In the offseason, Uehara lost his closer's job when the Red Sox sent four prospects to San Diego to acquire Craig Kimbrel from the Padres. It's a role Uehara took over in the middle of 2013, recording 71 saves in the process.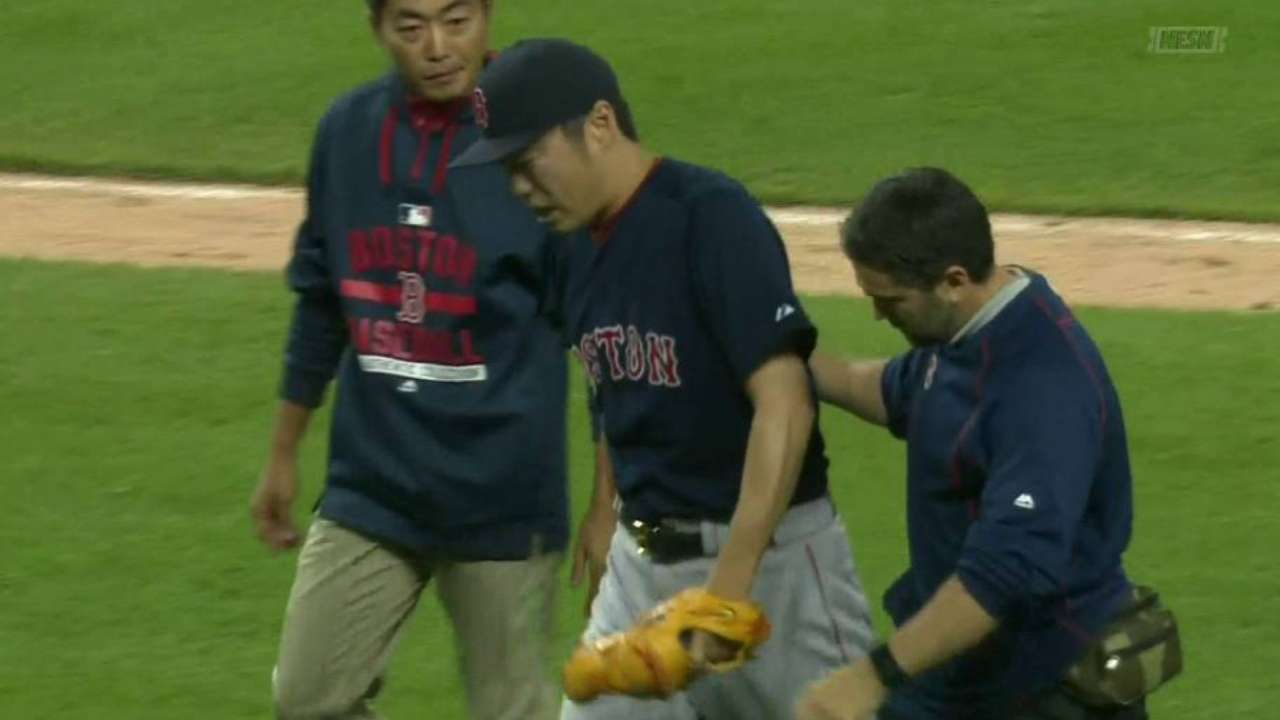 Without him in that role, it's not an exaggeration to say the Red Sox would not have won the World Series in 2013. But Uehara gave his blessing to the addition of Kimbrel.
"He's probably the only guy who has a shot getting Mariano's [Rivera save] record, so that speaks a lot about him," Uehara said.
Now, though, Uehara must adjust to going back to a setup role. Some closers see their approach change when they are taken out of the high-intensity role. Uehara doesn't expect to do anything differently.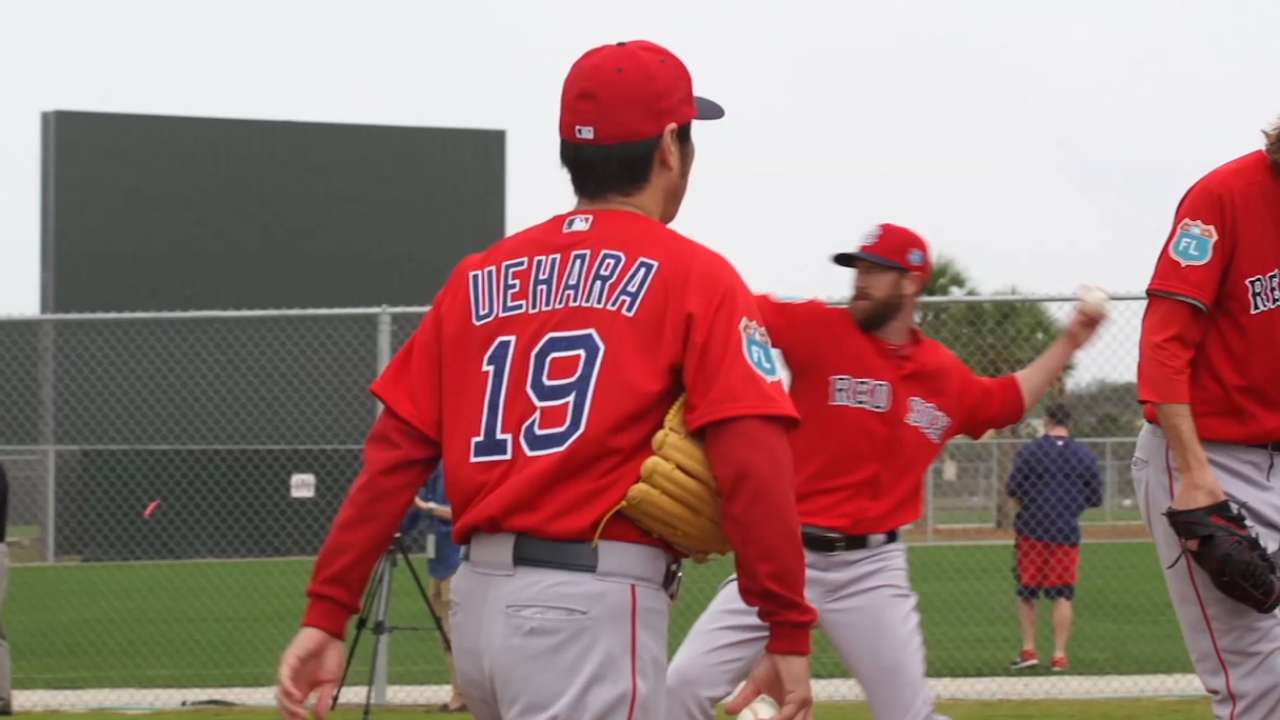 "Nothing," Uehara said. "No changes."
Because of the injury, the Red Sox had been cautiously proceeding with Uehara, who will be 41 next month. He's not taking for granted that a bullpen spot belongs to him.
"I feel that we have a luxury [with bullpen depth], but I need to be on the team to be a part of that, so I'm going to try to earn my spot," Uehara said.
Farrell said he expects Uehara to get 6-8 appearances in spring games to be ready for Opening Day.
Worth noting
• Left-hander Eduardo Rodriguez suffered a subluxation of his right knee on Feb. 27. He has not pitched from a mound since. There is no timetable to get on a mound. It appears he is unlikely to be ready for Opening Day.
• Catcher Ryan Hanigan was in the Red Sox original lineup on Saturday, but he was scratched with a headache.
• Left-hander Carson Smith has been dealing with back spasms. He threw a bullpen on Thursday, but Farrell said Smith would need to throw from a mound at least once more before getting into a game. He has not pitched in a game last Sunday.
Maureen Mullen is a contributor to MLB.com. This story was not subject to the approval of Major League Baseball or its clubs.