Phillies, Blue Jays combine for four homers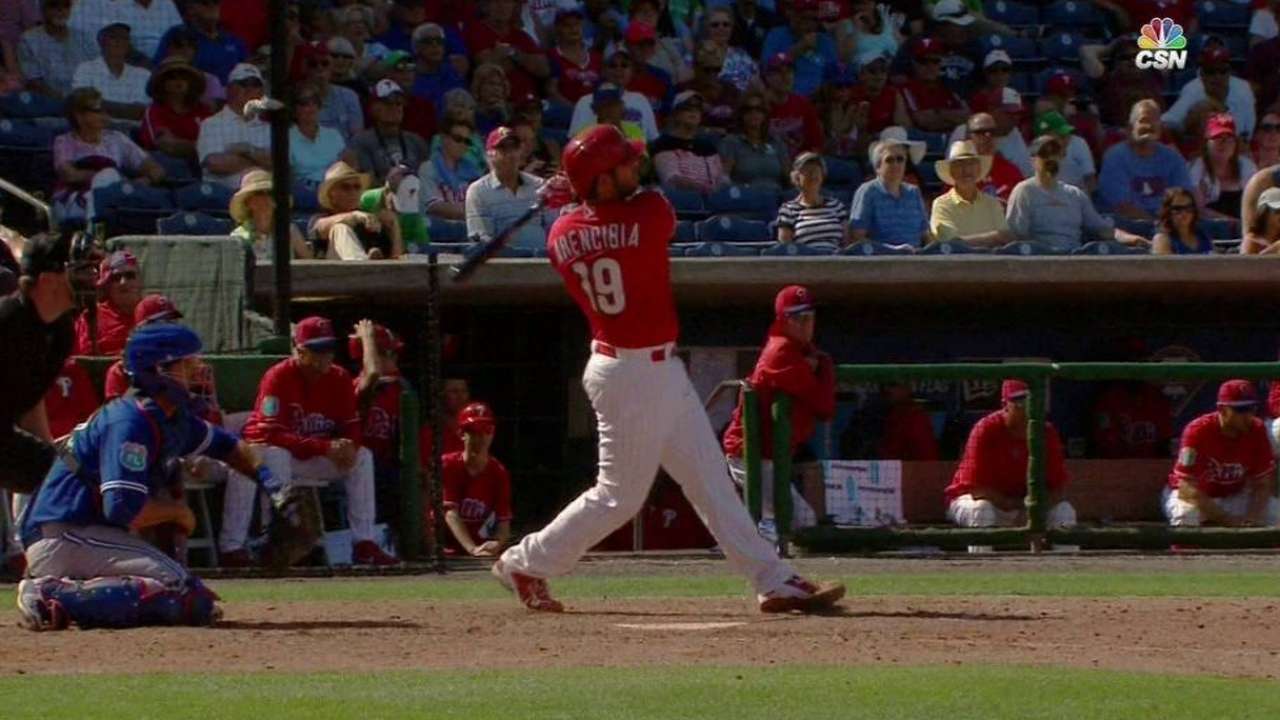 CLEARWATER, Fla. -- Home runs by David Lough, J.P. Arencibia and Nick Williams lifted the Phillies to an 8-5 Grapefruit League win over the Blue Jays at Bright House Field on Saturday.
The rebuilding Phillies are undefeated in their last eight games. They are 7-0-1 in that span and 9-3-2 overall. It was just the second loss of the spring for the defending American League East champion Blue Jays, who started a lineup that included Josh Donaldson, Jose Bautista and Troy Tulowitzki.
Lough is a non-roster outfielder, and Arencibia a non-roster catcher. Lough also figured in the Phillies' run in the fifth when he hit a one-out infield single, stole second, hustled to third on a fly ball and scored on a single by Odubel Herrera.
• Lough's hustle impresses Mackanin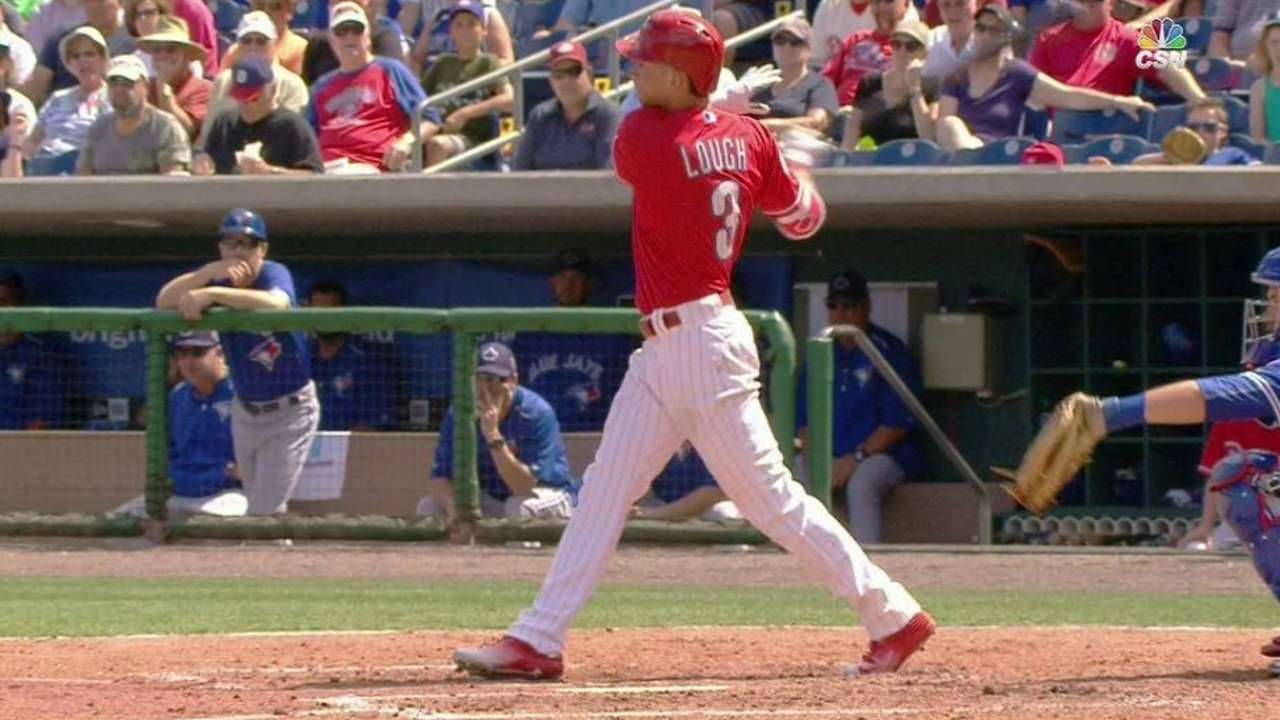 The Blue Jays scored first with two runs in the top of the second against Phillies starter Vincent Velasquez, who is competing for a spot in the rotation.
First baseman Chris Colabello led off with a triple and scored when left fielder Michael Saunders singled up the middle. Saunders later scored on a groundout by catcher Josh Thole.
Velasquez gave up two runs on four hits and two walks while recording three strikeouts over four innings.
"I'm not trying to think about [making the team]," Velasquez said. "I'm not out there thinking about how I have a chance to win [a job]. I just want to pitch. I couldn't think about anything else but who I'm going up against. The Blue Jays, that's a tough lineup."
• Velasquez shows speed isn't everything
The Phillies came back to tie the score against 41-year-old knuckleballer R.A. Dickey in the bottom of the third after the 2012 NL Cy Young Award winner set them down in order in the first two innings. Lough hit a two-run shot with one out when Dickey experimented with a fastball.
"It was just a situation to work on something, a fastball in that ran back over the plate," Dickey said. "In an in-season game, I wouldn't have messed with it, but it was a great opportunity and a great spot to be able to try to use that and get some feedback from it. I got some great feedback, I need to execute a little bit better. It was a great day all around."
• Dickey's spring his best as a Blue Jay
Arencibia's home run came against veteran Brad Penny with one on in the bottom of the sixth. Arencibia also swatted an opposite-field double over the head of right fielder Roemon Fields in the bottom of the eighth, but he immediately left the game for pinch-runner Logan Moore with an apparent injury. Moore scored on Williams' three-run homer off Roberto Hernandez.
"I don't know where this power's coming from, but I like it," Phillies manager Pete Mackanin. "It's fun to win games. The guys are playing hard, and it's fun to do well. I know this is Spring Training and a lot of things are different, but it's always good to win and keep everybody positive."
Jio Mier, who took over for Tulowitzki at shortstop, brought the Blue Jays within a run with a two-run home run in the top of the eighth before Williams' homer knocked the game open.
Blue Jays center fielder Kevin Pillar had a tough day. He led off the game by smoking a long fly ball to the wall in center but was robbed of extra bases when Herrera made a terrific running catch. In the fifth he ripped a line drive down the left-field line that third baseman Maikel Franco speared with a diving catch.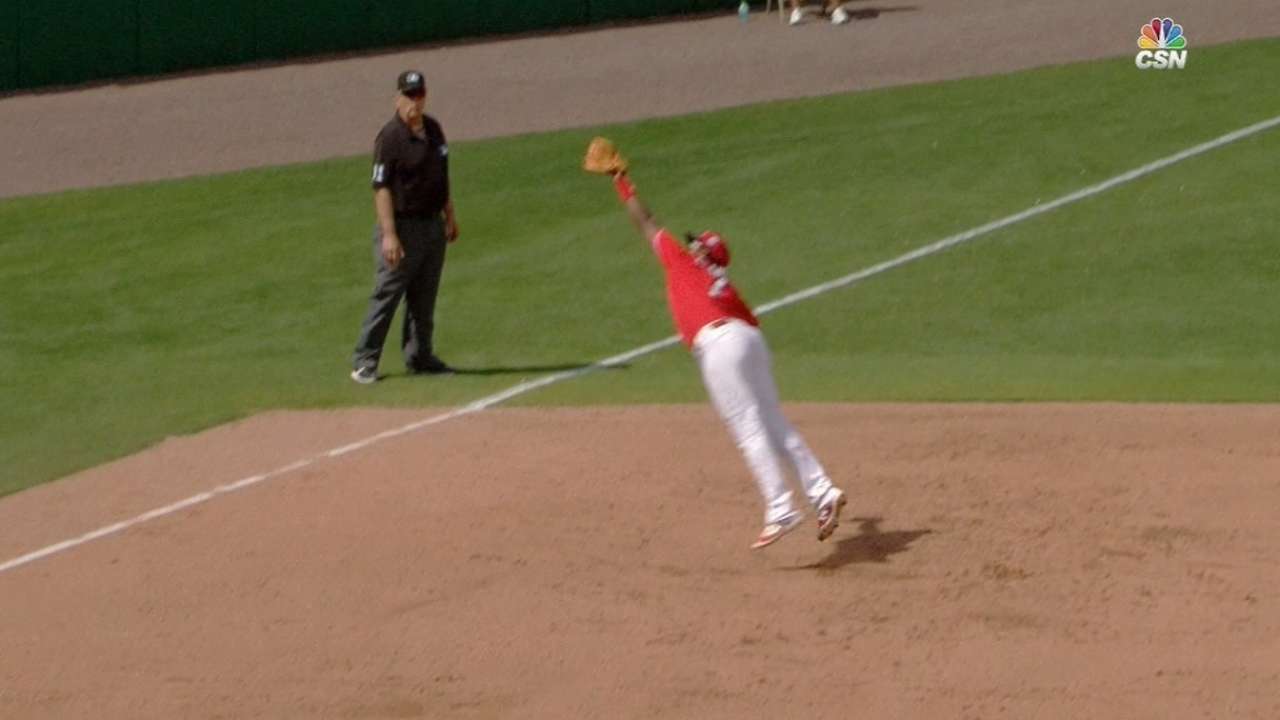 Up next for the Phillies: Left-hander Adam Morgan, who is competing for a spot in the rotation, will make his third Grapefruit League start, against the Yankees on Sunday at George M. Steinbrenner Field. First pitch is scheduled for 1:05 p.m. ET, and the game will air on MLB.TV and Gameday Audio. Morgan was the Phillies' third-round Draft pick in 2011, and he missed the entire 2014 season recovering from shoulder surgery. Left-handers Brett Oberholtzer and Daniel Stumpf will also pitch for the Phillies.
Up next for the Blue Jays: Right-hander Aaron Sanchez will make his first start of the spring when the Blue Jays host the Rays on Sunday afternoon at Florida Auto Exchange Stadium. First pitch is at 1:07 p.m. ET, and the game will air on MLB.TV. Sanchez made his previous two appearances out of the bullpen but for this outing he will switch spots with right-hander Gavin Floyd. The two pitchers are competing for the final spot in Toronto's bullpen. Other pitchers scheduled to appear include: Arnold Leon, Pat Venditte and David Aardsma.
Paul Hagen is a reporter for MLB.com. This story was not subject to the approval of Major League Baseball or its clubs.