Liriano honored to get Opening Day nod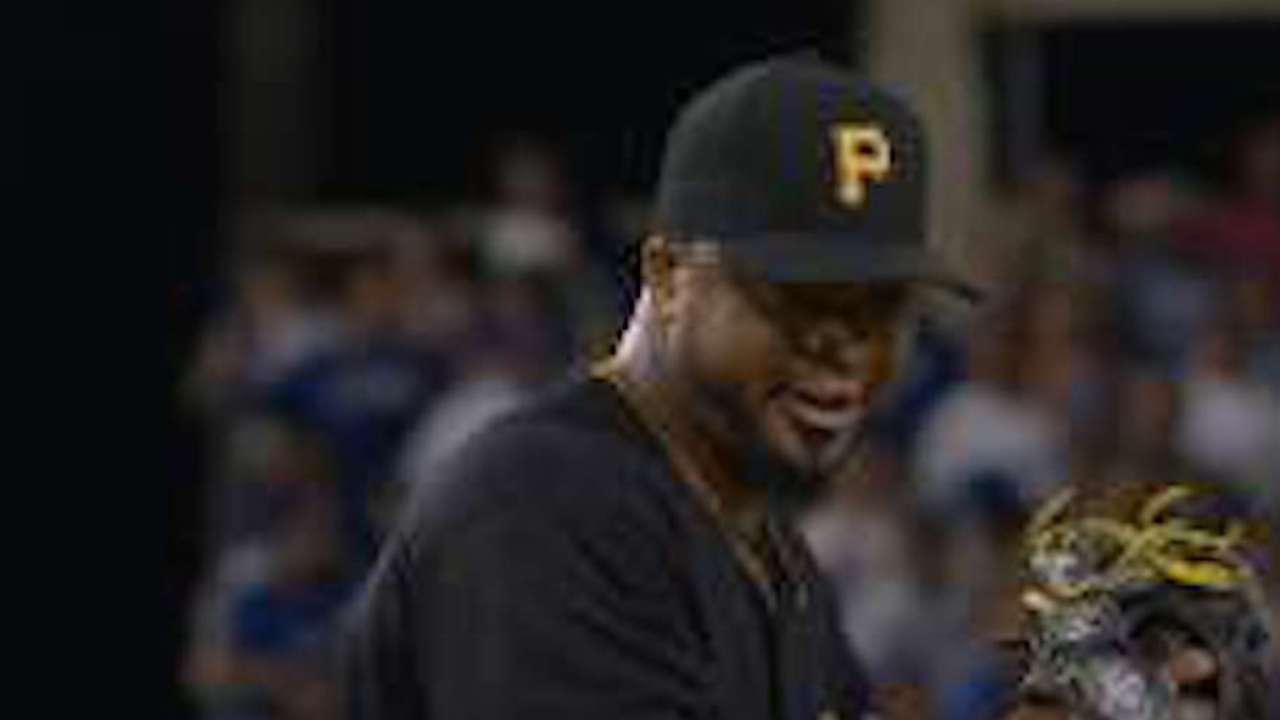 BRADENTON, Fla. -- Like most everyone else, Francisco Liriano thought he knew who the Pirates' Opening Day starter would be. Dubbed by manager Clint Hurdle last year as the club's "must-win" starter, Gerrit Cole seemed like the logical pick.
So Friday's announcement came as a bit of a surprise to Liriano. Hurdle approached the veteran left-hander before the Pirates' game vs. the Rays at McKechnie Field and informed him he'd be making his third straight Opening Day start for the Pirates.
• Spring Training: Schedule | Tickets | More info
"Even though he's a little behind schedule, I thought [Cole] was going to pitch," Liriano said Saturday morning, prior to the Pirates' 3-0 loss to the Tigers. "I was a little surprised yesterday, but like I said, just very happy."
Slowed since the start of Spring Training by a right rib inflammation, Cole knew he probably wouldn't be ready in time for the Pirates' April 3 opener against the Cardinals at PNC Park.
Cole will make his first Grapefruit League start on Sunday, pitching two innings against the Tigers at McKechnie Field.
The Pirates have the right-hander's spring schedule mapped out, and if all goes well, he would be ready to throw six innings (up to 100 pitches) on April 3, but no sooner.
The Pirates prefer to have their starters reach that threshold during Spring Training so their arms are built up to withstand a full regular-season game's workload, so they opted to start Liriano on Opening Day and push back Cole's first start.
"I think when I first came into camp, I knew that a situation like this was probably a strong possibility," Cole said. "We discussed the situation yesterday. It just made sense to finish the process first before we take the next step."
Though he expected Cole to get the nod, Liriano was honored to receive the assignment.
"It means a lot to me," Liriano said. "It's another game. I'll just try to go out there and enjoy myself."
Over the last three years with Pittsburgh, Liriano has gone 35-25 with a 3.26 ERA while averaging more than a strikeout per inning. He threw 186 2/3 innings over 31 starts last season, and he's determined to reach the 200-inning mark this season.
An All-Star in 2006, Liriano logged a 4.75 ERA from 2008-12. He became a free agent and signed with the Pirates the following offseason. The Pirates helped him revive his career, and in return, he has helped solidify the top of their rotation.
Last season, Liriano became the first Pirates pitcher to start on consecutive Opening Days since Oliver Perez did so in 2005-06. This year, he will become the first Bucs pitcher since Doug Drabek (1990-92) to make three straight Opening Day starts.
"I think it means that I'm being more consistent than I used to be before. I wish I can continue to do that and be more consistent, hopefully go deep into games and throw more innings this year. Like I said, do everything to help the team win some ballgames. Getting the Opening Day ball means a lot to me."
Adam Berry is a reporter for MLB.com. Follow him on Twitter at @adamdberry. This story was not subject to the approval of Major League Baseball or its clubs.