MLB.com Columnist
Jim Callis
Inbox: Looking back at Rangers' dominant farm
Jim Callis answers fans' questions about baseball's future stars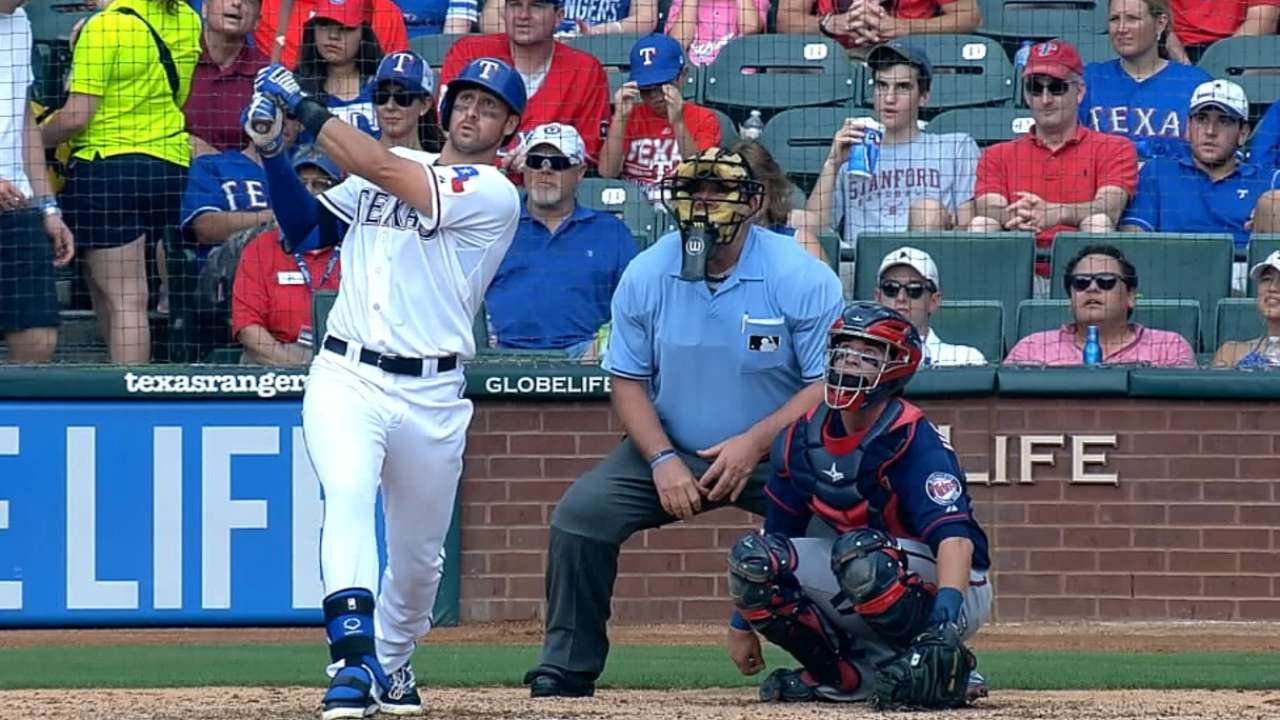 I've been running around the Cactus League for a week, and I'll visit five more camps in the next five days. My favorite part of Spring Training is watching Minor League games on the back fields, though right now it's a bit early to have many of those. I did luck into a Rangers-Padres contest at Peoria on Tuesday, which came with an unexpected sight in the late innings: Matt Bush.
Drafted No. 1 overall in the 2004 Draft by San Diego as a shortstop, Bush switched to pitching in 2007 and had Tommy John surgery a year later. He had reached Double-A in the Rays organization when he was sentenced to 51 months in prison following a March 2012 incident in which he nearly killed a motorcyclist while driving drunk. Released from prison last October, Bush signed a Minor League contract with Texas two months later.
On Tuesday, the 29-year-old Bush pitched an inning and operated at 96-98 mph with his fastball and at 78-80 mph with a downer curveball. If he can stay sober and harness his live arm, he could become a relief option for the Rangers.
Click here to submit an Inbox question
@jimcallisMLB Where would the '13 Hickory team (Gallo, Brinson, Mazara, Alfaro, Williams, Edwards, Sadzeck, Faulkner ect.) rank as a system?

— Christopher Fittz (@apoplecticfittz) March 4, 2016
Christopher posed this question during my Twitter chat about MLBPipeline.com's Rangers Top 30 Prospects list last week, and I needed more time to think about it. That 2013 Crawdads clubs featured five current overall Top 100 prospects in third baseman Joey Gallo (No. 9), outfielders Lewis Brinson (No. 16), Nomar Mazara (No. 18) and Nick Williams (No. 64) and catcher Jorge Alfaro (No. 96), with the latter two since joining the Phillies as part of the Cole Hamels trade.
Hickory also had six additional players on club Top 30s: right-handers Carl Edwards (who went to the Cubs in the Matt Garza deal), Jose Leclerc, Connor Sadzeck and Sam Wolff, lefty Andrew Faulkner and first baseman Ronald Guzman. And for the sake of argument, we'll give the Crawdads credit for righty Keone Kela and outfielder/third baseman Ryan Rua, who graduated to the big leagues last year.
Hickory would be short on depth, but it would have the best prospect trio in baseball. I favor star power over depth when it comes to ranking systems -- though both are important -- and I'd be comfortable placing the Crawdads among MLBPipeline's Top 10. I'd put them at No. 7, between the Red Sox and Phillies.
@jimcallisMLB @MLBPipeline @MLBDraft Lourdes Gourriel jr upside and will he be signed soon and when will he be in mlb?

— Chris B (@cbeddick66) March 10, 2016
I like Gurriel's upside more than I like his chances of signing soon. He'll pocket a lot more money if he waits until he turns 23 on Oct. 19, at which point he won't be subject to the international bonus pools. If Gurriel were to sign before then, the large bonus he'll command would be high enough that a team would have to pay a matching amount as a penalty tax, meaning that the Commissioner's Office would collect half the money the club would be willing to give up for him.
Gurriel can't quite match the ceiling of his older brother and co-defector Yulieski, a third baseman widely considered to be the best player in Cuba before he left, but Lourdes Jr. is nine years younger and has a longer career ahead of him. He profiles as a third baseman or outfielder with innate hitting ability, solid power potential, average speed and a strong arm. He has the tools to become an All-Star, especially if he can remain in the infield.
@jimcallisMLB @MLBPipeline @MLBDraft When can we expect 2016 mock draft? Also, what are your thoughts on C Cooper Johnson? Round drafted?

— Thai (@FANspire) March 8, 2016
Jonathan Mayo and I will start bombarding you with weekly Draft projections in May. We'll start ramping up MLBPipeline's Draft coverage before then, expanding our Top 50 Prospects list to 100 in April and to 200 the following month.
As for Johnson, he's the top defensive catcher in this year's high school crop, with a strong arm and advanced receiving skills. The Carmel Catholic High (Mundelein, Ill.) product is more of a contact hitter right now, but he has some bat speed and power potential. If Johnson has a big spring with the bat, he'll be a first-rounder, though it's safer to project him as a second-rounder right now.
Jim Callis is a reporter for MLB.com. Follow @jimcallisMLB on Twitter. This story was not subject to the approval of Major League Baseball or its clubs. This story was not subject to the approval of Major League Baseball or its clubs.