Rox see benefits of De La Rosa's delayed debut
Ace takes time to build himself up, then tosses three perfect innings
SCOTTSDALE, Ariz. -- The Rockies were in no hurry to get Jorge De La Rosa on the mound, but it might have been a bit tougher than usual -- in Spring Training, at least -- to get him off of it.
The left-hander made his Cactus League debut on Thursday at Salt River Fields in a 5-4 loss to the Reds, the late start a product of the work he had done building himself up in the offseason.
The Colorado staff didn't mind watching some of the younger arms get some innings while De La Rosa geared up for Thursday, and the patience seemed wise. De La Rosa looked as ready as ever, pitching three perfect innings, striking out four and needing only 41 pitches (27 strikes) to do it.
De La Rosa had thrown several bullpen sessions, and he admitted that he was a bit surprised at how dialed in his command was once he got in front of a crowd in a game situation.
• Rockies Spring Training information
"I'm glad I had that command today," De La Rosa said.
De La Rosa said another area of his game that he's been working on is his curveball. He said he did not throw too many of them last year in a season that was hampered by groin issues, but he and the Rockies are convinced that he should use it as more of a weapon in 2016.
"I know I had a good curveball," De La Rosa said. "My goal for this spring is to throw the curveball for a strike whenever I want it, and I did today."
Rockies manager Walt Weiss naturally enjoyed his left-hander's first performance of the year.
"Good command," Weiss said. "The changeup was good, as usual. He looked very good for his first outing. ... It's good to see him healthy. I'm sure he feels freed up, not having to pitch around some nagging injury."
Chemistry lessons
The wise old sage relief pitcher LaTroy Hawkins is no longer around to patrol the Rockies' clubhouse. Troy Tulowitzki was traded to Toronto last summer. Todd Helton has been retired for a while.
These days, Carlos Gonzalez is one of the elder statesmen, and he's more about leading by example in an environment that has been perfectly pleasant this spring, according to the club's manager.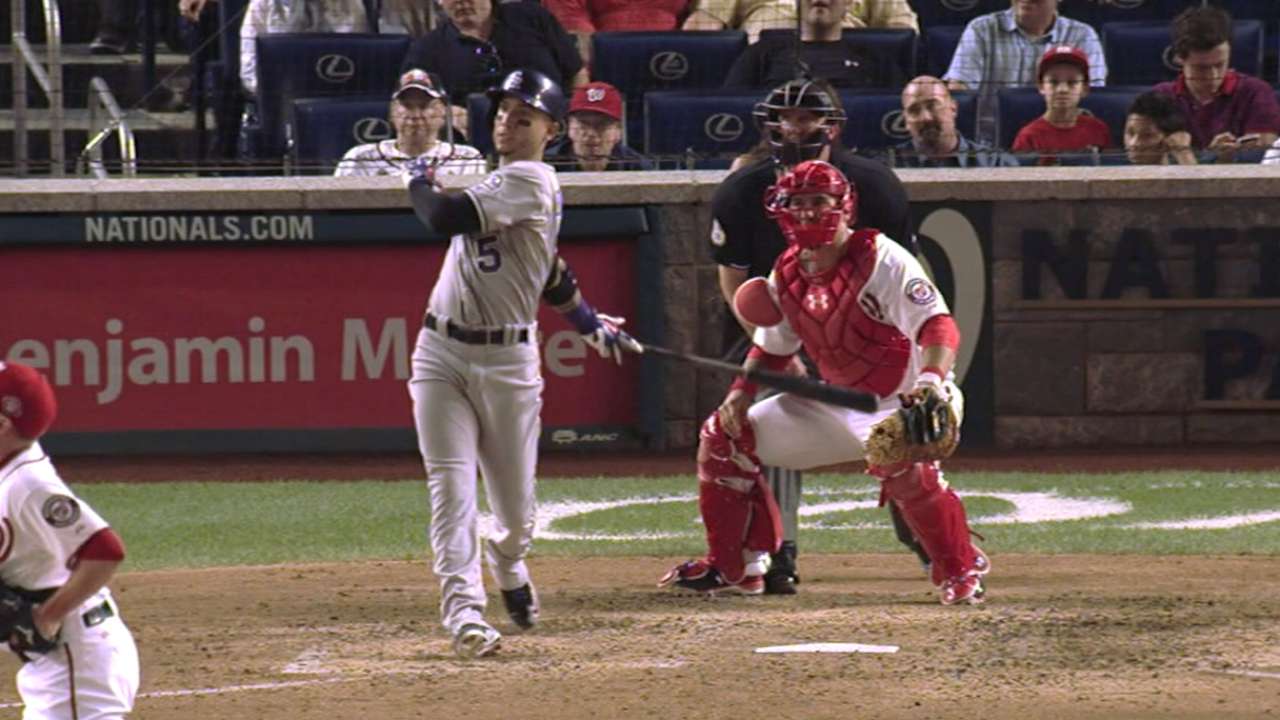 "The vibe's probably a little different in there, but it's been a good vibe," Weiss said. "It's been very good. ... I expect all those guys to lead in their own way. Even the young guys.
"Some guys who have been around the game, obviously, they may have a louder voice in that clubhouse, and we have the right guys in there that have that voice. I'm encouraged by that."
Weiss said the Rockies' offseason acquisitions were made in part to promote togetherness.
"You've got to get the right guys," Weiss said. "You've got to do your homework. Because it's vitally important that these guys enjoy coming to the park and they enjoy performing for the team. That they try to make the guys around them better.
"When I talk about certain things or guys on the staff talk about certain things, we're supposed to because that's our job. But when they hear it from their peers, it's much more powerful. That's what excites me, that the guys that we have in there are spreading that message."
Chatwood goes again
Right-hander Tyler Chatwood made his second appearance of the spring and kept up his progression from his second Tommy John surgery.
Chatwood gave up a run on two hits in his first inning, but he bounced back with a 1-2-3 frame in his second. He threw 37 pitches, 25 of them for strikes.
"I was happy that he pitched as well as he did in the second inning," Weiss said. "He struggled a bit in the first inning and looked great in the second inning. I'm glad he finished on that good note."
Worth noting
• The Rockies reassigned nine players to Minor League camp on Thursday: outfielders David Dahl and Rosell Herrera; infielder Ryan McMahon; catchers Dom Nunez and Will Swanner; right-handed pitchers Matt Carasiti and Jeff Hoffman; and left-handed pitchers Kyle Freeland and Harrison Musgrave.
• Reliever Boone Logan (elbow soreness) is scheduled to pitch live batting practice Friday, two days after a 26-pitch bullpen session.
"He's good," Weiss said. "He's real close to getting out there in a game. He's fine."
• Starting rotation candidate Chris Rusin (inflammation in middle finger) was slated to play catch out to 120 feet.
Doug Miller is a reporter for MLB.com. Follow him on Twitter @DougMillerMLB. This story was not subject to the approval of Major League Baseball or its clubs.