Hey, Crew pitching prospects: Brace for thin air
Team not leery of testing young arms in Colorado Springs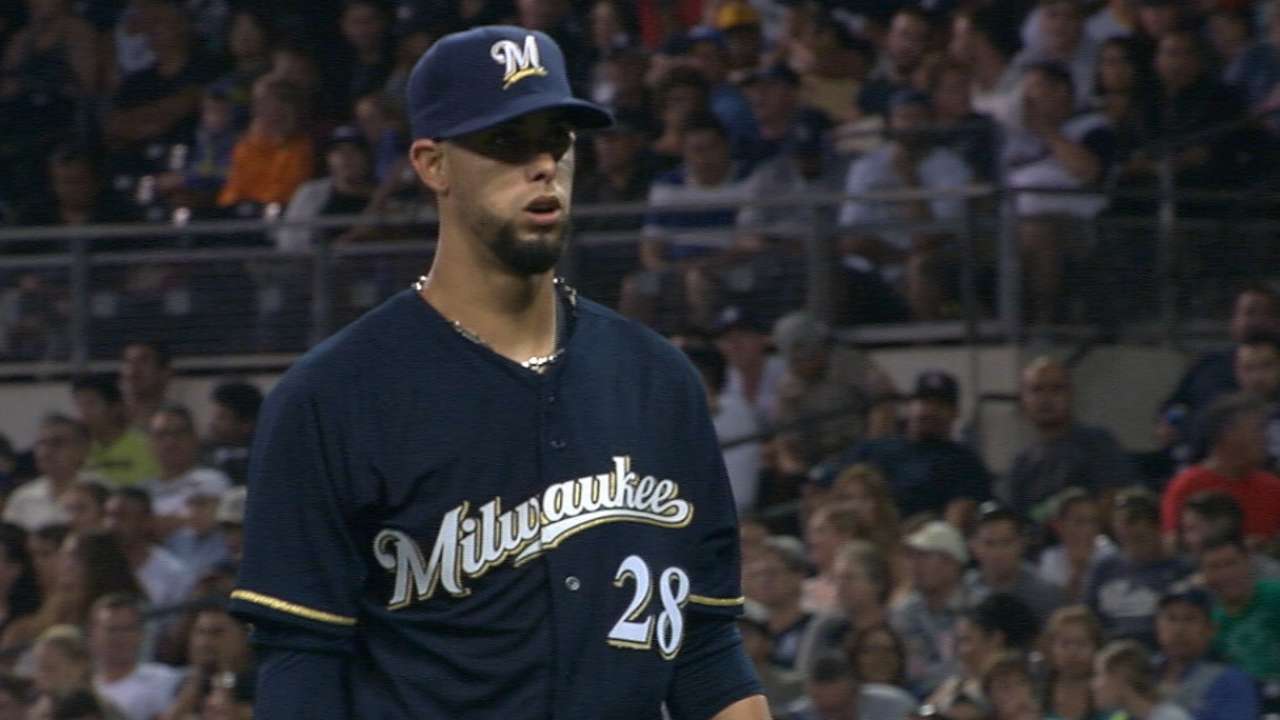 PHOENIX -- One year into the Brewers' pairing with Triple-A Colorado Springs, Taylor Jungmann is the poster child for a pitcher overcoming the challenges of that high-altitude affiliate, and why club officials say they won't hesitate to put other top pitching prospects on the same path.
"Guys who have pitched there, I think, have been better off for what they went through," said Brewers farm director Tom Flanagan.
• Brewers Spring Training info
Top pitching prospect Jorge Lopez (No. 3 on MLBPipeline.com's list of the top Brewers prospects) and Zach Davies (No. 19) are among those projected to open the season in Colorado Springs' starting rotation. No. 4 prospect Josh Hader and No. 17 Adrian Houser could start at Double-A Biloxi, but would be candidates for midseason promotions.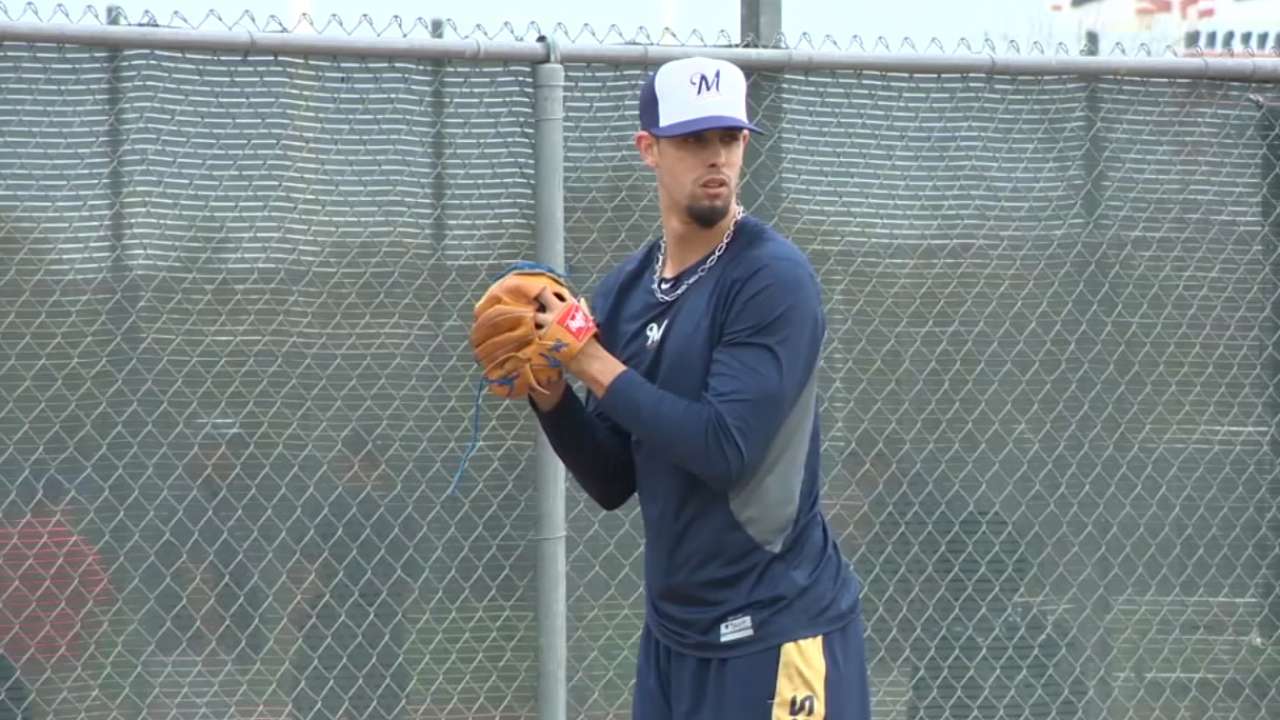 Those are the types of top pitching prospects that Brewers officials wondered about back in September 2014, when Milwaukee and Colorado Springs reached a de facto player-development contract. The Brewers were the last team without a Triple-A affiliate, and Colorado Springs was the only Triple-A affiliate without a parent club.
The challenges were well known. Besides the altitude -- Colorado Springs is actually higher above sea level than Denver -- Security Service Field often features whipping winds that change the playing conditions from day to day, and even inning to inning. Those factors explain why the Rockies sometimes kept pitching prospects away from Colorado Springs, and ultimately abandoned a team an hour's drive from Denver for a new affiliation with Albuquerque.
"My perspective," said Brewers manager Craig Counsell, who played in Colorado Springs from 1995-97 when he was a Rockies prospect, "is that it's a higher level, and there's learning going on, there's competition going on, there's ways to get through that and things you'll certainly learn out of those experiences."
Counsell added: "It doesn't have to be easy all the time. It can be hard, and you can struggle. That's OK. That can propel you forward just as much as success. "
Take Jungmann, for instance.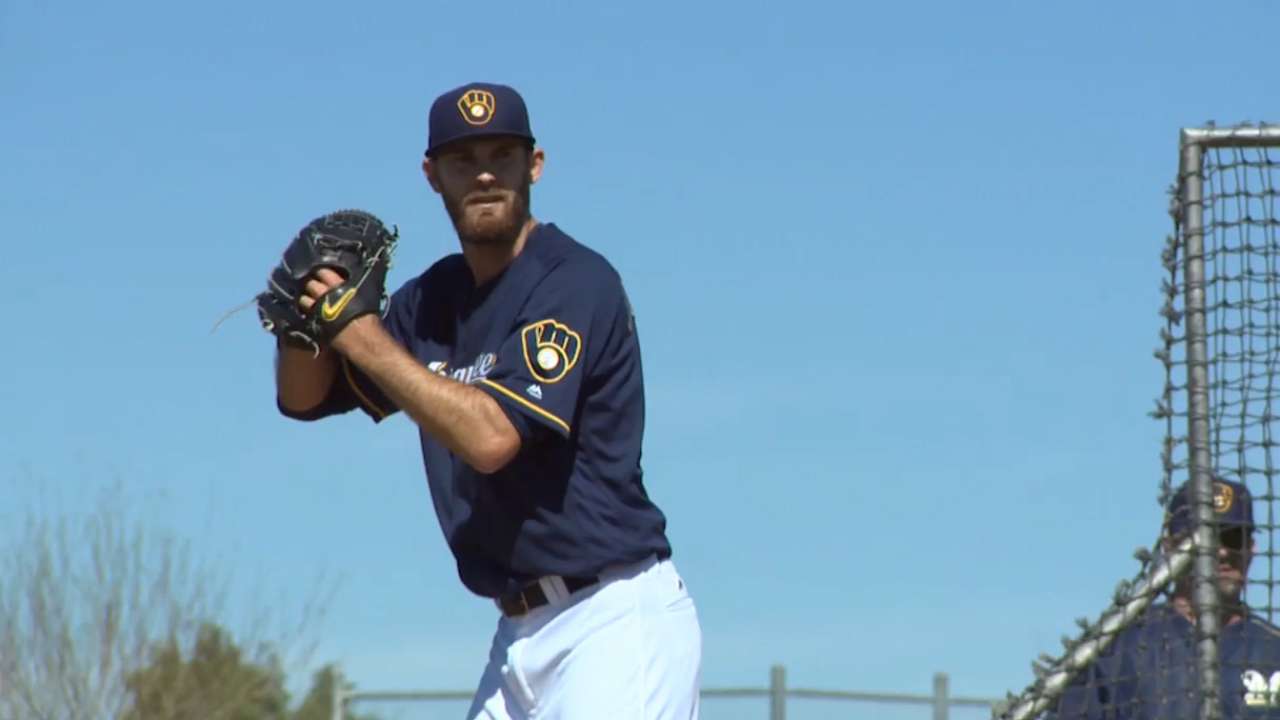 A former first-round Draft pick, Jungmann reached Triple-A Nashville in the second half of 2014 and posted a 3.98 ERA in 19 appearances, 18 starts. When he returned to the Triple-A level at the start of 2015, the affiliation had switched to Colorado Springs, and Jungmann posted a 6.37 ERA in 11 games, nine starts.
And yet he shined upon reaching the Major Leagues beginning June 9. Jungmann went 5-2 with a 2.04 ERA in his first eight Brewers starts, and was 9-5 with a 2.42 ERA as late as Sept. 3.
"He had a high ERA at Colorado Springs, but the other stats we look at showed that there was something more there," Flanagan said. "By looking at the park factors of Security Service Field, you can kind of calibrate how guys are going to do, to some degree.
"Mentally, it's a good test for a guy. They're going to hit challenges throughout their career, and this is just another step along the way."
There is also a logistical element to the Brewers' willingness to expose pitchers to Colorado Springs. The farm system has improved to the point of having a high volume of promising arms -- 15 of the team's top 30 prospects are pitchers -- and it would be difficult to place them all at Double-A and below.
The Brewers' contract with Colorado Springs expires later this year, but there are no alternatives for Milwaukee at the moment.
Besides Davies and Lopez, candidates for the Colorado Springs rotation include Hiram Burgos, Chris Capuano, Tyler Cravy, Brooks Hall and Brent Suter. Those decisions won't be made for several weeks, and will hinge on whether the Brewers want to keep potential swingmen like Capuano and Cravy stretched out as starters, or focused on the bullpen, where they would be more likely to get a callup to the Majors.
Counsell likes what he has seen from the group so far. Lopez, Hader and Houser all pitched Wednesday against the Royals after Davies appeared the day before against the White Sox.
"To have starters on your 40-man roster, all legitimate candidates to be members of a big league pitching staff this year at some point, maybe, is pretty exciting," Counsell said. "That's our depth. They are the depth for us."
Adam McCalvy is a reporter for MLB.com. Follow him on Twitter @AdamMcCalvy, like him on Facebook and listen to his podcast. This story was not subject to the approval of Major League Baseball or its clubs.