Will Braves hold on to veteran pieces?
Aybar, Swisher and Francoeur could find new homes this season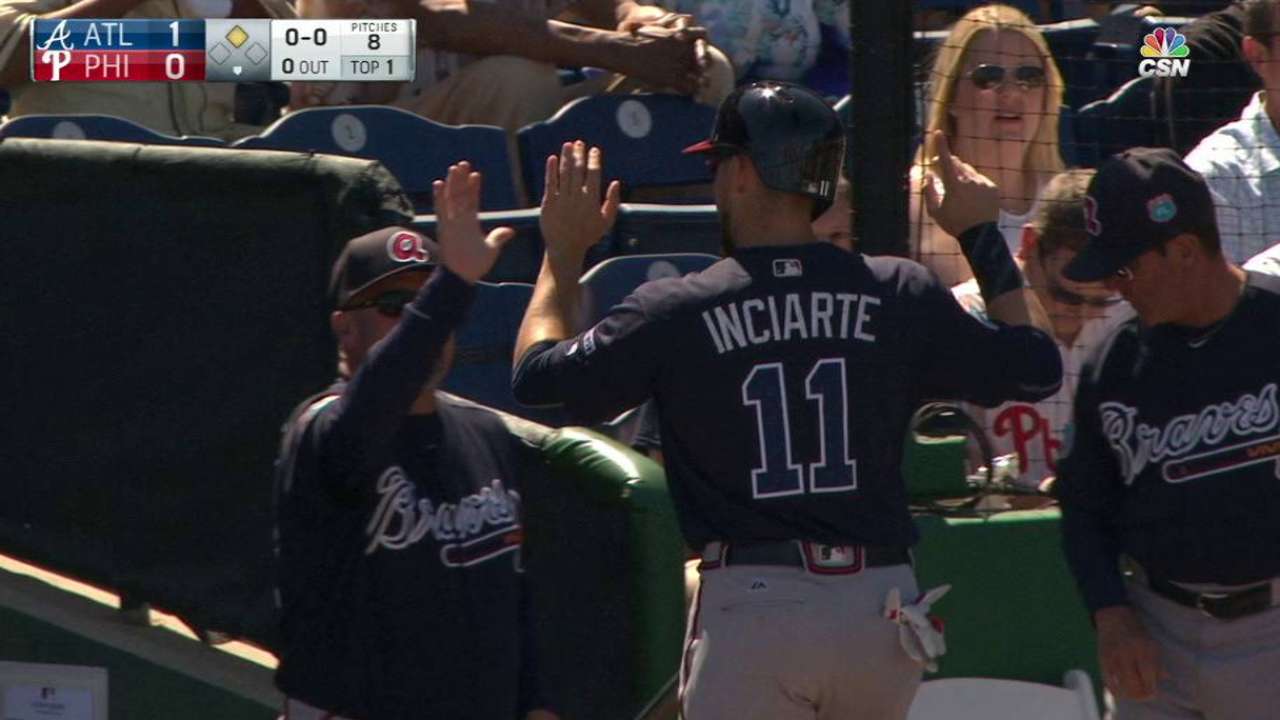 JUPITER, Fla. -- Though the rebuilding process is not necessarily complete, the Braves have moved into a position where they are not actively looking to move any of their top position players. But as recent history has proven, Atlanta's aggressive front office is at least always in listening mode when it comes to potential trades.
"We don't want to move any of our projected starters because we feel like we have a chance to be a better team in 2016 and play competitive baseball late into the season," general manager John Coppolella said. "That being said, it wouldn't be fair to the Braves and our fans if we didn't at least listen when other teams called to explore trade possibilities."
Thus, there will likely continue to be speculation about the possibility that the Braves satisfy the Cardinals' need for a shortstop by trading Erick Aybar, who is owed $8.5 million before he hits the free-agent market this offseason.
• Spring Training: Schedule | Tickets | Complete info
While the Braves repeatedly said last year that they were trying to walk a parallel line while attempting to remain competitive within the process of a massive rebuilding process, it might be easier to sell this approach this year, when the team could benefit from improved bullpen depth and the offseason additions of Ender Inciarte and Aybar.
Though there is certainly reason to believe Aybar will be dealt at some point before the non-waiver Trade Deadline, the Braves obviously realize the benefit of having the veteran in their lineup on a daily basis for at least the season's first 3-4 months. Top shortstop prospects Ozzie Albies and Dansby Swanson would likely not be brought to the Majors before September.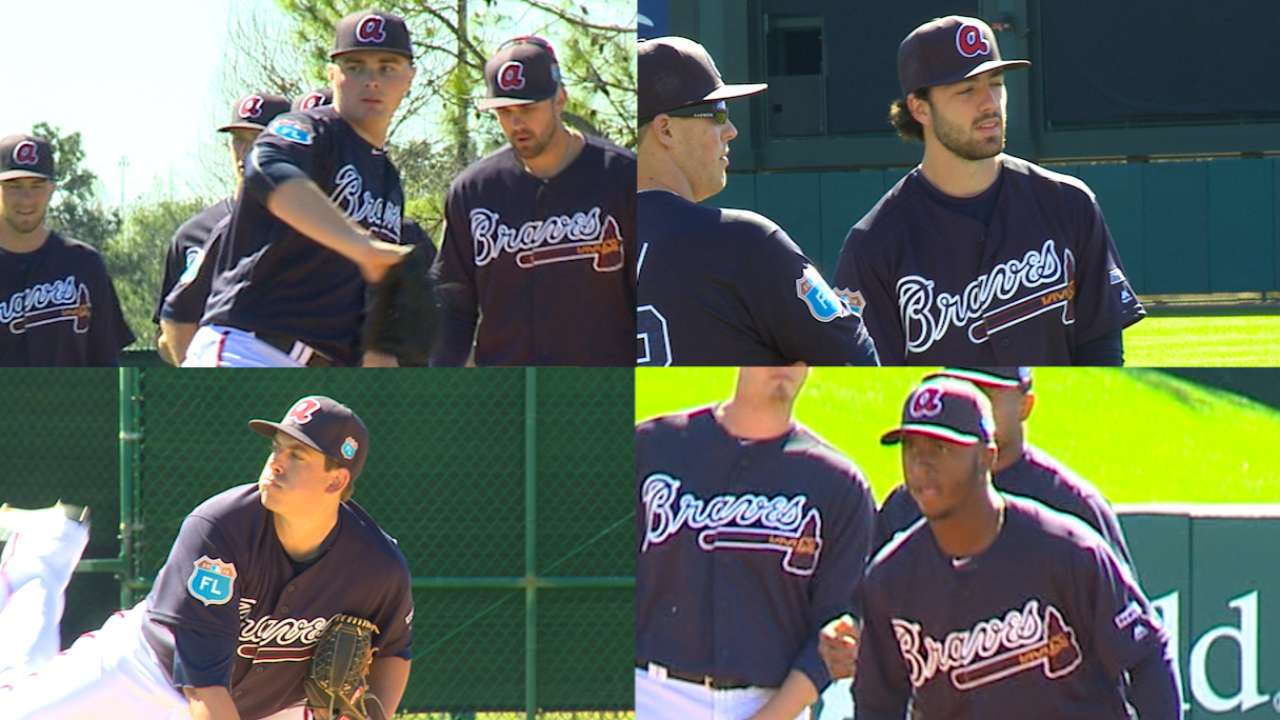 So, if the Braves were to lose Aybar via an injury or trade within the next few months, they would likely promote Daniel Castro to serve as their everyday shortstop. Castro is a skilled defender with sure hands, but offensively, he's not capable of providing what the Braves hope to get from Aybar.
While the Braves might hold on to their projected everyday players to avoid being reintroduced to the frustration felt during last year's 67-win season, they may still find some action on the trade market if they find suitors for Nick Swisher or non-roster invitee Jeff Francoeur.
• Prospects stellar so far this spring
Even before Francoeur was signed to a Minor League deal during the early days of Spring Training, there was not an apparent roster spot for Swisher, who is owed $15 million this season.
The Braves will look to trade Swisher with the understanding that they might have to eat somewhere in the neighborhood of $12 million. If they are not able to find a suitor, they could opt to simply release the veteran, who has not been the same since he underwent surgery on both knees in August 2014.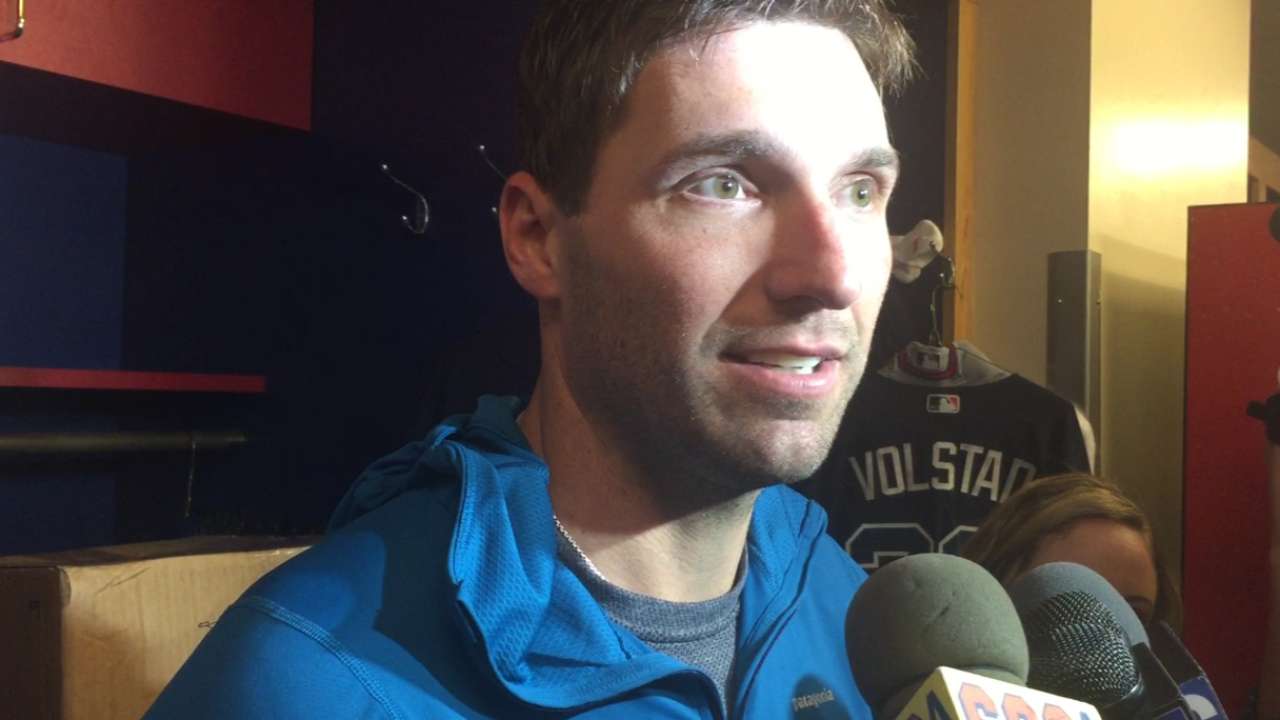 Francoeur, who hit a two-run homer in Thursday's 5-2 win over the Marlins, provided some value as a backup outfielder in Philadelphia in 2015. The Phillies' new front office did not show any interest in re-signing him this year, but they will now be looking for some outfield depth as they prepare to spend the next 4-6 months without Aaron Altherr, who underwent left wrist surgery this week.
"We are always open to possibilities, but our focus in this camp is to try to find the best 25 players to head north with us and have a great season," Coppolella said.
Mark Bowman is a reporter for MLB.com. This story was not subject to the approval of Major League Baseball or its clubs.