Brantley ready for on-field batting practice
Indians left fielder continues progress in recovery from shoulder surgery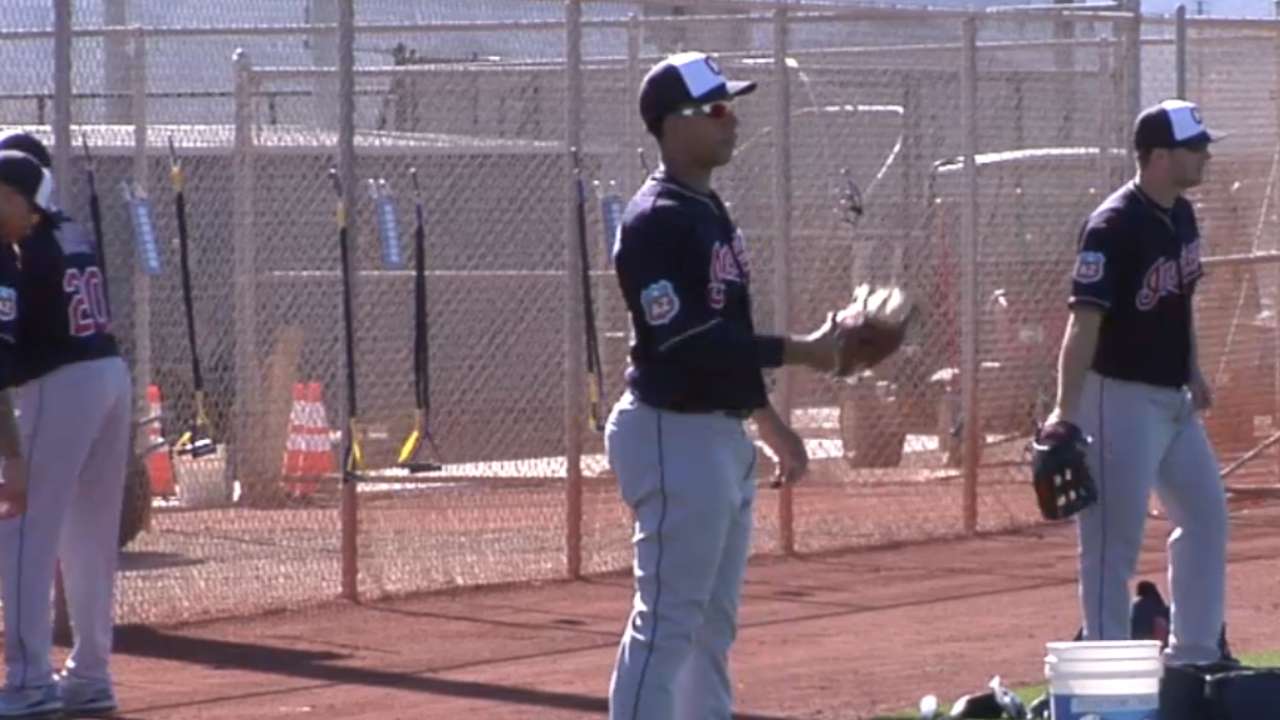 GOODYEAR, Ariz. -- Injured left fielder Michael Brantley, who hit in a batting cage on Wednesday, is scheduled to take batting practice on the field on Friday.
"That's a good step," Indians manager Terry Francona said on Thursday. "I think for him, every step is important and there is a progression, but it's kind of cool when you finally get on the field because, really, the next thing is the game."
Brantley had a checkup on Sunday with Dr. Craig Morgan, who performed the surgery on the outfielder's right shoulder in November. Brantley has continued his hitting progression all week without any setbacks.
"He's done really well and he's tolerated everything," Francona said. "He's flown through the process. It's not by accident. He's done a terrific job of attacking everything that they have given him and not taking shortcuts. He's really done a good job."
• Indians Spring Training info
The manager added that Brantley's "volume and intensity has built up. He's ready to advance to the field or he would not be going out there."
The left fielder's comeback could continue into early April. The question remains: When will Brantley play in a game?
"It will be up to him, especially, but also the medical people," Francona said. "Opening Day is an artificial deadline. When he's ready to play, we are going to play him. We are not going to hold him back, but we are not going to shortcut it, either. He's too important, but he's doing a good job."
Other items of note:
• Right-hander Tommy Hunter (right core muscle) pitched off a mound on Wednesday. Right-hander Craig Stammen (right flexor tendon repair), who is expected to throw live batting practice sometime in the next two weeks, is throwing all of his pitches off a mound.
"There is no timetable," Francona said. "We want to get them healthy so they can be who they are and that is solid Major League relievers who we think can really help us. But also, we were talking to them [about this] earlier. They have a career ahead of them, too, and we don't want to rush that because we don't think that's fair to anybody."
• Veteran infielder Juan Uribe is expected to leave camp in a few days and return to the Dominican Republic to resolve a visa issue, Francona said.
• Francona said he participated in a sleep study two summers ago when he was having trouble sleeping. On Wednesday, the Rangers sent first baseman Prince Fielder back to Texas to participate in a sleep study.
"If nothing else, I think I learned a little bit," Francona said. "Sleep apnea is when you are not getting air and that's actually a physical thing. I don't think our lifestyle helps."
Jesse Sanchez is a national reporter for MLB.com. Follow him on Twitter @JesseSanchezMLB. This story was not subject to the approval of Major League Baseball or its clubs.