MLB.com Columnist
Marty Noble
Forde's passion celebrated, reflected at memorial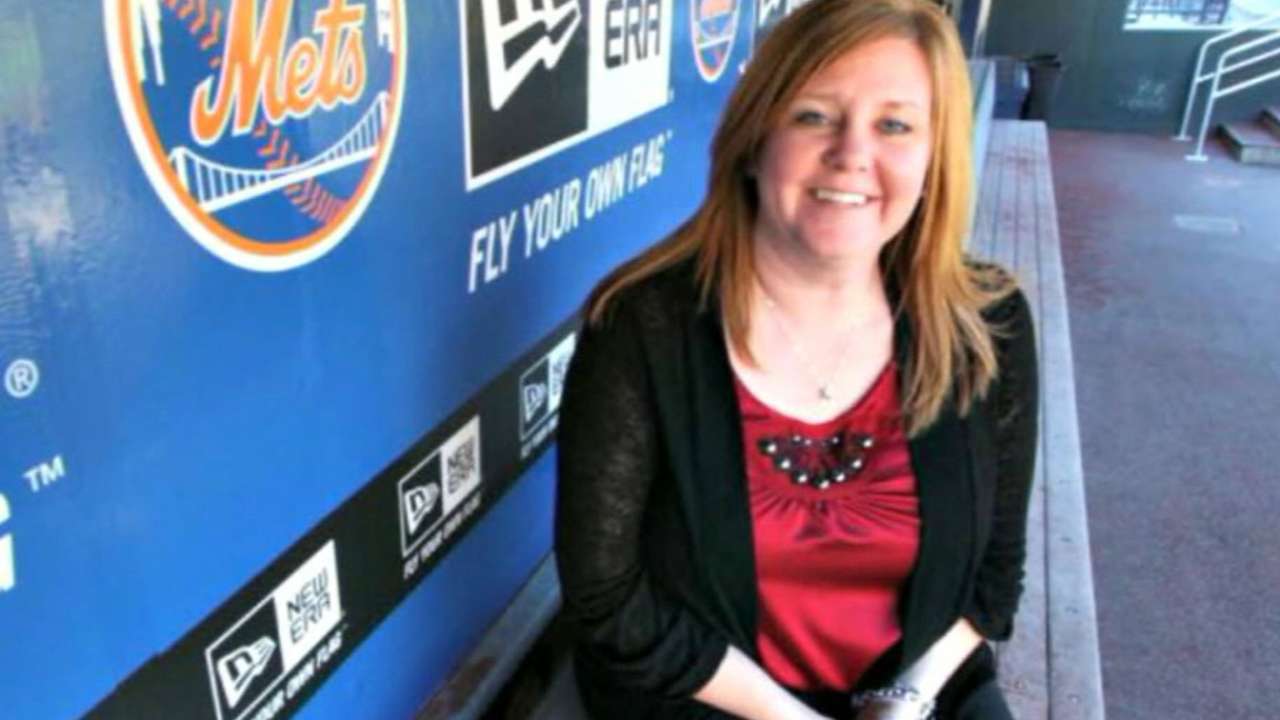 NEW YORK -- When the Mets are playing, the Foxwoods Club at Citi Field is where folks congregate to watch their guys on television monitors and cheer (or moan). The Mets were playing the Yankees on Wednesday afternoon. The room was crowded.
But their March engagement was in Port St. Lucie, Fla., far from Queens. Instead, those who assembled on the fifth floor at the Big Citi did so because they loved, appreciated, respected, enjoyed and, finally, celebrated Shannon Forde.
At least a thousand folks had shoehorned in. All the seats were occupied. Those who arrived five minutes early for the memorial service for the Mets' late princess were relegated to standing status. How appropriate, standing for a lady.
And everything went as planned, without a hiccup, a holdup or a hitch, just as Shannon would have wanted, just as it would have had she organized it. Shannon, after all, was an organization girl. She loved the Mets, and her planning skills were put to good use during her two decades working at Shea Stadium and Citi. She solved problems, eliminated wrinkles and prompted smiles.
Shannon would have loved the heartwarming program the Mets put together, had it not been about her. It was a moving celebration of her much-too-short life. She would have appreciated it. But she never felt comfortable being the center of attention.
Shannon has been precisely that, however, since Friday, when her family, friends, colleagues and acquaintances learned the sad truth. She had died in hospice in Upper Saddle River, N.J. Her determined four-year challenge to the ravages of cancer had been successful, but only to a point.
Oh, how Shannon wanted to be at Spring Training one more time and to see the 2015 National League Champions banner raised on Opening Day. And she wanted to see her son's First Communion. Her intent to experience the things she held dear undoubtedly extended her life.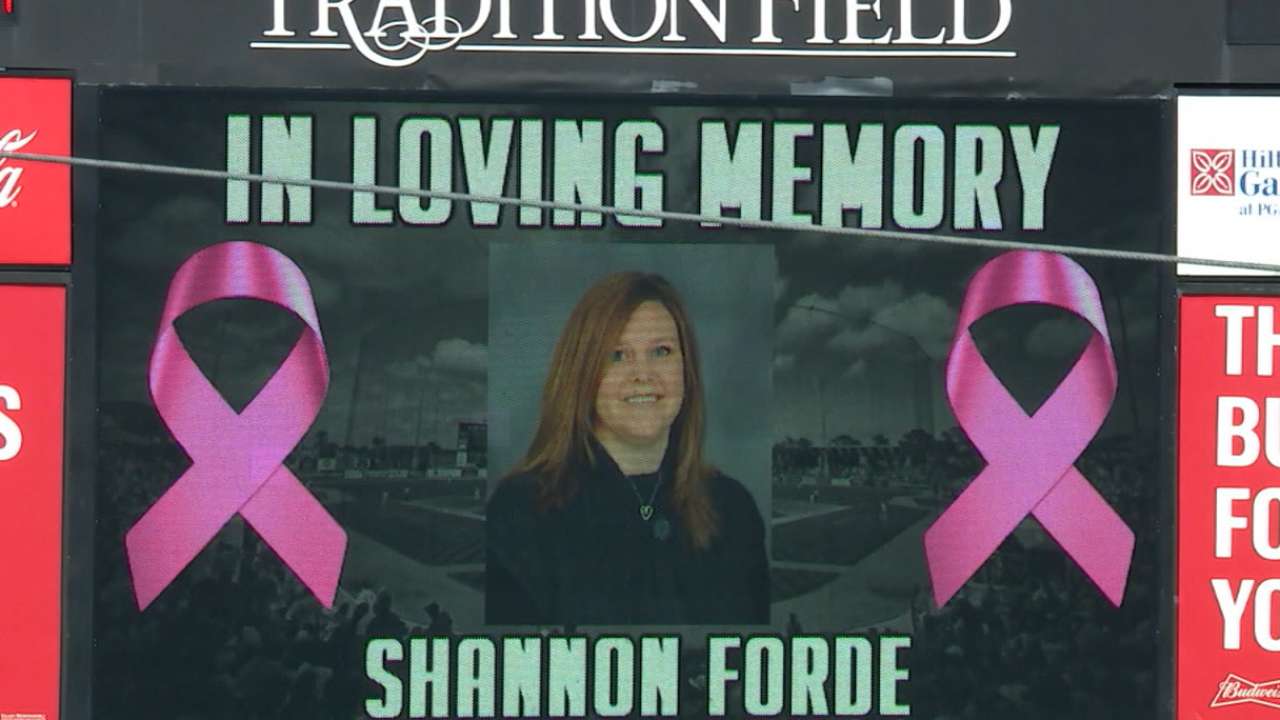 Shannon couldn't have fought a better fight. The final four years of her 44-year life were a brawl, pitting a loving, caring mother of two against the damn disease we all fear and now hate even more because of whom it has taken from us.
But because of who Shannon was and the values she held, the 75-minute service on Wednesday was in no way negative. Those who spoke reveled in her life rather than wallowing in the sadness of its premature ending.
From Shannon's priest, Kevin Carter, to her colleagues with the Mets; from her niece, Felicia Spinella, to her baseball hero, David Wright; from her boss, Jay Horwitz, to the half-dozen baseball writers who left Spring Training -- with the Yankees in town -- to say thank you; from Citi Field security officers to former Mets employees who came back; from Ed Charles, the third baseman of the '69 Mets, to Bud Harrelson, one of the Miracle Makers of 47 years ago; from newspaper photographers, to official scorers; Jason Zillo, Horwitz's Yankees counterpart, to Josh Rawitch, the Diamondbacks' media director who flew in from Arizona; from football writers to punters (Sean Landetta); from former beat writers to Elias Sports Bureau guys; and to general public folks who learned of Shannon's greatness from the media coverage of her passing ... they all celebrated who she was, all she had done for others and the love she had for the people around her. She had packed a century of sweetness and good into her abbreviated life.
Horwitz spoke from his heart, his genuine words tugged at the heartstrings of those assembled. He has taken Shannon's death as hard as anyone. Wright identified her as "our team mom," and folks chuckled because the label had a touch of humor to it and because it was so appropriate. Shannon had a smile, or a hug or a band-aid, for whatever a baseball day or night might bring.
Shannon had touch and compassion. She had passion as well.
Horwitz spoke of how much the Wilpon family, particularly Jeff, had done for Shannon. It had done right by her. Wright said she was part of the team and that she had provided him with advice on dating, marriage and also hitting. Shannon's niece told of her aunt's loving relationships with so many.
The afternoon was fulfilling. The hoard of folks made it gratifying, too. And so many came even though a private church service had been staged in the morning in New Jersey.
The afternoon service made those in attendance happier and more comfortable. Shannon always thought that was her responsibility when folks came to the ballpark. She did.
Thanks, lady.
Marty Noble is a columnist for MLB.com. This story was not subject to the approval of Major League Baseball or its clubs.