Almora leaves practice with tight back
Prospect feels 'great,' listed day to day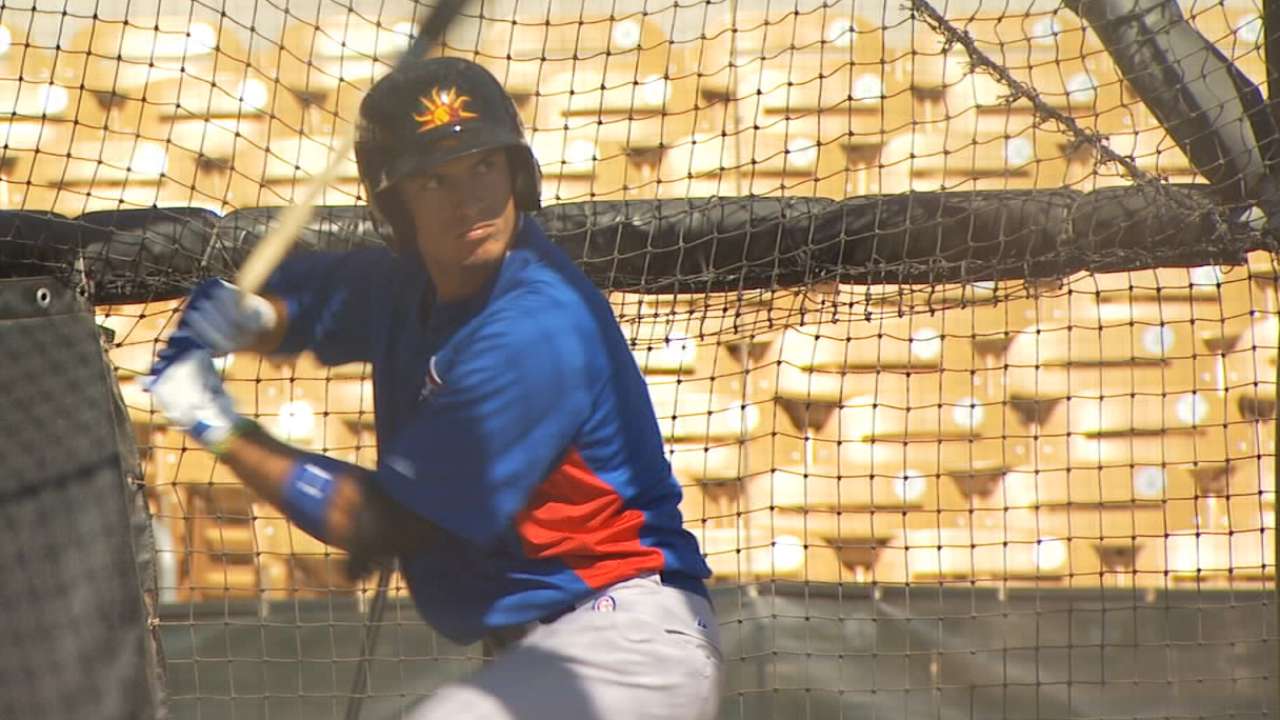 MESA, Ariz. -- Cubs outfield prospect Albert Almora had to leave the field when his back tightened up during a drill on Wednesday, but he was feeling better after receiving some treatment. The Cubs were doing drills on Field 1 and Almora was in center field.
"I told [coach Brandon Hyde], I want this last one," Almora said. "It was a little blooper and I took off and as soon as I took off, I felt my back knot up a little bit. It happens. I feel good now."
After receiving some treatment, Almora said he felt "100 percent." His status was day to day.
"It's just the wear and tear of spring, and early mornings, and getting stretched and stuff," he said. "I feel great now, I feel better. I could go now. I play 100 percent now. Why do it? It's spring, these games don't count. It's precautionary."
• Cubs pitchers collectively batted .114 last season, which ranked 14th in the National League. They've been working on their hitting.
"I'm not going to ask them to do more than they can," manager Joe Maddon said. "They'll work at it. People made fun of Jon [Lester] a lot, but I really like Jon's swing. By the end of the season, it started to pay some dividends."
Lester did end an 0-for-66 career hitless streak with his first Major League hit on July 6 off the Cardinals' John Lackey, who is now his teammate.
"I want them to be able to bunt when it's necessary," Maddon said of the pitchers. "I want them to pitch first, and whatever we get offensively, I'll take it."
• Ben Zobrist's wife, Julianna, had a replica statue made of the World Series trophy to commemorate last season with the Royals. It's the exact same size, but bronze. The Zobrists showed it off on Juliann's Twitter account with the message, "Ben and his baby. And he's ready to have another one, if you know what I mean Chicago!"
• The Cubs totaled five hits against the Indians on Wednesday, including a solo home run by Jeimer Candelario and a two-run shot with two outs in the ninth by John Andreoli. ... Ian Happ, the Cubs' first-round pick in last June's MLB Draft, replaced Zobrist at second base in the sixth inning Wednesday against the Indians.
• Comcast SportsNet will present a pair of commercial-free Spring Training game telecasts, March 16 and March 18. The first game will feature the Cubs against the defending World Series champion Royals from Surprise, Ariz., starting at 3 p.m. CT. On March 18, Comcast SportsNet will televise the Cubs' game against their crosstown rival, the White Sox, from Camelback Ranch in Glendale, Ariz., also at 3 p.m. CT.
• Cubs strength coach Tim Buss was wheeled onto the field prior to the morning stretch, taped to a chair with athletic tape. The reason? All Buss would say was that it had something to do with chihuahuas and scorpions.
Carrie Muskat is a reporter for MLB.com. She writes a blog, Muskat Ramblings. You can follow her on Twitter @CarrieMuskat and listen to her podcast. This story was not subject to the approval of Major League Baseball or its clubs.