#TBT: Giants, Davis make history in '93
Open audition produces first woman to serve as PA announcer in MLB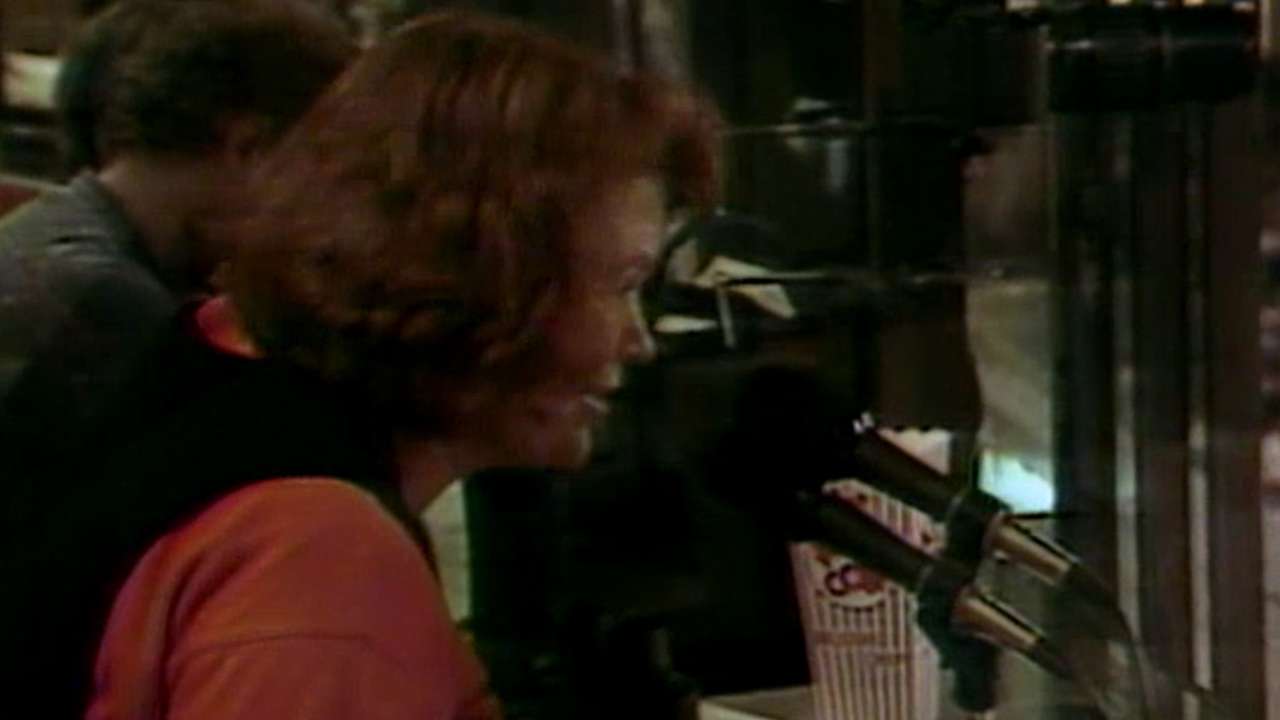 Twenty-three years to the day after it happened and two days after International Women's Day, the soothing tones of yesteryear bring us back to a female first in the history of baseball and sports.
Throwback Thursday takes us in the time machine to March 10, 1993, when the San Francisco Giants still played at windy, chilly Candlestick Park. They were embarking on their first season with manager Dusty Baker and slugger Barry Bonds, and they decided to ramp up for the upcoming season by doing things in a delightfully different way.
Enter Sherry Davis, a Bay Area legal secretary and a Giants season-ticket holder.
The Giants, under a new ownership group and spurred on by the creativity of managing general partner Peter Magowan, decided to have an open-to-the-public competition for the role of public-address announcer.
Davis was a big baseball fan. So big, in fact, that she had traveled across the United States by train, by herself, in the 1980s to visit as many ballparks as she could. She moved to California soon after and found herself immersed in the culture of performing in front of people as a member of theater and comedy improv troupes.
Davis also found herself at Candlestick, with a season ticket in a section near the Giants' dugout, where she was known as the one to ask about all the balls and strikes and statistics. So it wasn't surprising to see her in the stands the day of the tryout. Although maybe it was surprising to her to find out that she was one of 550 people competing for the gig.
"I went to the tryout on a lark," Davis told The New York Times in 1993. "But when I saw there were only eight other women out of the 550, I really became determined."
Davis did her thing and gathered momentum as the candidates were whittled down to 10. Nine of them were men, but she was undaunted. The final challenge, according to multiple reports at the time, included reading starting lineups, calling fans to stand for the national anthem, introducing the ceremonial first pitch and, of course, issuing the standard warning that any unruly fans who entered the field of play would be placed under arrest.
Davis got the gig and did it for the next seven years, and when the Giants moved into their current cathedral by the Bay, AT&T Park, they hired another woman, Renel Brooks-Moon, to continue their PA tradition.
"We saw it as a bit of a pioneering thing, but we thought it was great," said Giants president and CEO Larry Baer, who was the club's executive vice president in 1993 and attended the tryouts. "In our minds, it was a signature of our new ownership, that we were going to try to do a few things differently, and to look for ways to bring new groups in.
"Not that there weren't a lot of women Giants fans, but we've seen a great progression within our female fan base to the point where it's not that far from 50-50 at the ballpark now. It's maybe 55-45. I won't say that's all Sherry and Renel, but it doesn't hurt."
What also didn't hurt was the fact that San Francisco is known as a pretty progressive place.
"Peter was fan-friendly to the nth degree, and we certainly blazed some trails, and that was one early," said current Giants executive VP of baseball operations Brian Sabean. "I'm not only proud of it, but it's also indicative of the demographics in which we live. San Francisco is a very welcoming of all languages and cultures, and I think that's helped a lot. We're really a city unto our own."
Back in 1993, Davis wasn't thinking too much about history. She had her head down and was taking her job seriously, honing a craft that goes beyond simply announcing at-bats.
"The whole job was a blessing," Davis told Bay Area internet radio host Ralph Tyko in 2014. "The thing is, you have to walk a fine line. You're not a cheerleader. I would do it more with inflection than I would with volume. I would put more color into it and a little more power behind it. I'm not a big fan of the roller-coaster voice.
"Also, with opposing players, I didn't want a huge distinction between the home player and the visiting player, because I respected all the baseball players. And there were guys on other teams that I dearly loved, like Andre Dawson and Tony Gwynn and people like that. I was not about to disrespect them."
Twenty-three years later, a woman's voice greets you on the PA system when you enter AT&T Park. It's that of Brooks-Moon, of course, who became the first woman in any major sport to do the PA for a World Series championship team, and she's thrilled to be a part of this unique and ongoing tradition. She's also grateful for Davis doing it first.
"She totally busted down that door, and she was so gracious to me when I was hired," Brooks-Moon said.
"When she first started, she had to really take a lot of criticism, but she stood tall through it all. I give her all the props in the world."
Doug Miller is a reporter for MLB.com. Follow him on Twitter @DougMillerMLB. This story was not subject to the approval of Major League Baseball or its clubs.