MLB.com Columnist
Barry M. Bloom
Giants smart to bring Cueto along slowly
Offseason prize coming off 212-inning regular season, 25-inning postseason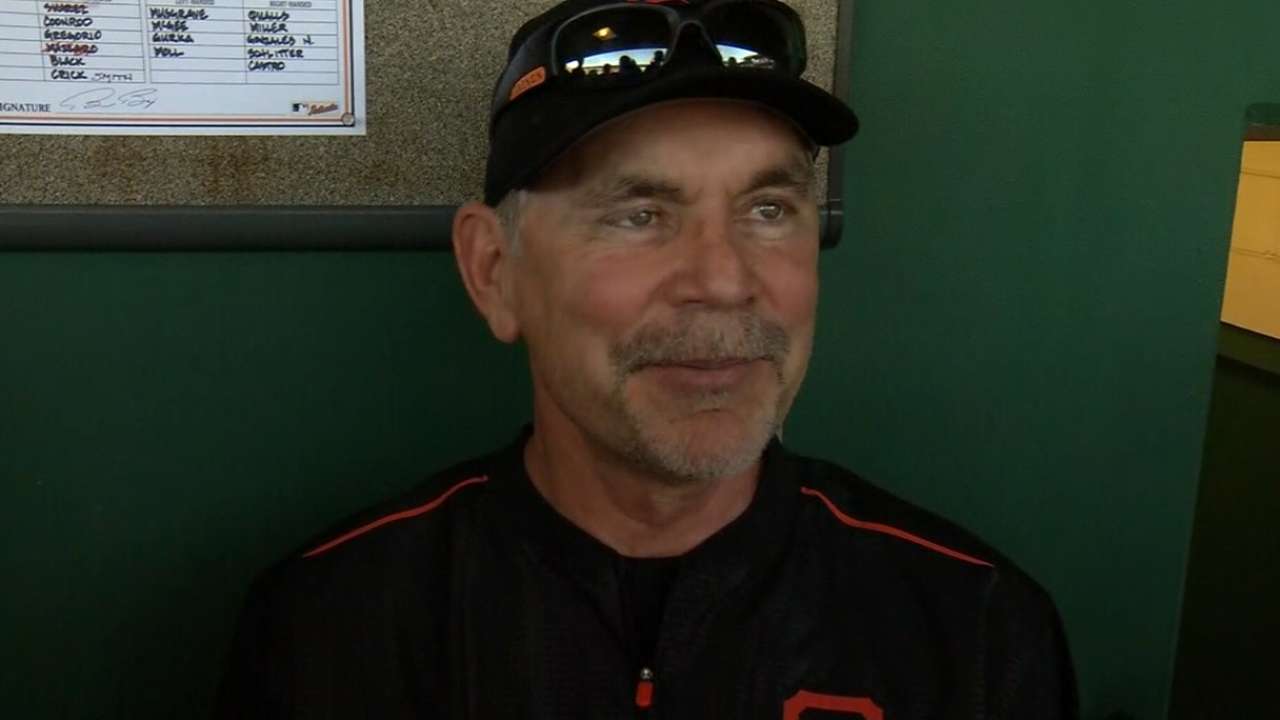 SCOTTSDALE, Ariz. -- Early in the free-agent signing season, Johnny Cueto turned down a reported six-year, $120 million offer from the D-backs.
In the end, that decision seems to have worked out well for everybody. The D-backs signed Zack Greinke, while Cueto went to the Giants for six years, $130 million, with a $22 million club option on the seventh season.
It was the most money offered to Cueto on this past offseason's market.
"Of course," Cueto said Wednesday through interpreter Erwin Higueros. "That's why I'm here."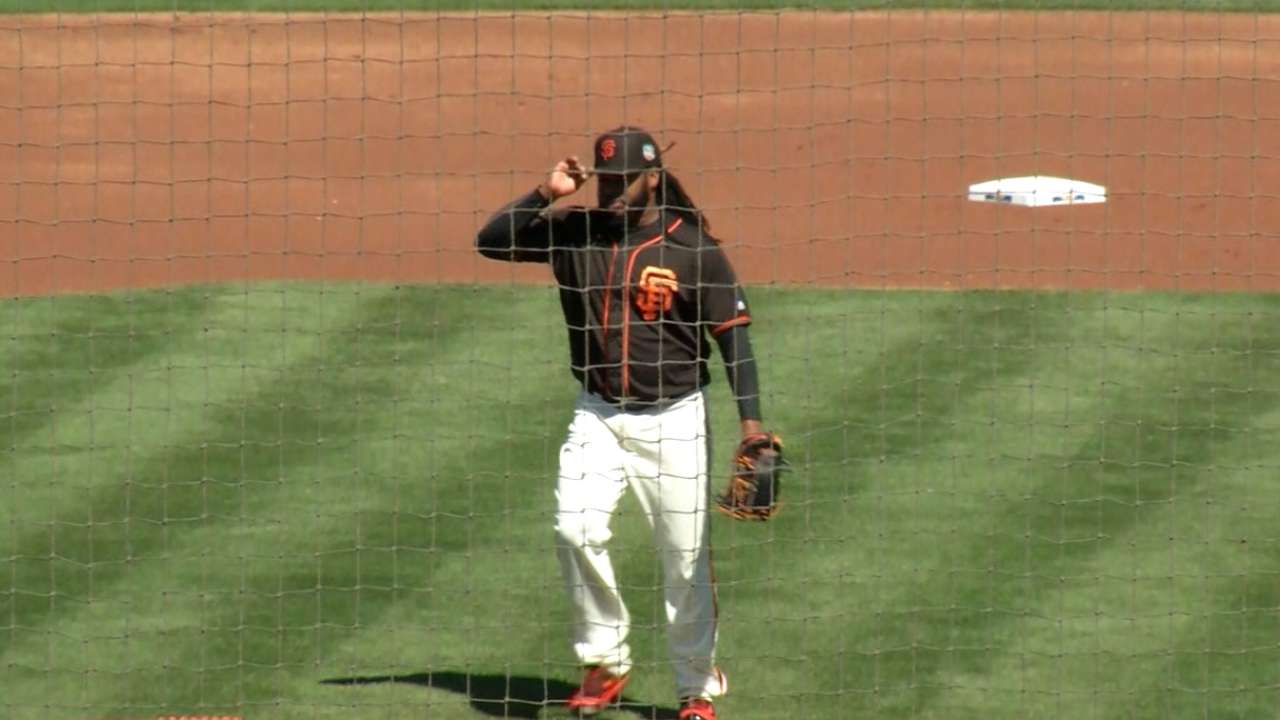 Cueto made his first start of the spring in Giants black and orange, and the 8-6 loss to the Rockies wasn't quite as magical as his last one for the Royals in the World Series: A Game 2 two-hitter over the Mets as Kansas City went on to win the Fall Classic in five games.
On Wednesday, Cueto left with one out in the second inning after allowing five runs on four hits at Scottsdale Stadium, including a booming two-run homer by Carlos Gonzalez and an equally massive shot to center that newcomer Mark Reynolds turned into a triple.
The right-hander from the Dominican Republic faced 11 batters, walking one and striking out two. This is barely mid-March, not late October, so Cueto can be excused for the transgression.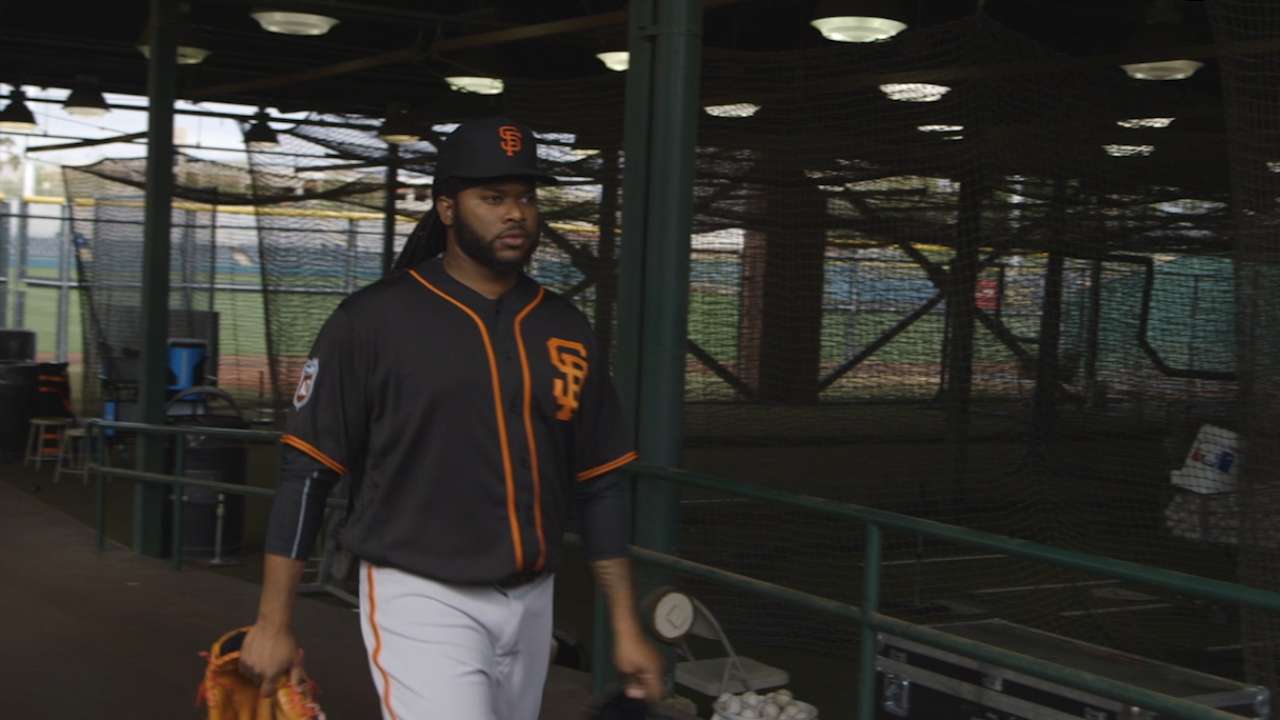 "It's early," Cueto said. "I still have a few starts left in Spring Training. I have to get in my rhythm before the season starts."
The Giants are bringing Cueto along slowly this spring, considering the fact that he pitched 212 innings last season for the Reds and Royals, and then 25 more for Kansas City in the postseason. His brilliant World Series performance at Kauffman Stadium was on Oct. 28, barely a little bit more than four months ago.
"He threw a lot of innings and went deep into the postseason. We've been there with our guys," said Bruce Bochy, who has managed San Francisco to three World Series titles since 2010. "That's why we are slow-playing him. And he's smart enough to know he doesn't need to be ready right now."
The Giants gave Cueto the richest contract for an outside free agent in club history, barely beating the seven-year, $126 million deal signed by Barry Zito just prior to the 2007 season. They also signed right-hander Jeff Samardzija to a five-year, $90 million pact, rebuilding an aging starting rotation for a cool $210 million.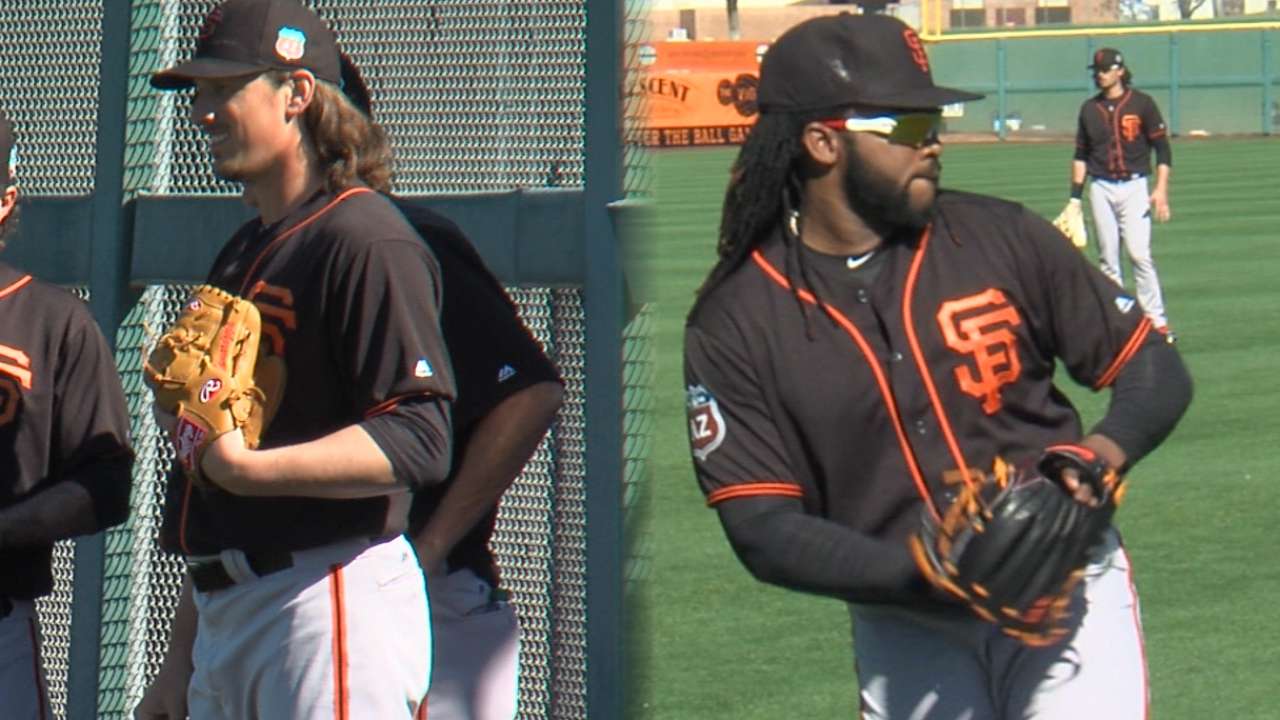 "This just shows that the owners, the front office made a commitment to us to win," Bochy said. "And we certainly appreciate that."
That's why Bochy's intent on protecting the investment. And even though Cueto may wind up as the second starter behind left-hander Madison Bumgarner, Bochy and company waited to pitch him until the ninth Cactus League game.
"That's exactly what they're doing. They're taking me slowly," Cueto said. "I really appreciate what Bruce Bochy and the pitching coach [Dave Righetti] are doing. They are very conscious that I pitched a lot last year."
Cueto was signed by the Reds as an international free agent out of the Dominican in 2004, and he was in the midst of his eighth big league season with that organization when he was traded to the Royals near last year's July 31 non-waiver Trade Deadline.
The quirky Cueto didn't exactly light it up in 13 regular-season starts for the Royals. He was 4-7 with a 4.76 ERA and a 1.451 WHIP. Inconsistent at best, he still exhibited his true value in the Game 5 clincher of Kansas City's American League Division Series by pitching eight innings of two-run, two-hit ball with eight strikeouts to earn the win.
But in Game 3 of the AL Championship Series in Toronto, Cueto was not so good, allowing eight runs on six hits in two innings of an 11-8 loss. He didn't pitch again in a series the Royals won in six games.
There was a question whether Ned Yost would even use Cueto in the World Series, but Kansas City's manager guessed that the Cueto who helped clinch the first round would emerge again. Yost was right.
Yost uses a three-headed bullpen in the last three innings to such proficiency, the Royals only had two complete games all last season. In the World Series, after Kansas City scored three times in the bottom of the eighth of Game 2, taking a 7-1 lead, Yost let Cueto go out to pitch the ninth. Two grounders, a walk and a game-ending Yoenis Cespedes fly ball later, Cueto had the Royals' only complete game of the postseason. The 10 teams that qualified for the postseason, in fact, totaled only two.
And that's the way Cueto left Kansas City, defeating Mets All-Star right-hander Jacob deGrom. It was a short, but fantastic ride.
"It was really good, a really great experience," Cueto said. "I had a great relationship with all the Dominican players, with all the players. They accepted me as one of them. Once I got there, that's what we wanted to do -- win the World Series."
And now that Cueto is signed and sealed with San Francisco, that's what he's here to do again -- win the Giants' fourth World Series title in the past eight seasons.
"Claro," he said in Spanish. Of course!
Barry M. Bloom is a national reporter for MLB.com and writes an MLBlog, Boomskie on Baseball. Follow @boomskie on Twitter. This story was not subject to the approval of Major League Baseball or its clubs.