Gordon keeps things fun with Snapchat posts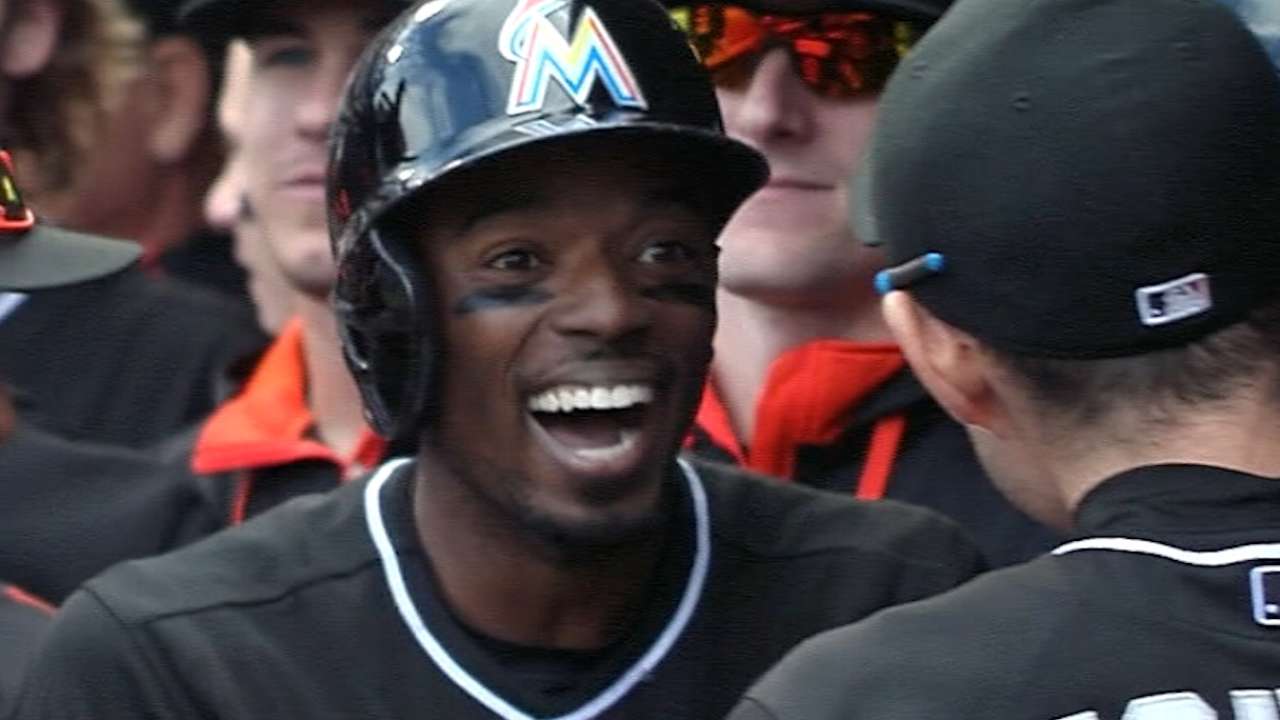 JUPITER, Fla. -- Give Dee Gordon a social media platform and you never know what the Marlins' All-Star second baseman will come up with. Depending on his mood, you might get a "Dancing Dee" video or a crying of laughter emoji.
Social media allows Dee to be Dee, which is why the reigning National League batting champ is so popular with fans.
Friday is Major League Baseball's Snapchat Day, with all 30 teams scheduled to publish Snapchat stories, complete with photos and videos that take you behind-the-scenes in Spring Training.
.@FlashGJr goes for a ride. #SpringTraining pic.twitter.com/glcKsKMQ4o

— MLB (@MLB) February 27, 2016
To Gordon, whose Snapchat handle is deeg5599, various platforms serve as a reminder to have fun. That's all he tries to do when using it away from the park.
"Just have fun. That's it," Gordon said. "You have to have fun with your life. You never know what can happen."
Gordon's fun-loving ways are there for all to see. A few days ago, he posted a video of himself doing a little dance while strolling down the aisle at the grocery store.
In Publix wit it... pic.twitter.com/TniNBiyHqX

— Dee Gordon (@FlashGJr) March 7, 2016
Why?
"Boredom," Gordon said. "Spring Training boredom -- that was it. I was just with my friends. We were walking around, and that's what happened."
Soft-spoken, Gordon is all energy on the baseball field, which is why he is popular with his teammates. Here's a guy who early in camp jumped on the back of Giancarlo Stanton, who carried him along to a designated practice field.
Make sure you follow 'MLB' on @Snapchat for piggyback rides and strange #SpringTraining stretches.https://t.co/f8Mkqf6Amg

— MLB (@MLB) February 27, 2016
Gordon also has photobombed manager Don Mattingly during his morning session with the media.
Gordon enjoys interacting with fans on social media, but he has one provision -- be respectful.
"I interact, if you're cool," Gordon said. "If you're not cool, I don't really have much to say."
The son of former Major League reliever, Tom "Flash" Gordon, Dee is mindful of tempering his enthusiasm when using social media.
"He's cool with it now," Gordon said of his dad. "He wasn't cool with it at first. He tells me to continue to respect the game, that's it. You have to have fun playing the game, but respect the game at the same time. Still be a little kid if you want to be."
Joe Frisaro is a reporter for MLB.com. He writes a blog, called The Fish Pond. Follow him on Twitter @JoeFrisaro and listen to his podcast. This story was not subject to the approval of Major League Baseball or its clubs.