For Baez, a spring of learning, adjustments
Young utilityman taking steps in Spring Training
MESA, Ariz. -- Javier Baez knows the Cubs want him to cut down on the strikeouts, to be more patient at the plate, to wait for his pitch. So in the first inning on Tuesday, when he was facing the Dodgers' Clayton Kershaw, what was on his mind?
"The first at-bat, it sounds stupid, but I was just trying to crush the ball," Baez said Wednesday. "Instead of having a good [at-bat], I was just trying to get a good pitch, a fastball, so I could hit it hard. He made some nice pitches on me. I made the adjustment the next at-bat."
Baez was able to get his pitch in the third inning and singled in his second at-bat against Kershaw. He learned his lesson.
"I was waiting for one pitch [in the first inning], and then he threw me a fastball in, big curveball, changeup, cutters, and I was like, 'Oh, he's nasty,'" Baez said. "[In the second at-bat] I got the pitch I wanted on the first pitch he threw me, but I wasn't going to swing. I was looking for a good [at-bat]."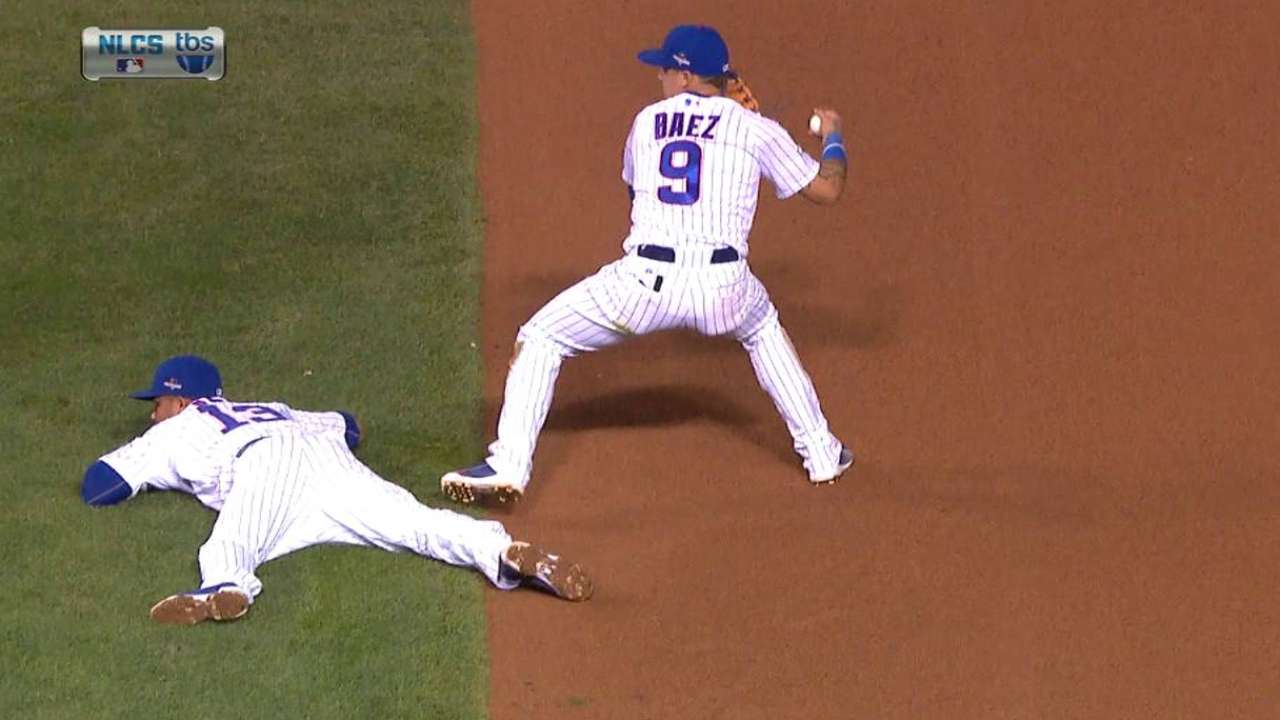 Manager Joe Maddon has seen Baez mature as a hitter, beginning late last year.
"I like to see him make adjustments," Maddon said. "Not playing every day will lead into that where you have to have more self-awareness. If you're playing every day, you can make more at-bats, you can make your adjustments. When you're not playing as consistently, I think self-awareness really is a big part of being able to do well in that role. These are the things we have to get across in camp."
Baez could be a super utility player for the Cubs. This spring, he's started in center field, at first and at shortstop. The middle infield is where he's comfortable.
"That's where I grew up, playing shortstop," Baez said.
Baez also got some one-on-one messages with Maddon and Hall of Famer Billy Williams on Wednesday during batting practice. Each took some time to talk to the young Cub. In the top of the fifth Tuesday, Baez made a throwing error and, in the bottom of the inning, he didn't run out a ball he thought was foul.
"There's no excuses to not run out a ground ball," Baez said. "I was confused, I didn't see the ball. It's not the umpire's fault, it was my fault. That was my reaction, I thought it was way foul."
"The biggest thing with him, and a lot of our young guys, will be to cut down on the mental mistakes, because I will accept as many physical mistakes as they have to make," Maddon said. "They can punch out, they can make bad throws, whatever, they can bobble balls. The thing that prevents you from winning is the mental mistakes."
But will it be difficult for Baez if he can't play every day?
"You'd like to put a young man like that and just play him and let him make mistakes," Maddon said. "A lot of times that would be with a team that's relegated to the second division. To bring him up under these circumstances, he'll be surrounded by good uncles and they can give him good information. Everybody will be on top of his mistakes."
Baez's development -- and that of the other young players on the Cubs roster -- won't happen overnight.
"When you're a young player, you can hear the same message daily for 162 days and maybe it doesn't sink in," Maddon said. "You come back the next year, and maybe on the 37th day, you say, 'Oh, that's what they meant.'"
Carrie Muskat is a reporter for MLB.com. She writes a blog, Muskat Ramblings. You can follow her on Twitter @CarrieMuskat and listen to her podcast. This story was not subject to the approval of Major League Baseball or its clubs.