See ball, field ball: Gallego helps Cron at first
TEMPE, Ariz. -- Mike Gallego flipped roles on C.J. Cron. It was late January, weeks before workouts would officially begin, and the two were standing in one of the back fields of the Angels' Spring Training complex. Gallego, in his first year as director of baseball development, looked at Cron, in drastic need of improvements defensively, and asked him how to field a ground ball as a first baseman.
Cron's answer: Just get in front of it and knock it down, then flip it to the pitcher.
"Well," Gallego responded, "there's a little more to it than that."
• Spring: Tickets | Ballpark | 40-man roster | NRIs
So then Gallego started talking about the importance of reading hops, of picking the ball up off the bat and seeing it into a glove, and, most importantly, of moving your feet. Gallego, a 13-year Major League infielder who had spent the last 11 seasons as a third-base coach and infield instructor, worked with Cron four days a week for nearly a month leading up to the Angels' first full-squad workout on Feb. 24.
Cron struck Gallego as a man with good hands but inactive feet, so he put him through an array of drills that focused on footwork and perception.
He had Cron count the amount of hops on every ground ball, and challenged him to field them after as few as possible.
The drill emphasized attacking the baseball.
Then Gallego walked to the edge of the infield grass and had Cron, standing only about 30 feet away, turn his back to him. At Gallego's signal, Cron spun around and Gallego ripped hard ground balls directly at him. He'd hit 10 of those, then 10 more with Cron looking at him the entire time.
It helped him pick up the ball a lot faster.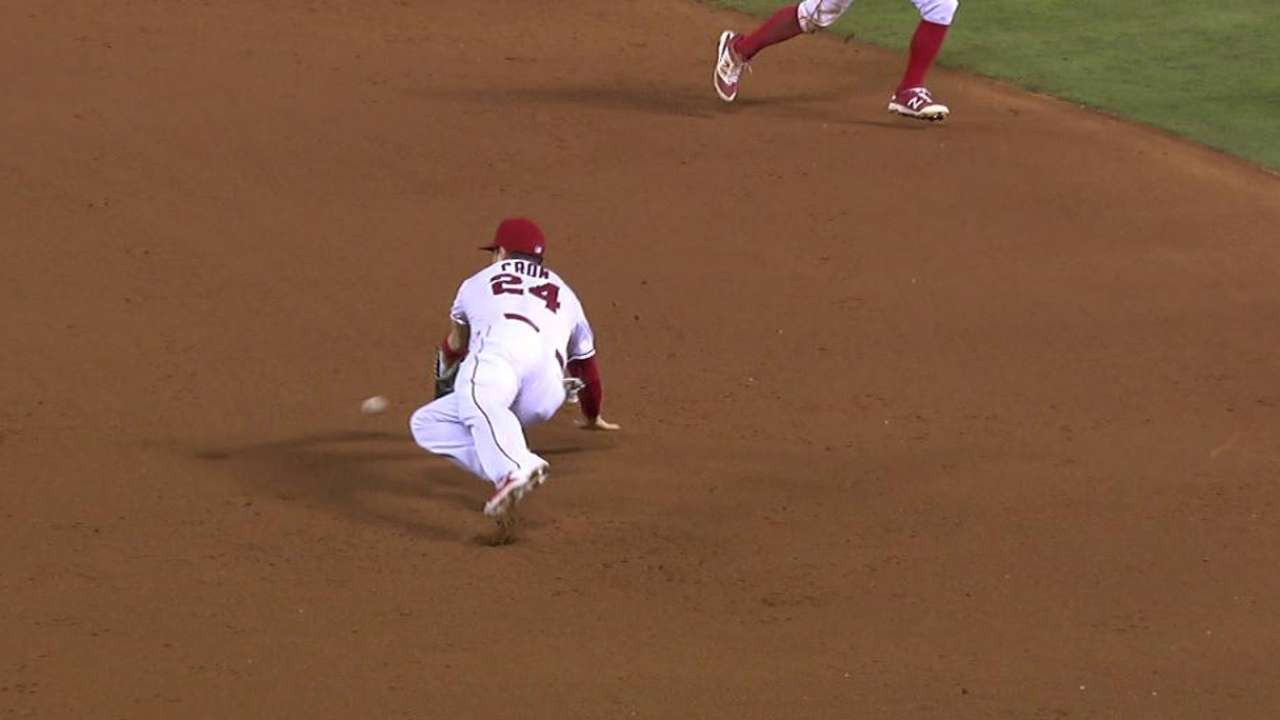 Gallego would then back up to home plate and hit Cron ground balls to his forehand, except he would instruct Corn to position himself in a way that would allow him to field them with his backhand.
It pushed him to move his feet swifter than ever before.
Lastly, Gallego hit balls softly and ordered Cron to field grounders on only short hops. Then he would tell him to field grounders only on big hops.
"From the first day I saw him, he got twice as good," Gallego said. "It was amazing. And he walked off that field sweating bullets, after going through a bucket of balls, and looked at me like, 'I've never seen a ball that well.'"
Gallego correlates it all to hitting. When guys are going well at the plate -- a concept Cron could certainly relate to -- they don't talk about mechanical adjustments. They talk about how much better they're seeing the ball. The same can happen on defense.
"But you have to work at it," Gallego said, "and you have to have an idea of how to work at it."
Cron and Kole Calhoun, both locals, frequently came to the Angels' complex to take batting practice throughout January. At that point, Gallego was working with Kaleb Cowart and Kyle Kubitza on their transition to second base, so Cron asked if he could join in for some work.
Cron, 26, has always been considered a below-average defender, with an Ultimate Zone Rating of minus-6.3 through 711 2/3 Major League innings at first base the last two years. But he'll nonetheless play a lot of first base in 2016, with Albert Pujols recovering from surgery to his right foot and ever mindful of resting his body as a designated hitter.
"I was real impressed with his aptitude and his work habits," Gallego said of Cron. "He was out here busting his tail to get comfortable. The only thing I introduced to him was seeing the ball better off the bat and using his feet more. He was more of a read it when it was on him, and he was finding that he was getting a lot of in-between hops, so I got him to think about backing the ball up off the bat a little deeper in the hitting zone, which allows him to start creating his hops earlier, as opposed to just getting on him."
Alden Gonzalez is a reporter for MLB.com. Read his blog, Gonzo and "The Show", follow him on Twitter @Alden_Gonzalez and listen to his podcast. This story was not subject to the approval of Major League Baseball or its clubs.