Birds boast Statcast's hardest-hitting lineup
Orioles' projected lineup goes from full of vacancies to fearsome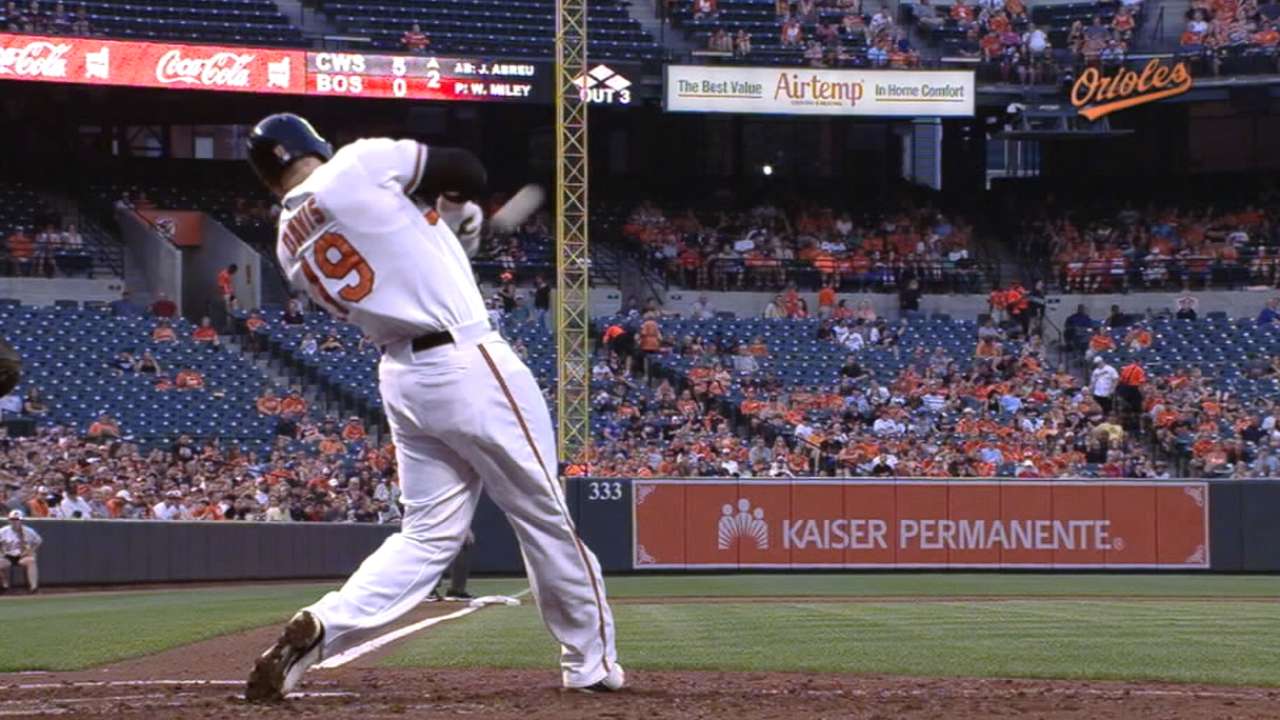 Over the past five months, the Orioles' projected lineup has transformed from one with a glaring number of vacancies to arguably one of the most fearsome in the Major Leagues.
With Baltimore's most recent addition of Pedro Alvarez, Statcast™ data suggests that the Orioles could make a case for having the hardest-hitting lineup in baseball. As it stands now, Baltimore's lineup ranks among the best league-wide in terms of both average exit velocity and average hit distance from last season.
Using last season's Statcast™ data and current rosters, here's a closer look at just how dangerous the Orioles' lineup could be heading into the 2016 season.
The O's currently project to roll out one of the hardest-hitting lineups this year, thanks to three moves made since the end of last season. The first was made in early December, when they acquired Mark Trumbo from the Mariners. Trumbo registered an average exit velocity of 94.1 mph last year, eighth-best in the Majors among players who put at least 100 balls in play.
Next, Baltimore eventually re-signed first baseman Chris Davis in mid-January. Along with leading the Majors in home runs for the second time in three years, Davis finished last season with an average exit velocity of 93.1 mph. That mark ranked 21st in the Majors, one spot behind the player most recently added to the lineup.
The addition of Alvarez gives Baltimore another player who posted an average exit velocity of 93.1 mph last year, though his average was slightly higher than Davis' before rounding it off. Toss in the fact that returning third baseman Manny Machado ranked 16th with his 93.2-mph average exit velocity and the O's can now lay claim to four of last season's top 21 hardest-hitting sluggers.
To put that further into perspective, not only are the Orioles the only team with four players in the top 40, but 21 of the other 29 teams have four or fewer players in the entire top 100. Put it all together and the 2016 O's combined for an average velocity of 90.5 mph last season, ranking highest among any current roster.
Average exit velocity
1. Orioles: 90.5 mph
2. Blue Jays: 90.1 mph
3. Mariners: 89.7 mph
4. Mets: 89.5 mph
5. Dodgers: 89.5 mph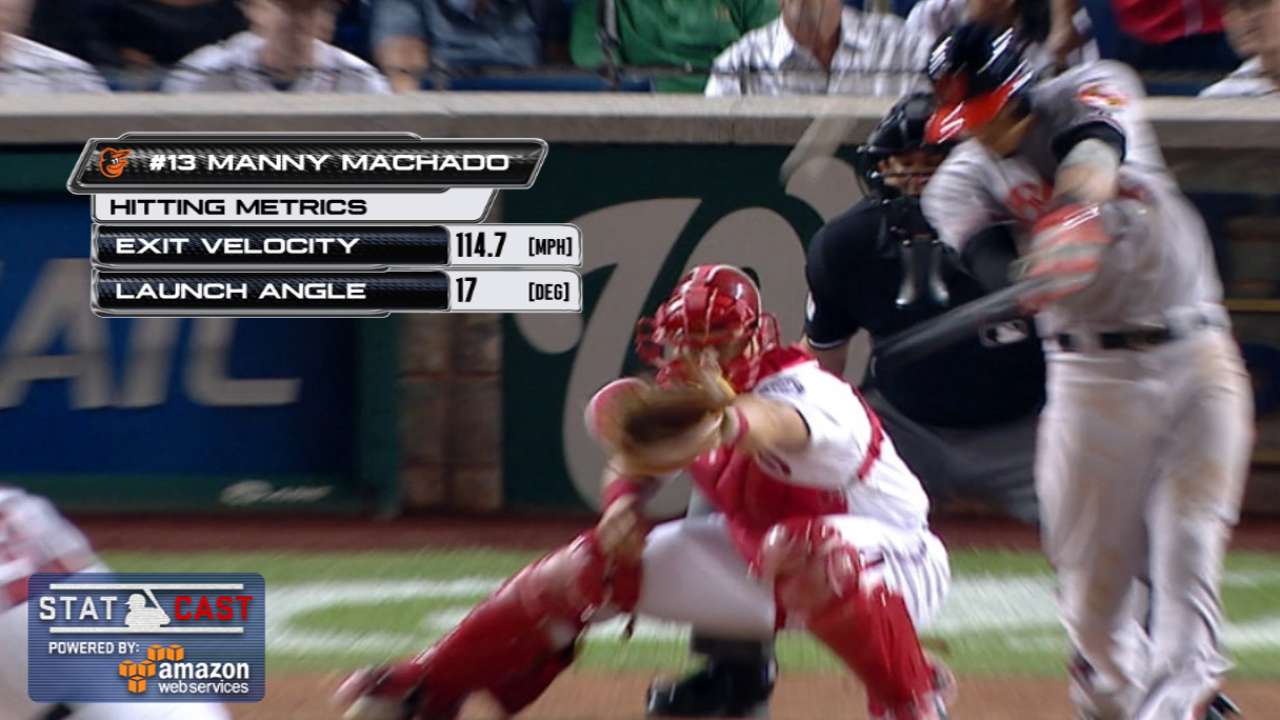 The Orioles' ranking as the hardest-hitting roster in baseball is not simply the result of a top-heavy lineup.
After all, players currently on the O's roster topped 95 mph on 44.1 percent of the balls they put in play last year. That mark ranks second among rosters across the big leagues, just behind Toronto's 44.3 percent.
Baltimore is one of only five teams -- along with the Blue Jays, Dodgers, Rangers and Mariners -- to eclipse the 40-percent mark, and its 44.1 percent is more than 10 percentage points higher than both the Reds and Braves. For added reference, the league average last year for the percentage of balls in play hit at least 95 mph was 38.8 percent.
Batted balls above 95 mph
1. Blue Jays: 44.3 percent
2. Orioles: 44.1 percent
3. Dodgers: 42.1 percent
4. Rangers: 42.5 percent
5. Mariners: 40.7 percent
Of course, the Orioles' formidable lineup not only hit the ball hard last year, but also quite far. Baltimore's current hitters averaged 217.3 feet on balls in play last year, placing the O's second behind the Mets' average of 217.7 feet.
It's no surprise that Davis -- thanks largely to his 47 home runs -- had the highest average among his Orioles teammates at 248 feet, good for seventh in the Majors. The next two names on the list, however, might be a bit unexpected.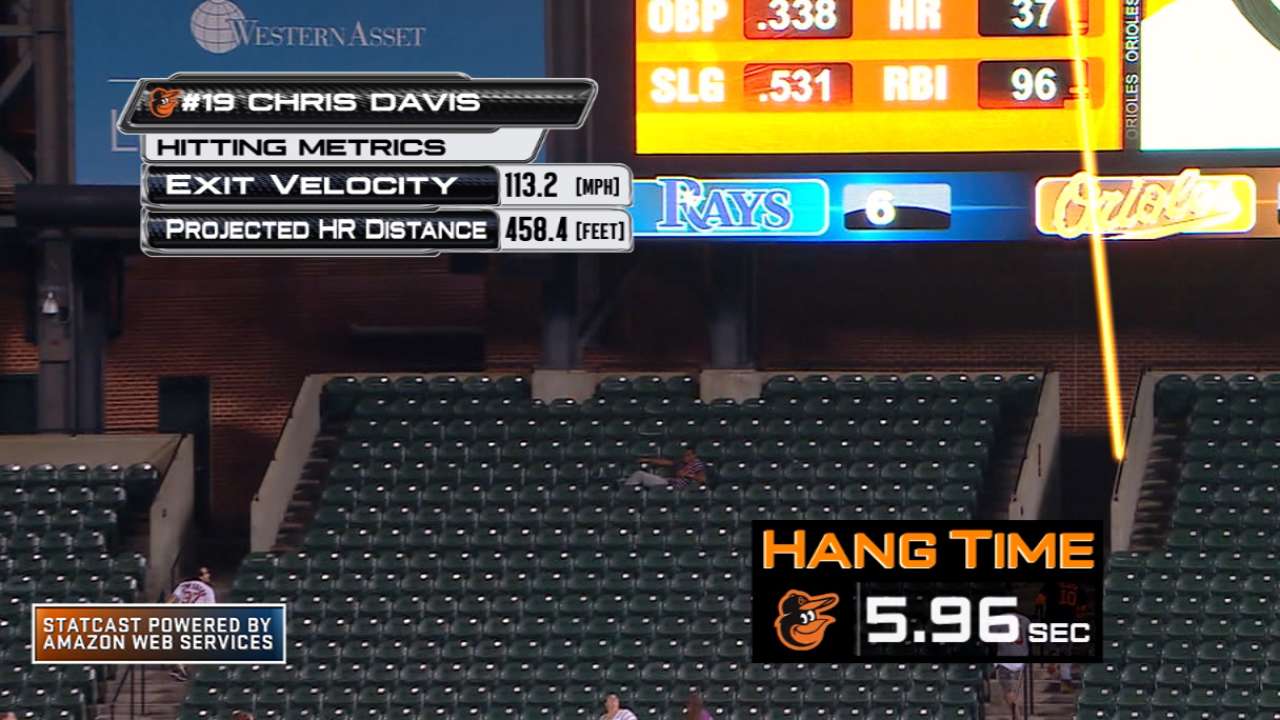 Following Davis, the O's players with the next highest average distances were infielder Jonathan Schoop (231.3 feet) and catcher Caleb Joseph (230.7). The rest of the usual suspects aren't far behind, with Joseph being followed, respectively, by Machado (227.2), Trumbo (226.8), Matt Wieters (225.2) and Adam Jones (213.2).
Average batted-ball distance
1. Mets: 217.7 feet
2. Orioles: 217.3 feet
3. Cubs: 215.6 feet
4. Rockies: 215.5 feet
5. Dodgers: 215.1 feet
The Orioles are also one of only three teams -- along with the Blue Jays and Rockies -- that currently have five players who hit at least one 450-foot home run last regular season. Each of the two newcomers, Alvarez and Trumbo, hit a 450-foot bomb last year, while Davis, Jones and Schoop each did so once as well.
Paul Casella is a reporter for MLB.com. Follow him on Twitter at @paul_casella. This story was not subject to the approval of Major League Baseball or its clubs.