Maturity, mental approach help Kontos excel
Giants' middle-innings reliever relies on guile more than gas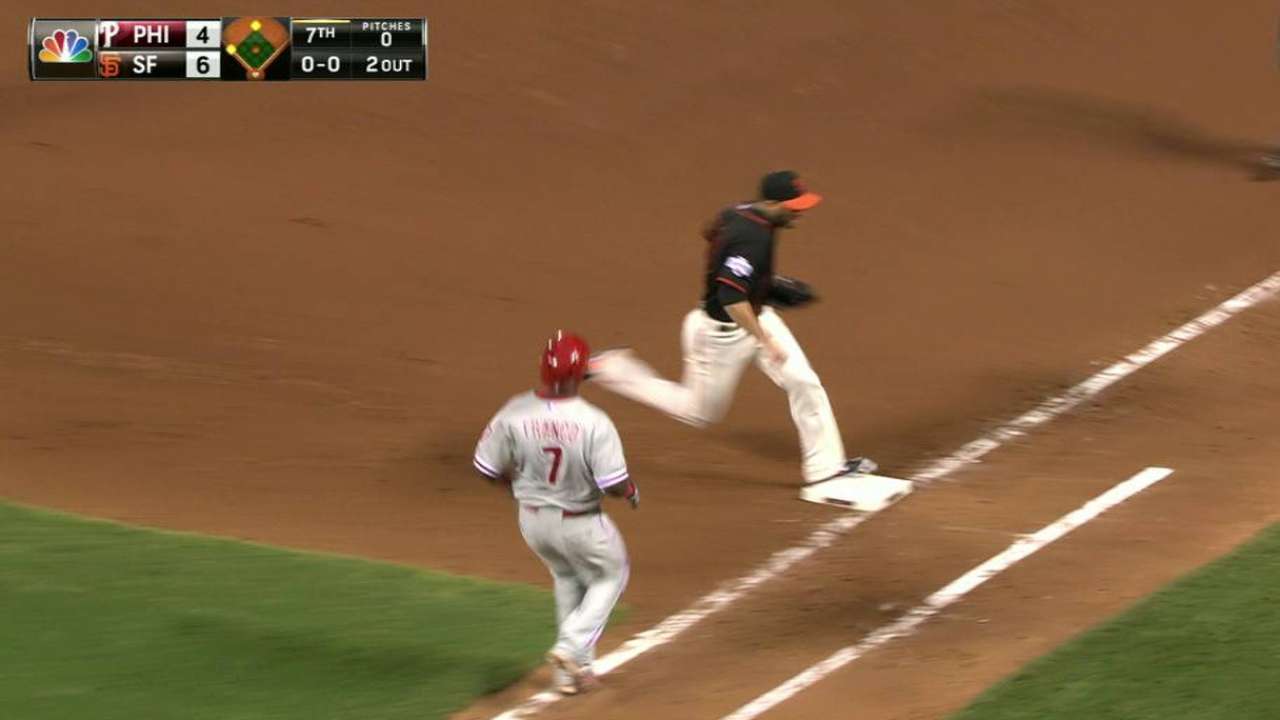 SCOTTSDALE, Ariz. -- For George Kontos, the initial step in rarely allowing opponents to beat the Giants last year was rarely beating himself.
Kontos made hitters earn their way on base. He walked only 12 batters in 73 1/3 innings, the lowest number among pitchers who threw at least 70 innings. It also marked the 17th time since 1990 that a reliever worked as many innings as Kontos and issued no more than 12 walks. Five of the previous 16 instances were recorded by a pair of premier hurlers -- Hall of Famer Dennis Eckersley and legitimate legend Mariano Rivera.
Kontos' control helped him accumulate impressive statistics in his fifth Major League season. He achieved career bests in games (73), ERA (2.33), innings and WHIP (0.94). He also stranded the first 26 baserunners he inherited.
"The biggest thing I was happy with last year was how consistent I was," Kontos said Monday.
His performance would have earned him a more prominent bullpen role on many teams. But since the Giants have Santiago Casilla entrenched as the closer and Sergio Romo and probably Hunter Strickland as setup men, Kontos likely will remain San Francisco's stopper in the fifth, sixth or seventh innings.
"I think the role he had was so critical for success," manager Bruce Bochy said. "He's a guy who can give you multiple innings. He's resilient. And those guys are invaluable. They save everybody else, they calm things down at that point in the game. ... I like what George does in the sixth and seventh innings."
Maturity and stability also benefited Kontos. Not only did he turn 30, but he also was out of Minor League options entering 2015, which meant that he wouldn't bounce between the Majors and Triple-A as he did from 2011-14.
"I understand what kind of pitcher I am now. I'm not going to be throwing 95-plus [mph] every single pitch," said Kontos, whose velocity typically ranges from 91 to 94. Instead of overpowering hitters, Kontos continues to frustrate them with his slider, which he supplements with a fastball that he can carry, cut or sink.
"I attack hitters," he said. "I move the ball around and try to locate. I think the more mature I've gotten as a Major League pitcher, I started realizing that those are my strengths. Even if I throw my best fastball at 95, that's not nearly hard enough to blow someone's doors off."
Kontos noted his "demeanor" has been an asset. Confidence, he believes, leads to competence.
"I'm a firm believer that when you're executing your pitches and you do what you're supposed to do, the next time, you throw those pitches with a little bit more conviction," he said. "You're like, 'I've done this before. I've executed this. I've seen the results.'
"I'm a firm believer that the more you go out there and the more conviction and confidence that you have, the less bad, fluky, weird things happen. You can throw the same pitch at 92 miles an hour and one pitch is thrown with conviction and you may sneak it by a guy or get weak contact. Or you throw the same exact pitch, same exact speed, same exact location, but you weren't sure of that pitch -- that one finds a way to get hit. Or blooped. Or something doesn't quite go your way when you don't throw those pitches with conviction."
Chris Haft is a reporter for MLB.com. Read his blog, Haft-Baked Ideas, follow him on Twitter at @sfgiantsbeat and listen to his podcast. This story was not subject to the approval of Major League Baseball or its clubs.