Danks, White Sox encouraged by latest start
Veteran lefty works into 4th, whiffs Brewers in order in 1st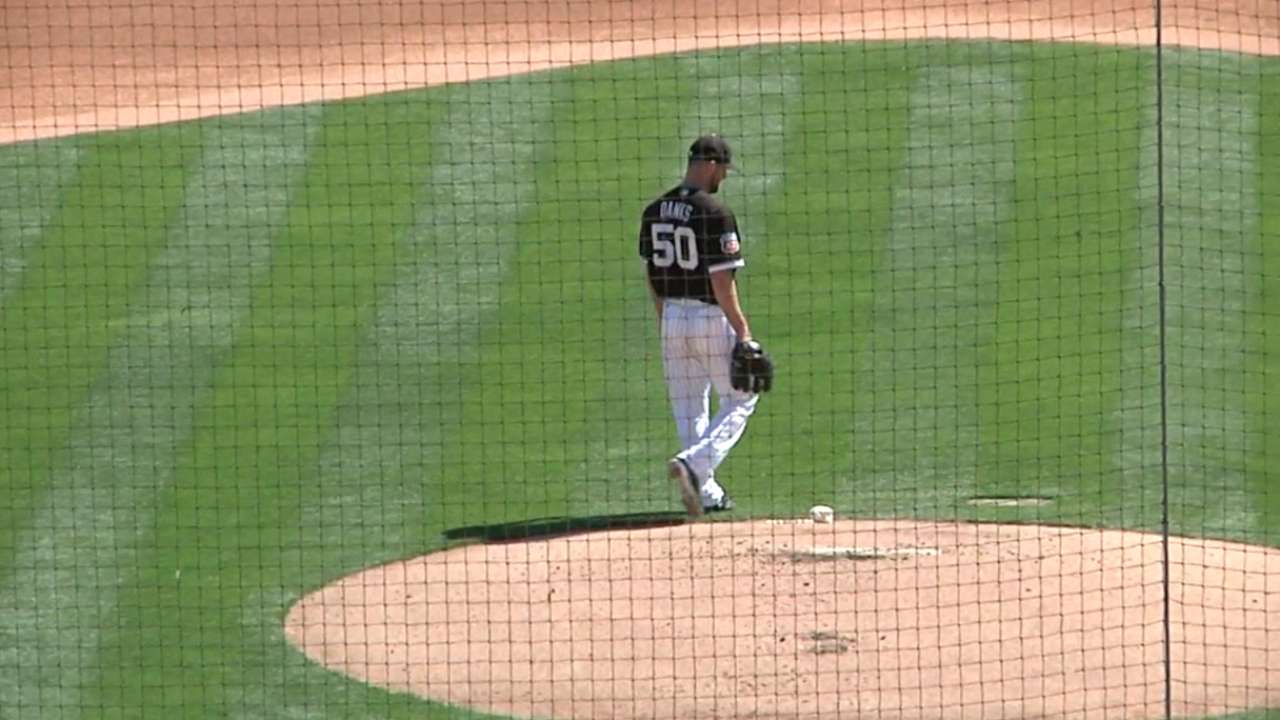 GLENDALE, Ariz. -- John Danks smiled when stating that White Sox pitching coach Don Cooper had "a laundry list" of things for him to work on during his second Cactus League start Tuesday at Camelback Ranch.
"No, it's really a lot of the same stuff," Danks said before the White Sox 10-6 victory over the Brewers. "Trying to simplify things and put myself in position to be able to throw four pitches where I want."
• Spring: Tickets | Ballpark | 40-man roster | NRIs
Danks allowed two runs on three hits over 3 1/3 innings, striking out four and walking two. The southpaw struck out the side in the first, mowing down Domingo Santana, Michael Reed and Rymer Liriano.
"It felt good, but it felt good last time," Danks said. "We've worked on some mechanical things and I'm happy with where I'm at right now. There's plenty of work to be done. Definitely today was a step in the right direction."
"He was sharp today," said White Sox manager Robin Ventura. "He had a nice little rapport going with Alex [Avila]. Good outing for him to go back out there for the fourth."
Danish learns through struggles
The final numbers weren't exactly what Tyler Danish wanted during his first season with Double-A Birmingham in 2015, posting an 8-12 record with a 4.50 ERA over 26 starts. But the right-handed hurler, ranked 11th among White Sox prospects by MLBPipeline.com, counts it as a season he won't forget.
"I will use that for the rest of my career, what I learned that year," said the 21-year-old. "I will always go back to that year and understand what I went through and what I learned from it."
Danish started off strong and admitted to being affected by thoughts of a callup to Triple-A Charlotte.
"That hurt me," said Danish, who allowed one over 1 2/3 innings Saturday, striking out one, and then struck out two more in Tuesday's relief effort against the Brewers. "I learned not to be too fine. My stuff plays if I'm in the zone.
"As the year went on, I kept pressuring myself to get back to where I was in April and trying to be too perfect. I put myself in bad situations trying to be too fine. Next thing you know, you have to throw the ball down the middle of the plate. I learned how to pitch guys a little differently and pitch in a lot more and just keep the sink on the plate."
Proud Papa
Tim Anderson and his fiancée, Bria, welcomed their daughter, Peyton Kensleigh, per Anderson's tweet that read "My baby girl" with her picture. Anderson left camp Sunday and should be back by Thursday.
Webcast note
Aaron Rowand will join play-by-play announcer Russ Langer on Wednesday's whitesox.com webcast in a Cactus League home game against the A's. Willie Harris served as the analyst Tuesday.
They Said It
"I like all pitchers if he can throw it over the plate." -- Cooper, when asked for his thoughts on former White Sox first baseman Dan Johnson now being with the Rays as a knuckleballer
"That's a balanced attack." -- Ventura, on the White Sox having 12 homers from 12 players
Scott Merkin is a reporter for MLB.com. Read his blog, Merk's Works, follow him on Twitter @scottmerkin, on Facebook and listen to his podcast. This story was not subject to the approval of Major League Baseball or its clubs.