Tribe pitchers break down each others' best
MLB.com asked each, which pitch would you steal from your teammate?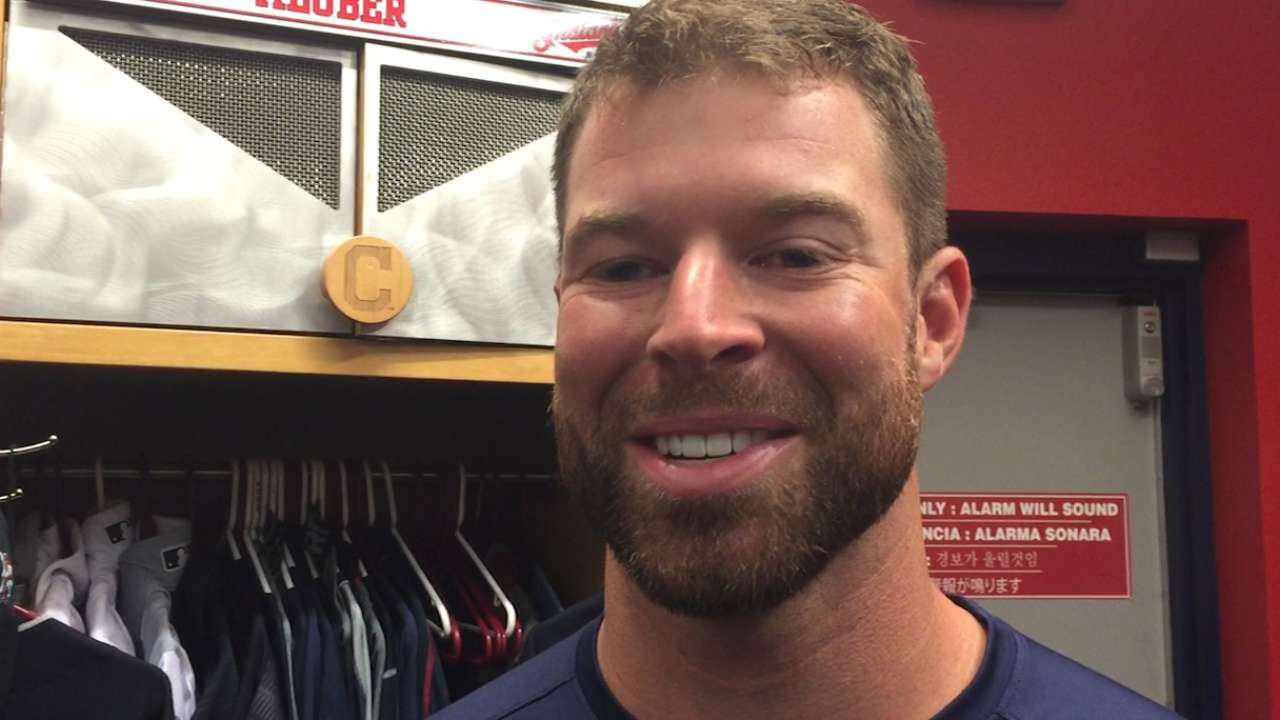 GOODYEAR, Ariz. -- If the Indians are going to experience October baseball again this season, the rotation likely will have lived up to all the preseason hype.
As Cleveland prepares for the season ahead, multiple outlets have projected the club to be capable of an American League Central crown and a postseason run. A large reason for the Spring Training optimism is the makeup of the Tribe's starting rotation, which will feature Corey Kluber, Carlos Carrasco, Danny Salazar, Trevor Bauer and likely one of Josh Tomlin or Cody Anderson.
• Indians Spring Training info
"When you're running pitching out there every night that gives you a chance, it feels good," Indians manager Terry Francona said. "We feel like our pitchers will give us a chance to win. I think we feel like they're all getting better and, because of some of our younger guys, we're going to have some depth."
The group also features a variety of unique pitches. Kluber's curveball played a big role in his run to the AL Cy Young Award in 2014, while Carrasco and Salazar have toyed with hitters with devastating changeups. Bauer seemingly has every pitch in the book up his sleeve, Tomlin relies on pinpoint control with his fastball, and Anderson's offspeed pitch fooled plenty of hitters during his rookie campaign last summer.
With that in mind, MLB.com asked each of the six Indians starters this question: If you could steal a pitch from one of your fellow rotation members, which would it be and why?
Here are the results:
Kluber's curveball
About the pitch
Kluber's breaking ball is considered a curveball, but it has movement similar to a slider as well. He has thrown it a little more than 15 percent of the time over the past two years, during which he has established himself as one of the American League's elite starters. Fangraphs.com gave Kluber's curve a 16.8 pitch value rating in 2015, ranking it second to only the curve featured by Seattle's Felix Hernandez (19.7). Kluber threw it 83.7 mph on average in '15, providing the bottom of his three-tiered velocity approach. His sinker averaged 93.8 in '15 and his cutter came in at 89.4 mph on average.
Who picked it?
Anderson: "It'd have to be Kluber's power curveball, because it's like a boomerang. It almost comes back to him. He kind of throws it like a two-seam curveball, so it's a little awkward for me to try to do. I've got a decent changeup that plays all right, so I'd definitely have to take his curveball, if I could."
Carrasco: "I think it's got to be Kluber's curveball. It's kind of coming like a fastball, but at the end it has too much depth. That's why I want that curveball. Yes, I [tried to throw it] last year, but I think I need to practice it a little bit more. I think he puts something more at the end, kind of a little bit more power. I've tried to do it, but mine's kind of easy. I need to practice more on the end."
Salazar: "Corey Kluber's slider. It's a great pitch. He's always consistent with it, the way he throws it it always moves. It's always down in the zone. It would make my career a little bit easier with that. I've tried to use his same arm motion, like when he throws it, and tried to be consistent with it."
Take a look:
Salazar's split-changeup
About the pitch
When the Indians tried to work on a changeup with Salazar, he accidentally developed one of baseball's best pitches. The righty uses a traditional circle-change grip, but his arm angle and action create a tumbling effect similar to a splitter or forkball. Last year, Salazar's split-change was given a 19.3 pitch value by Fangraphs.com, ranking it second to Zack Greinke's changeup (20.1). In 2015, Salazar's changeup came in at 86.1 mph on average, making for a near 10-mph drop from his average fastball (95.9) He featured the pitch 20.8 percent of the time last year, up from 12.1 percent in '14.
Who picked it?
Bauer: "Salazar's split. You couple a good split with good velo and it's a really deadly combo, but I've never been able to throw a good split. Most of it's mechanical. I've always wanted to, but it's just not going to work with the way I throw the ball."
Kluber: "If I had to pick one, I think I'd probably go with Danny Salazar's changeup, just because I have a hard time throwing a changeup consistently and his is a wipeout pitch. I think if I could steal one that I could just go out there and throw without having to think about it, I'd probably go with that one. I've tried throwing it the way he does it. I'll either throw it 40 feet or throw it over the backstop, so there's no middle ground with it for me."
Take a look:
Carrasco's changeup
About the pitch
Carrasco's changeup has similar fading action as Salazar's offspeed pitch, but the difference is in the grip and velocity. While Salazar uses a circle-change grip, Carrasco holds his changeup in an altered split-fingered fastball position. The big right-hander's change came in at 89.1 mph on average last season, compared to 95.7 mph for his fastball. Carrasco has thrown the pitch roughly 14 percent of the time over the past two seasons. In '15, Fangraphs.com gave it a 6.1 pitch value, ranking it 15th overall among qualified Major League pitchers.
Who picked it?
Tomlin: "I think for me it'd be Carrasco's changeup. He's got an unbelievable changeup. The arm action with it looks exactly like his fastball and then halfway there it disappears. He gets a lot of swing and misses on it, early contact and gets a lot of guys out on it. So I think for me it'd be probably trying to develop a Carlos Carrasco changeup."
Take a look:
Jordan Bastian is a reporter for MLB.com. Read his blog, Major League Bastian, follow him on Twitter @MLBastian and listen to his podcast. This story was not subject to the approval of Major League Baseball or its clubs.