Marlins to play Braves at Fort Bragg on July 3
Club honored for chance to 'put the spotlight on the service men and women' in historic event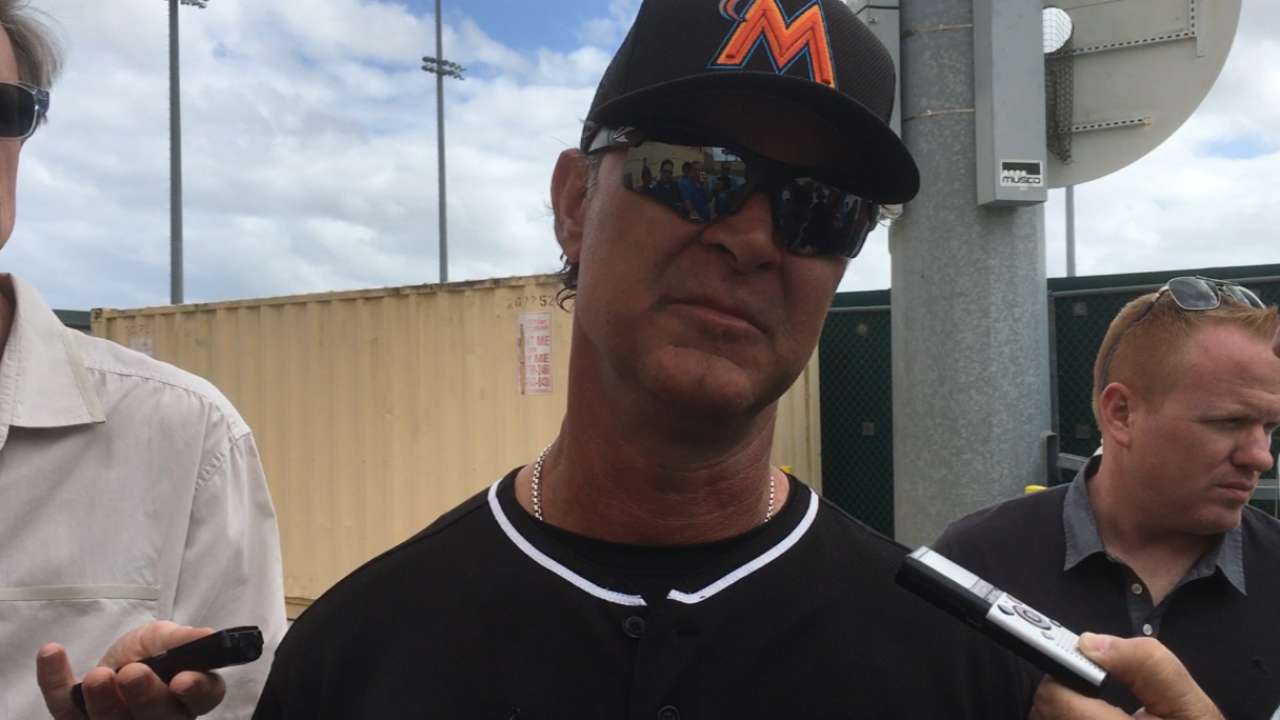 JUPITER, Fla. -- Independence Day Weekend will be a historic experience for the Marlins, because Major League Baseball announced Tuesday that the club will be playing a game at a unique venue.
The July 3 meeting between Miami and the Atlanta Braves will be played at Fort Bragg in North Carolina, marking the first professional contest of any sport to be played on an active military base.
• Marlins, Braves to celebrate nation's military in Fort Bragg Game
"We're going to put the spotlight on the service men and women," said Marlins right-hander Tom Koehler, the team's Players Association representative. "We're going to be playing, but the whole purpose of this is to shed some light on everything they do, and kind of honor them. The fact it does fall before Independence Day is perfect timing. I'm really excited about it."
The Marlins and Braves, who will serve as the home team, will play at a newly constructed 12,500-capacity ballpark -- and the game will be broadcast nationally on ESPN's Sunday Night Baseball, ESPN Radio and MLB.TV at 8 ET.
"We're the first [teams] ever. I think it will be pretty cool," manager Don Mattingly said. "I'm looking forward to it. There might be a little funky travel, but I'm looking forward to it."
The Marlins will be in Atlanta on July 1-2, before playing the Fort Bragg Game, and they will then face the Mets at Citi Field on July 4.
"I think it's a trip that a lot of us are looking forward to," Miami left fielder Christian Yelich said. "It should be a cool day. We're excited to go out there and play in front of those guys and say hello. We're on a military base, so that's a unique experience. I think it's going to be a fun time."
Yelich's younger brother, Cameron, is in the Marines and currently stationed in Japan. The two keep in touch through text messages, but communication sometimes takes several days.
"It will take like two days to have a text conversation because of my schedule and his schedule," Yelich said. "Sometimes he's got two or three weeks without a phone when he's out in the wilderness doing his thing."
Earlier in Spring Training, eight Marlins, including Yelich and reliever Mike Dunn, spent an afternoon at the Honda Classic golf tournament, taking part in a Military Appreciation event.
• Marlins visit veterans at golf tournament
"I appreciate the troops and everything they do for us, especially having a service member in my family," Yelich said. "It will be extra special for me to go out there. I know it's an army base. We owe those guys a lot."
We are honored to celebrate our nation's military at Fort Bragg.

MORE: https://t.co/D8naTCn0WZ pic.twitter.com/PAb9adry1M

— Miami Marlins (@Marlins) March 8, 2016
Dunn actively supports the troops in a variety of ways. In February 2014, the reliever was part of a baseball contingent that visited troops at Fort Bragg.
"It was something you won't forget. It was awesome," Dunn said. "I loved it. I know when the conversations kind of started, and the union was reaching out to see if we wanted to do it, T.K. sent out the big mass message for it. I was all for it. I think it's going to be awesome."
The Players Association first approached Koehler about playing at the base in early November. The initial reaction from the players was overwhelmingly in favor of the idea.
"I texted a bunch of guys, and without hesitation, everybody was super excited," Koehler said. "It's something that's never been done. To be able to take the nation's pastime and honor our service men and women, I think it's going to be an absolutely incredible experience."
Joe Frisaro is a reporter for MLB.com. He writes a blog, called The Fish Pond. Follow him on Twitter @JoeFrisaro and listen to his podcast. This story was not subject to the approval of Major League Baseball or its clubs.