Lewis pleased working deeper into game
Rangers starter goes three innings in second spring outing
SURPRISE, Ariz. -- Colby Lewis knows a lot about bouncing back from adversity. He was out of the big leagues and in Japan before he resurfaced in the Majors and reclaimed his position as a starting stalwart for the Rangers.
So, Lewis' second spring start was a microcosm of his career. Lewis was roughed up in the first inning Monday afternoon against the Giants, giving up two runs, but found his footing to pitch two more scoreless frames as the Rangers rallied for a walk-off 6-5 victory over the Giants. Most importantly for Texas at this time of Spring Training, Lewis continued his progression toward the beginning of the season.
"I actually felt better as I went on," Lewis said. "The third inning felt a lot better than the first two, so that was a plus for me. I felt like my arm started to come to me a little bit more there in the third inning.
"It felt like it was real mechanical in the first two, even playing catch and long-tossing in the bullpen. I felt like it was going to be a real grindy day, and it turned into a little bit more positive than I thought it was going to be."
• Spring Training: Schedule | Tickets | Gear
Lewis got into trouble when leadoff hitter Denard Span doubled and scored three batters later on Kyle Blanks' home run to center field. Mac Williamson followed with a single and was thrown out stealing by Rangers catcher Robinson Chirinos to end the inning. Lewis was much more efficient after that, scattering two hits over the next two innings and finishing with 49 pitches, 32 strikes.
"I thought Colby did a fine job," Rangers manager Jeff Banister said. "One ball he got up in the zone, but … he had the ball down and up for effect, threw some nice breaking balls, sliders and cutters. Colby did a good job."
Desmond waiting for his chance
Ian Desmond is trying to transition from shortstop to left field, but the fly-ball gods aren't on his side so far. Desmond played his third game of the spring at the new position and again didn't get a single fly ball.
"It's going to work out where I don't get a fly ball until Opening Day and the sun is going to be right in my face," Desmond said with a laugh. "I've had plays, there are other things to playing the position than catching fly balls, and in those situations I feel like I've done well, so I'll keep on checking boxes."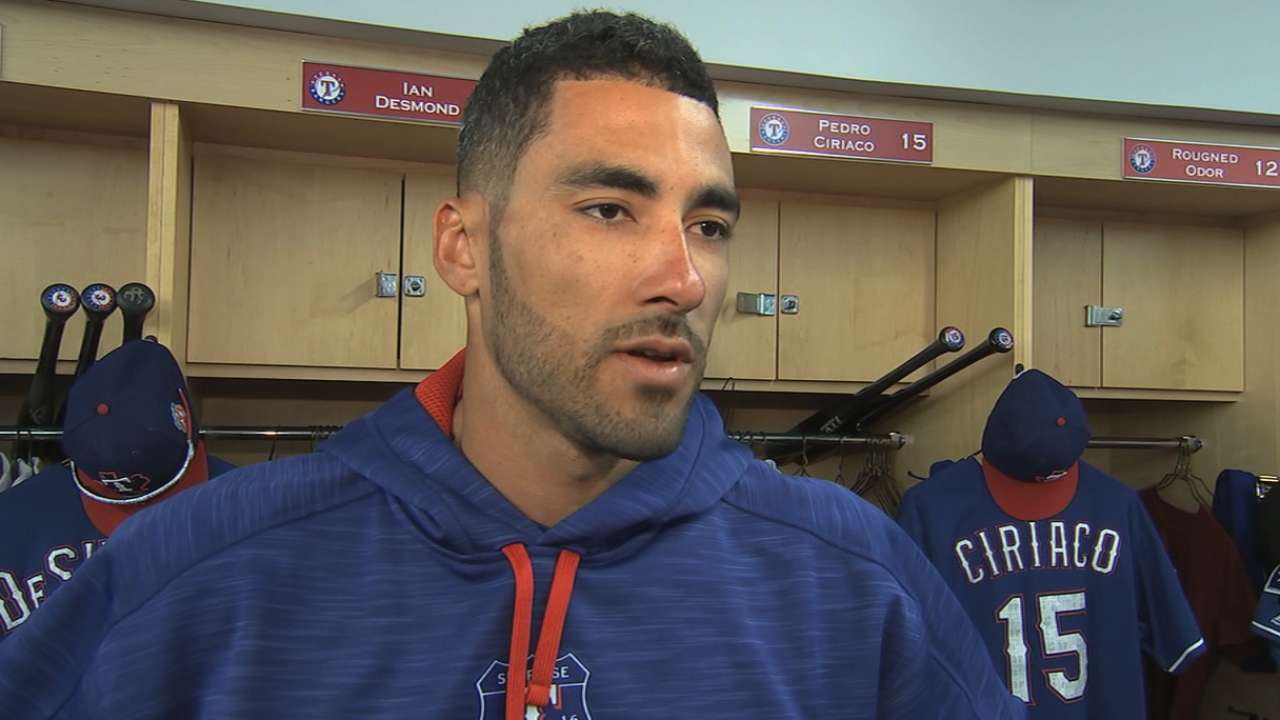 Desmond said he was talking to an old coach about the dilemma and the coach mentioned former teammate Tyler Moore, who, while transitioning from first base to outfield, went 15 games in an instructional league without getting a fly ball.
Desmond said he doesn't think he'll challenge that mark.
"I'm going to find one," he said. "I don't care if I have to go to a Little League field, I'm going to find one."
Full distance for Darvish
Starter Yu Darvish, who could return to the Rangers rotation from Tommy John surgery by mid-May, took the next step in his progression with his first bullpen session from the full 60 feet, 6 inches.
Darvish's previous work had been with the catcher sitting in front of the plate, but on Monday morning in front of a sizable crowd by the Surprise back fields, Darvish threw 15 pitches with the catcher behind the plate, delivering fastballs and breaking balls, and he didn't appear to have any issues afterward.
Worth noting
• The Rangers have been up and at 'em most mornings this spring, arriving at camp at 7 a.m. MT or earlier. This was not the case on Monday, when Banister let them trickle in at a more leisurely pace, with workouts starting around 10.
"I felt like it was time to let them sleep in a little bit and recharge," Banister said. "We want to maintain an energy level with these guys. These guys have gone at it at a good pace. They've had great energy and we want to maintain that. So it just felt like it was time."
• Right-hander Jeremy Guthrie, who has not appeared in a game this spring because of lower back stiffness, is slated to make his debut in Tuesday afternoon's road game against the A's in Mesa. He'll follow starter Derek Holland.
• Closer Shawn Tolleson progressed to throwing from 120 feet as he continues to work his way back from lower back spasms.
Doug Miller is a reporter for MLB.com. Follow him on Twitter @DougMillerMLB. This story was not subject to the approval of Major League Baseball or its clubs.