Gray's curveball continues to be work in progress
Trouble in outing comes after getting behind in count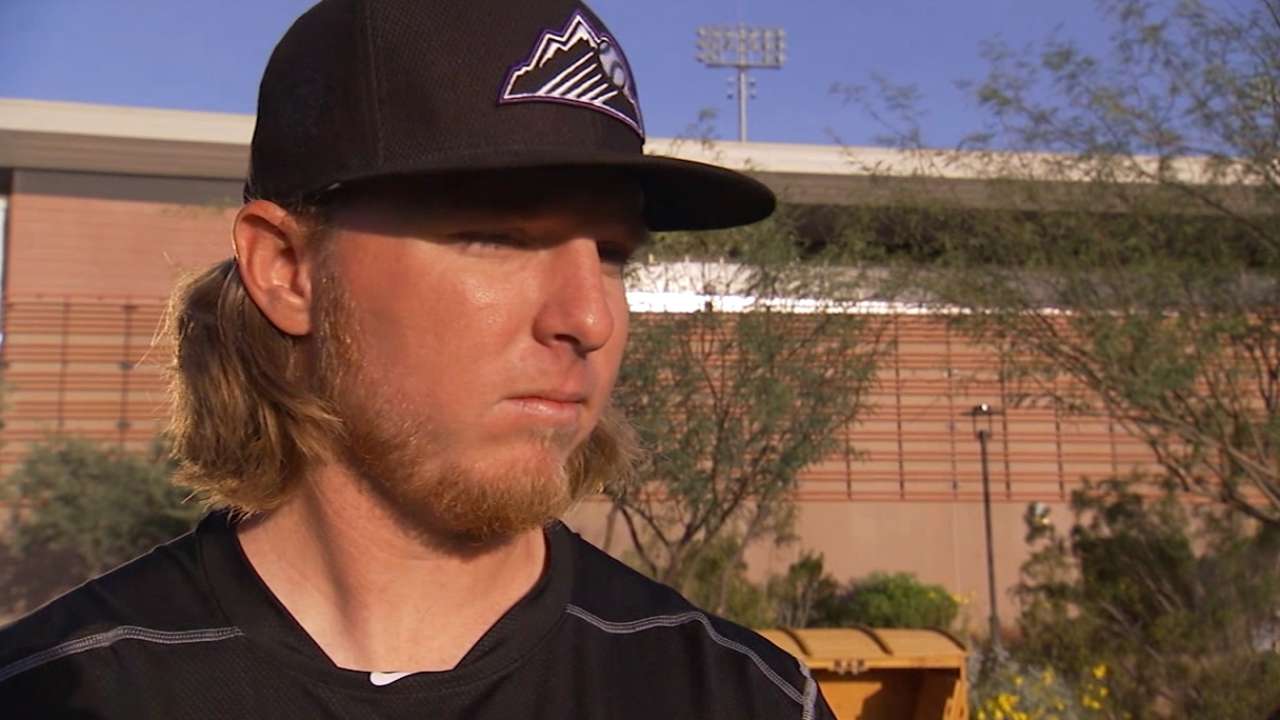 SCOTTSDALE, Ariz. -- Rockies right-hander Jon Gray is struggling with the patience to realize that Monday was an experiment that went wrong, but he's still in the testing stage.
Gray, ranked No. 2 among Rockies prospects by MLBPipeline.com, yielded two runs on rocket homers by Jason Heyward and Anthony Rizzo among three hits, and walked three in 2 2/3 innings of the Rockies' 4-2 victory over the Cubs at Salt River Fields at Talking Stick. It was the second start of a Spring Training during which Gray is incorporating a new curveball with his fastball and changeup.
"It's tough, honestly, I'm a competitor," Gray said "But I see the bigger picture. I'm never going to be able to know how it's going to work unless I use it in a game. That's what I'm focusing on. I'm not really upset with it, but I am at the same time. I got a lot of feedback today, so I'm going to take it into the bullpen."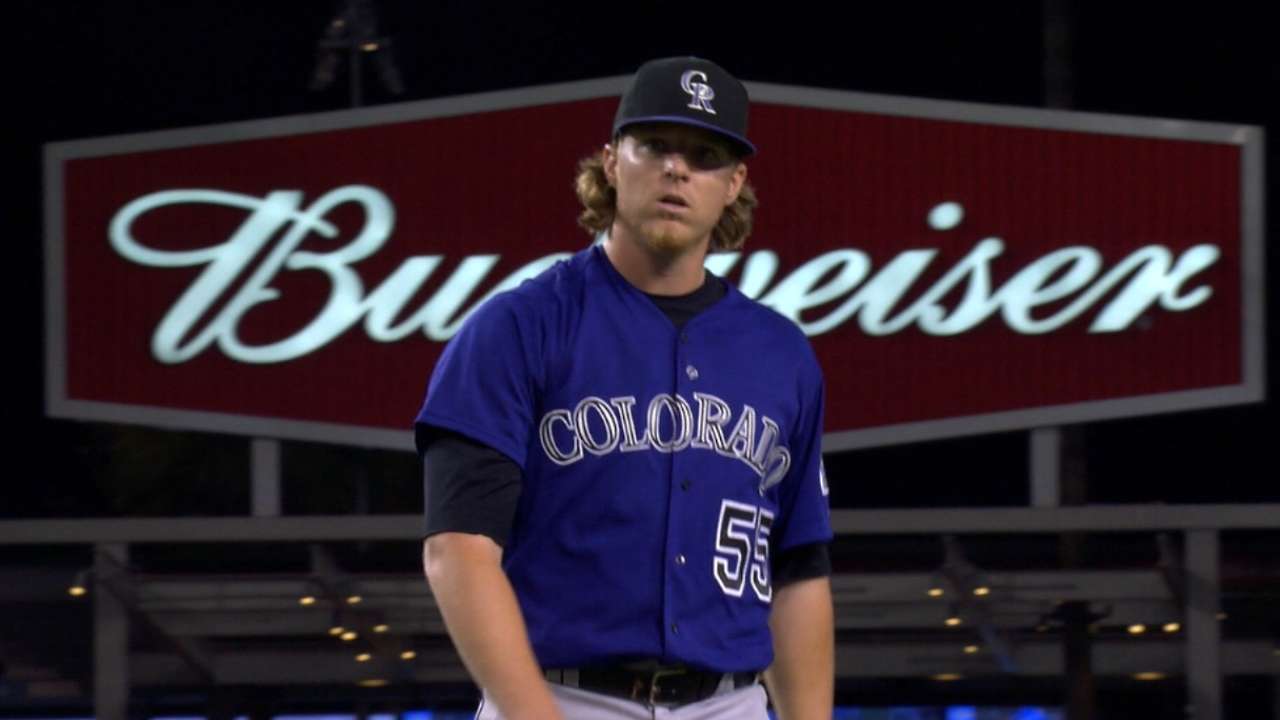 The feedback was loud. In addition to the homers, there were four sizzling balls hit to second baseman DJ LeMahieu, and third baseman Nolan Arenado had to handle chances tougher than they appeared.
But now is the time when the runs, and the bruises to fielders, don't officially count. Gray struck out Dexter Fowler on three pitches, including a curveball in the dirt. But he hasn't perfected throwing the curve into the strike zone. And hitters were teeing off after Gray fell behind in the count.
Adames displays talent, work ethic
Manager Walt Weiss said Gray has to continue perfecting his style, which means more curveballs -- maybe more than he'll throw when the season begins.
"It's a pitch he's going to use in a game; It's a matter of how much he's going to use it," Weiss said.
Parra's bat may help Rockies enjoy life on the road
Worth noting
• Weiss said he feels for righty Jairo Diaz, who showed power at the end of last season but sustained a torn right elbow ligament Saturday and will have Tommy John surgery.
"He maybe has been the most improved over the last year of anybody in our camp -- some mechanical adjustments, some mental adjustments," Weiss said. "He was a force for us last year. We were trying to get the ball to him in the eighth inning. That was a winning formula for us last year. We have some depth in our bullpen, and that's a good thing. Someone will step up and do a good job for us, I'm confident about that. I just feel bad for the kid."
Diaz to undergo Tommy John surgery
• Major League Baseball Commissioner Rob Manfred, visiting Salt River Fields at Talking Stick, said there is no change regarding Rockies shortstop Jose Reyes. A hearing on Reyes' domestic violence case is scheduled for April 4 in Maui, Hawaii, and after that MLB "will be in a position to act quickly," Manfred said.
The joint MLB-MLB Players Association policy allows Manfred to act even if a case hasn't gone through the court system. But in some cases such a quick decision may not be feasible, Manfred said.
"It depends on the circumstances of each case," Manfred said. "I imagine a scenario where you are able to get all the information and put yourself in a position to make a decision. On the other hand, the single biggest decision you could make here is to make a decision quickly and to have additional facts come out afterward and undermine the quality of that decision."
Manfred said the 30-game suspension for Yankees reliever Aroldis Chapman, in a case that law enforcement declined to press charges, is not automatically a precedent for the Reyes decision. Reyes is on paid administrative leave, which means that from Opening Day he will be paid while his case is being resolved in court and reviewed by the Commissioner.
• The Rockies announced the signing of the following 23 players to one-year contracts. The club did not release terms of the contracts.
Right-handed pitchers
Bergman, Christian
Bettis, Chad
Butler, Eddie
Castro, Miguel
Diaz, Jairo
Estevez, Carlos
Gray, Jon
Hale, David
Marquez, German
Miller, Justin
Oberg, Scott
Senzatela, Antonio
Left-handed pitchers
Anderson, Tyler
Matzek, Tyler
Rusin, Chris
Catchers
Garneau, Dustin
Murphy, Tom
Wolters, Tony
Infielders
Adames, Cristhian
Paulsen, Ben
Story, Trevor
Ynoa, Rafael
Outfielder
Tapia, Raimel
Thomas Harding is a reporter for MLB.com. Follow him on Twitter @harding_at_mlb, listen to podcasts and like his Facebook page. This story was not subject to the approval of Major League Baseball or its clubs.