Seeking starting role, Velasquez impressive
Phillies righty delivers three scoreless innings, keeps ball on the ground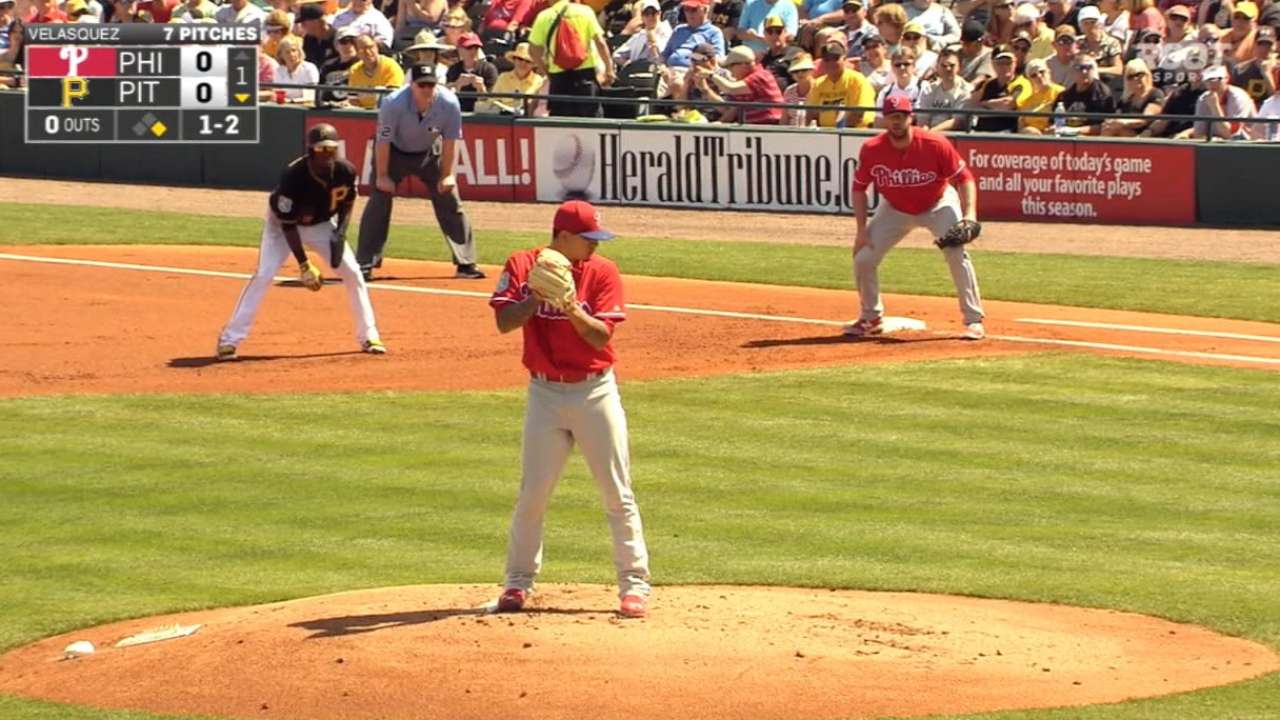 BRADENTON, Fla. -- First things first, Phillies right-hander Vince Velasquez prefers to be called Vince, not Vincent. Nobody calls him Vincent.
Of course, since the Phillies acquired Velasquez in December from the Astros in the Ken Giles trade, his buddies back home in California have started calling him "Vinny from Philly." Velasquez, who pitched three scoreless innings Monday afternoon in a 1-0 victory over the Pirates at McKechnie Field, will find a few Vinnies from Philly if he spends any time in South Philadelphia this summer.
• Spring: Tickets | Ballpark | 40-man roster | NRIs
"They think it's so funny," Velasquez said.
Velasquez plans to be in Philly a lot this summer. He is gunning to be the No. 5 starter and he made a case for himself against the Pirates. He allowed three hits, one walk and struck out three. But perhaps most important to Velasquez, he got double-play ground balls in the first and third innings.
Keeping the ball on the ground is a goal for Velasquez.
"That's actually a big thing for me right now," he said. "I've never really been a ground-ball pitcher. But I've been utilizing my two-seam [fastball] a lot, and adjusting to apply my fastball and two-seam as much as possible, utilizing it early in the count."
Velasquez said he had some short outings last season because he got too deep into counts.
"I threw a lot of straight fastballs," he said.
Velasquez had a 31.3 ground-ball percentage in 55 2/3 innings last season with Houston. If he had enough innings to qualify, it would have ranked among the lowest in the big leagues. But he is confident his two-seamer will boost that percentage this year. He said he showed a two-seamer occasionally last season, but said he threw only a few because he lacked command of it.
"It's shown pretty well," he said about the pitch's improvement this spring. "It's one of the things that'd really help you in early counts, help you get that ground ball whenever you need it."
"Over in Houston, I guess they liked the four-seam fastball up in the zone," Phillies manager Pete Mackanin said. "We like the sinker down in the zone, as well as the fastball. Two different pitches. When you get into the middle and later innings as a starter, you have to be able to change speeds and keep hitters off balance. If you're throwing everything hard the whole game, you better have real good command."
But so far Mackanin likes what he sees from the prized piece of the Giles trade.
"I like his arm, I like the stuff coming out of it," he said. "If he continues to pitch and get hitters out the way he's been getting hitters out, it bodes well for him.
"Velasquez is a power pitcher, obviously. I need to see a little more finesse from him. In a three-inning stint, that's hard to do. Today everything was hard, hard, hard. I want to see a little finesse from him."
Todd Zolecki is a reporter for MLB.com. Read his Phillies blog The Zo Zone, follow him on Twitter and listen to his podcast. This story was not subject to the approval of Major League Baseball or its clubs.