MLB.com Columnist
Jonathan Mayo
Is Milwaukee's farm system its best ever?
Brewers brass excited to see influx of prospect talent in one place at Spring Training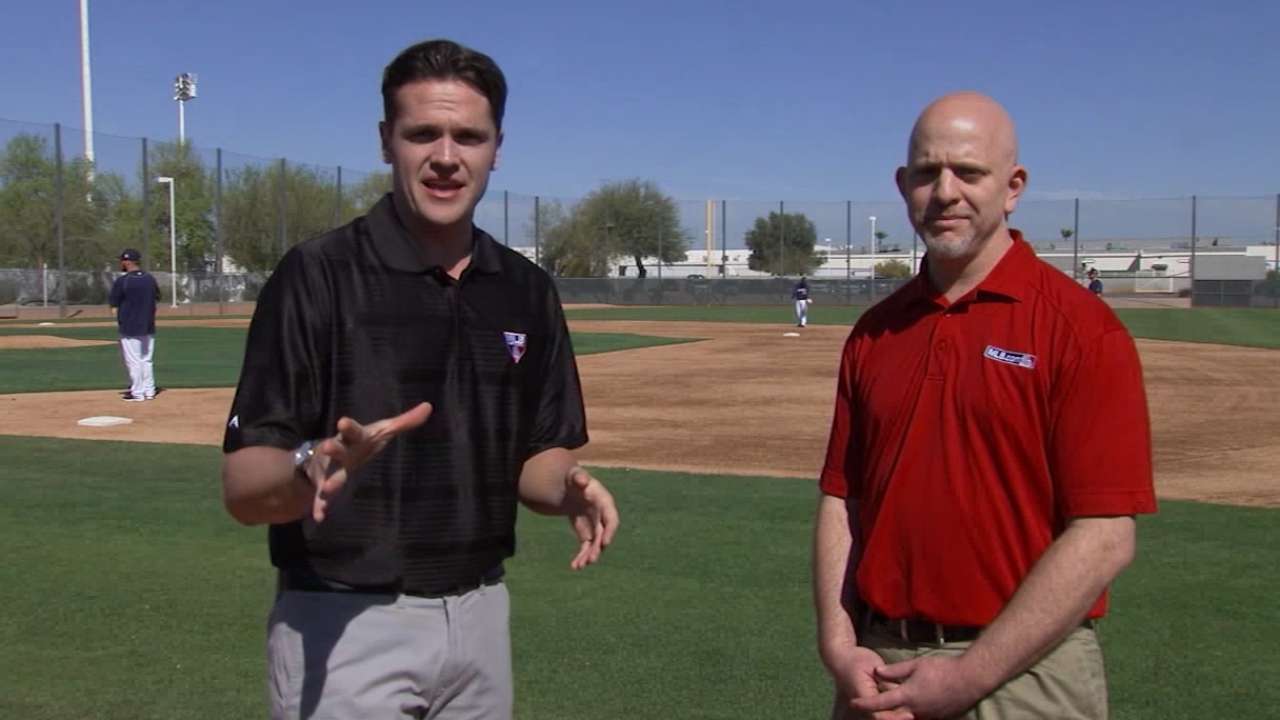 Every Spring Training, prospects get a chance to show what they can do as they prepare for the season ahead. Some are competing for jobs in big league camp, others are prepping for the season as they vie for spots at Minor League affiliates up and down a team's system. MLBPipeline.com will be visiting all 30 camps this spring. Today, we check in on the Milwaukee Brewers.
PHOENIX -- It's understandable if the Brewers are a little excited about the future. A lot of work was put in to restock the farm system via trades, after all. Now with the ninth-best organization, according to MLBPipeline.com, getting to see all these prospects in one place at the Brewers' Spring Training complex has many nearly giddy.
"This year, there's definitely a different feel," said Tom Flanagan, who is new to being the team's farm director, but is starting his 27th season with the organization. "On the Minor League side, especially, you're biased because you see it every day. You get to see these guys' abilities. It's a little bit easier to see the finish line, so to speak. Even though we know it's going to be a ways away, it's encouraging from that perspective."
It's not that Milwaukee hasn't had good prospects in the past, though there had been some lean years of late. The general consensus is that this edition of the system is the best it has ever been.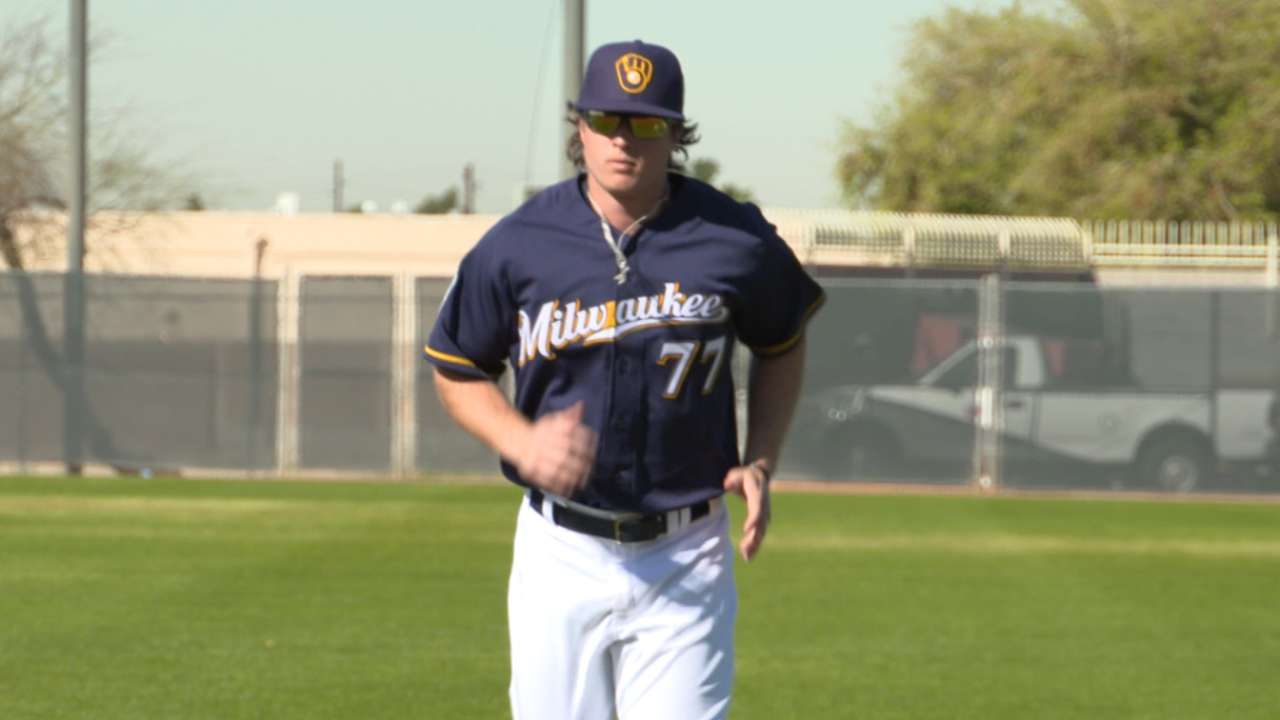 While it obviously starts with No. 1 prospect Orlando Arcia, who is homegrown and already standing out in big league camp, much of the new talent came in via trades. Brett Phillips and Josh Hader, No. 2 and 4 on the Brewers' Top 30, came in the Carlos Gomez deal. No. 10 Jacob Nottingham came from the A's for Khris Davis, as did Bubba Derby (21).
MLB Pipeline Spring Training reports
It won't make Flanagan's job any easier. In the past, it was pretty cut and dry in doling out assignments because of a lack of depth. Now, there's going to be increased competition for jobs and even a backlog of talent. The added work is not something the player development staff is upset about undertaking.
"We were noodling around, we have tentative roster projections, it's going to add some extra effort to plan out movements," Flanagan said. "In the past, unfortunately, you always could say, 'When this guy does this, this and this, we'll move him up.' Now, it's a game of four-square, where you have to make sure the prospect ahead of him is [ready to move]. It's a good problem to have."
Camp standouts
Entering the 2014 international signing period, shortstop Gilbert Lara was ranked as the No. 4 prospect of those eligible to be signed. The Brewers gave him $3.1 million, going over their entire bonus pool and incurring a penalty tax in the process. He made his United States debut at age 17 a year ago and showed glimpses of what all of the fuss was about.
Lara is now 18, and a lot can happen in terms of physical maturity in that year. It's already been showing up in camp, as he's added about 10-15 pounds of good weight.
"He still has some leanness like a basketball player when you look at him, but he's bulked up quite a bit," Flanagan said. "He's been an eye opener. He's going to end up being a pretty big guy, but still moves really well. He has that sleek look to him, but you notice the upper body, especially when he hits, getting a lot bigger."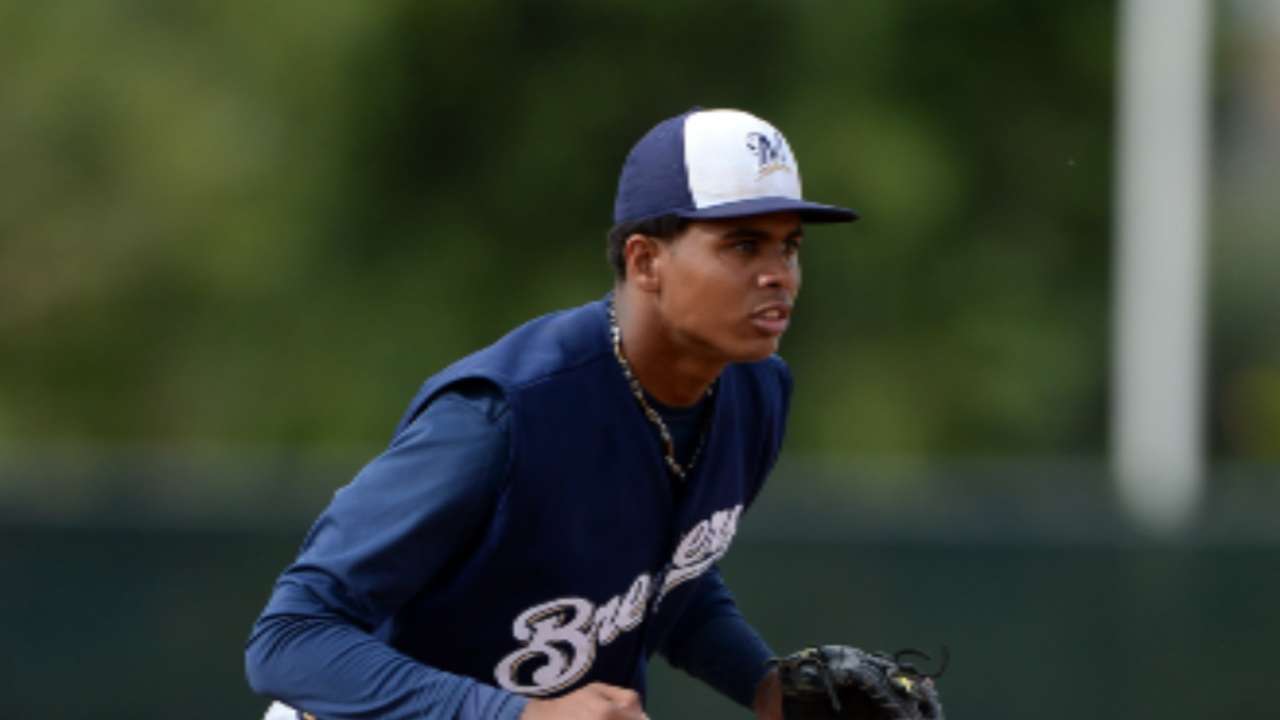 Another player who is impressing with an improved body is 2015 second-round pick Cody Ponce. The 6-foot-6 product of Cal Poly Pomona lost 15 pounds during the offseason to prepare for his first full year of pro ball. He was up to 96 mph and went two solid innings in his first action in a recent intrasquad game. It's not just weight loss -- Ponce evidently took a spin class to help -- but the kind of overall shape he reported in.
"He has a little more muscle mass on his frame," Flanagan said. "You definitely notice it when you look at him. He definitely redistributed things really well, and it's a good sign as he heads into spring."
Breakout candidates
Flanagan feels a pair of Diazes have the chance to really break out in 2016.
On the pitching side is Miguel Diaz, a hard-throwing right-hander whose 2015 season was over really before it began because of an avulsion fracture in his pitching elbow. He did make it back at the end to show he was on the mend. Diaz is showing early on this spring that he's ready to do more than that.
"Seeing how he's been throwing on the side and in the first intrasquad game, if he's healthy, I think he's going to open some eyes this year," Flanagan said
Newly acquired Isan Diaz, who came over in the Jean Segura trade, was the Pioneer League MVP in 2015. So while he's not a typical "breakout" candidate because he's had previous success, the Brewers are quite excited for what he'll do in his full-season debut after seeing him for the first time this spring.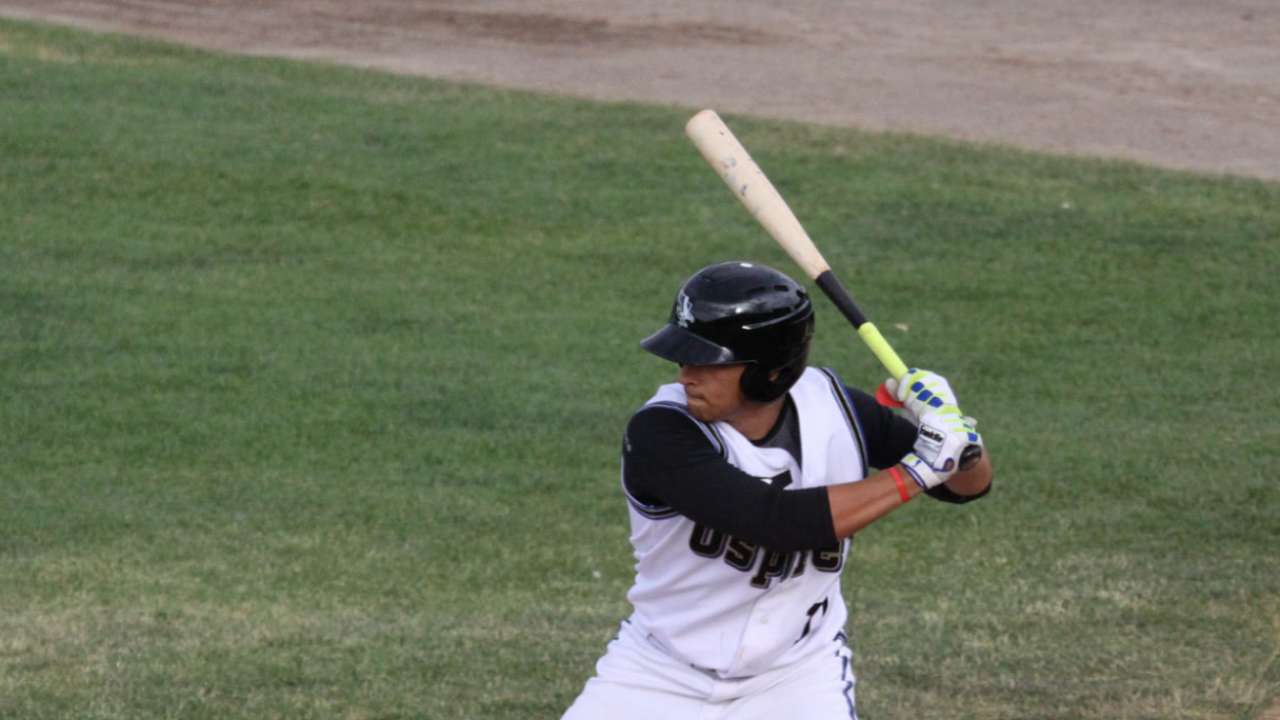 "He's really looked really good at shortstop so far," Flanagan said. "He'll likely get the bulk of the time at our Midwest League team at shortstop this year."
Jonathan Mayo is a reporter for MLBPipeline.com. Follow @JonathanMayo on Twitter.
This story was not subject to the approval of Major League Baseball or its clubs.