Patience is a virtue for prospect Moya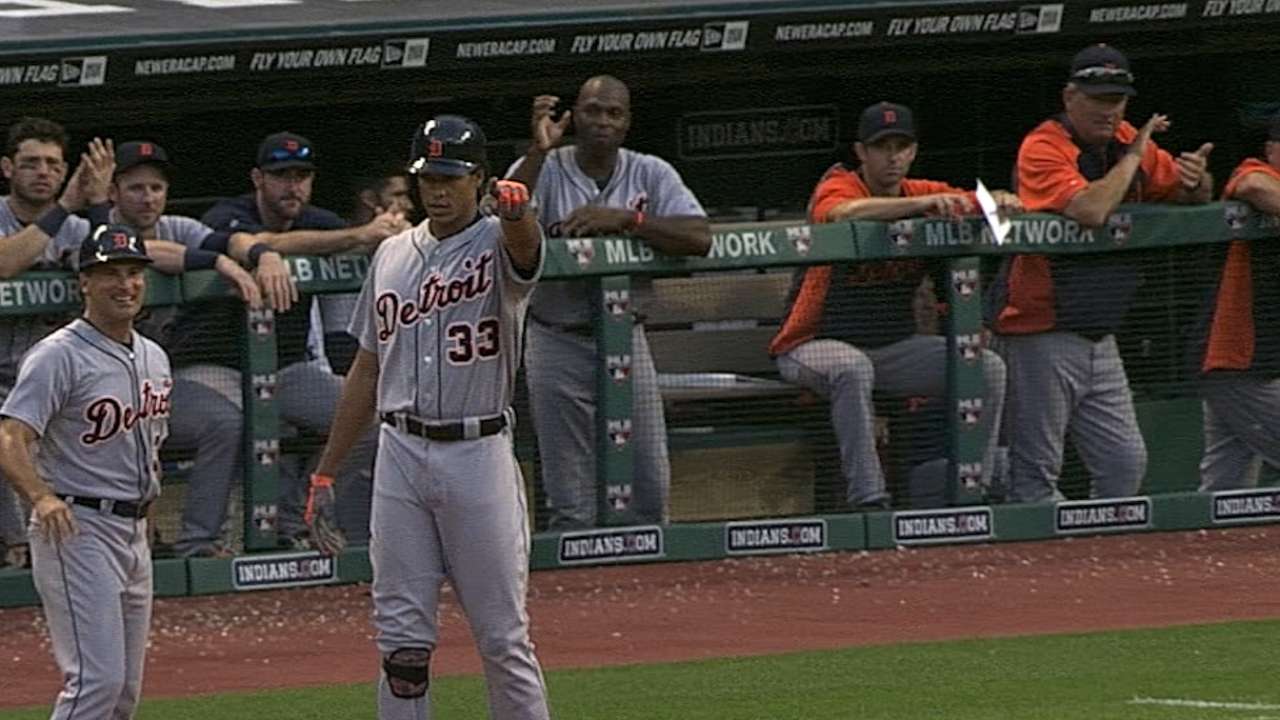 LAKELAND, Fla. -- The clear plastic tag might as well have been fused to Steven Moya's shirt. Teammates noticed it, and he kept picking at it, but it refused to budge. He was patient with it, eventually prying it off his pocket with his fingernail.
Moya has been pretty patient at the plate, too, these days, as evidenced in Sunday's 9-2 Tigers' win over the Marlins. But there's a limit to that.
"Patience is ok," Moya said, "but it's [about] not missing the pitches that they throw. If you don't miss the good pitch when they throw it to you, you don't have to be worried about other stuff."
In other words, know what you want to hit, be ready for it when you get it and don't mess with the other stuff.
• Spring Training: Schedule | Tickets | Complete info
Moya didn't miss his pitch on Sunday. He barely missed clearing the gigantic clubhouse and administration building under construction beyond the right-field fence at Joker Marchant Stadium.
"That might have been [off] a car a year ago, when the [players'] parking lot was out there," manager Brad Ausmus said. "That might have been [former Tiger] Alfredo Simon's chrome Mercedes."
The 24-year-old prospect didn't see where it landed.
"I'm just trying to hit it well," Moya said. "Look for a good pitch to hit and hit it hard. Don't care where it goes, or how far it goes."
It's the power Moya generates with his 6-foot-7 frame and left-handed swing that draws raves and feeds the imagination of what he could do in the Majors if he can connect consistently. For Moya, it was about the at-bat, waiting on a slider and crushing it.
Moya isn't patient just for patience's sake. He's patient for his pitch. He doesn't want to miss the pitch he's seeking while trying to work a pitcher.
"I think it's more about, 'Don't miss your opportunity,'" Moya said.
• Maybin taking positive outlook
The lesson came out of his 2015 season at Triple-A Toledo, where he hit 20 home runs in 126 games but he also batted .240 with 162 strikeouts. The progress began in the Dominican Winter League, where he played for Toros del Este and hit .298 (39-for-131) with eight doubles, four homers and 27 RBIs. He lowered his strikeout rate to 34 in 35 regular-season games.
"You hope that's part of his growth as a hitter," Ausmus said, "that he learns himself and learns what he can and can't hit, and [he] starts to lay off of things he can't hit."
Moya credits Rafael Rijo, a coach with the White Sox at their Dominican Republic academy, with helping him on his approach. He also learned to recognize pitches. But it was more than that.
"Winter ball was great," Moya said. "I can't describe how good it was for me. It wasn't just the baseball part of hitting the ball or running. The winning part of the game, the pressure of the situation, wanting to win, all of that. I guess for me, it was more important than baseball and hitting and running the bases. I really liked the league a lot."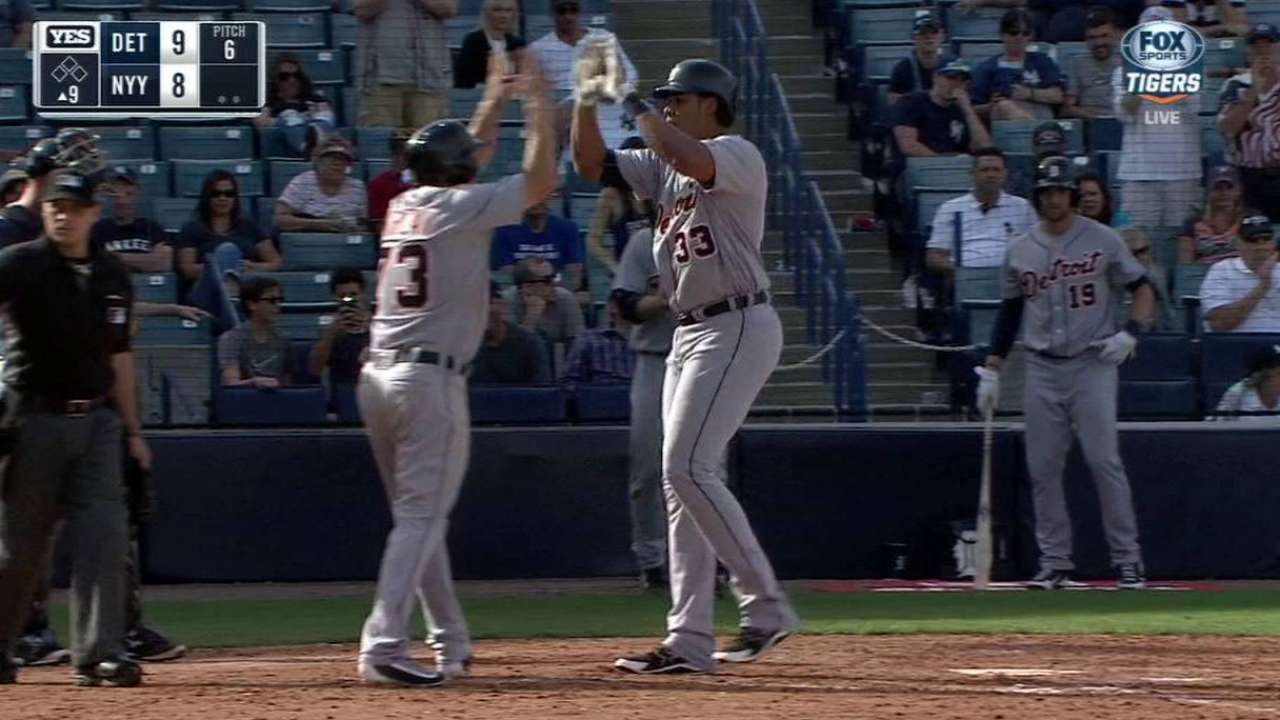 It's early, and he has enjoyed hot starts here before, but they tend to be harbingers. He hit .333 (7-for-21) in his first extended look in camp two years ago, and he ended up winning Eastern League Most Valuable Player honors at Double-A Erie. He came back last spring and batted 4-for-32 (.125) with one home run and 12 strikeouts.
Moya is 3-for-7 with two home runs so far this spring. He isn't fighting for a roster spot on a team that has J.D. Martinez and Justin Upton in its outfield corners. Just fighting for momentum and confidence, though, isn't bad.
"He looks much more comfortable this year," Ausmus said.
Moya looked more comfortable without the tag.
Jason Beck is a reporter for MLB.com. Read Beck's Blog, follow him on Twitter @beckjason and listen to his podcast. This story was not subject to the approval of Major League Baseball or its clubs.