Inciarte solidifying case to be leadoff man
Gonzalez: 'Probably as good a center fielder that there is out there'
PORT ST. LUCIE, Fla. -- When the Braves acquired Ender Inciarte from the Diamondbacks in the Shelby Miller trade on Dec. 9, they hoped the versatile, speedy outfielder would give them a viable option at the top of the lineup.
So far, Braves manager Fredi Gonzalez has liked what he has seen of the left-handed batter during Spring Training.
"I like everything he's brought, really," Gonzalez said Sunday. "He gets on base, hits the ball. He's a stolen base threat, runs the bases well."
• Spring Training: Schedule | Tickets | More info
Inciarte further solidified his case as the top candidate for the leadoff spot when he went 2-for-3 with a stolen base in the Braves' 7-5 loss to the Mets on Sunday at Tradition Field. He raised his batting average this spring to .417 and now has had at least one hit in each of his last three games after going hitless in his first game this spring.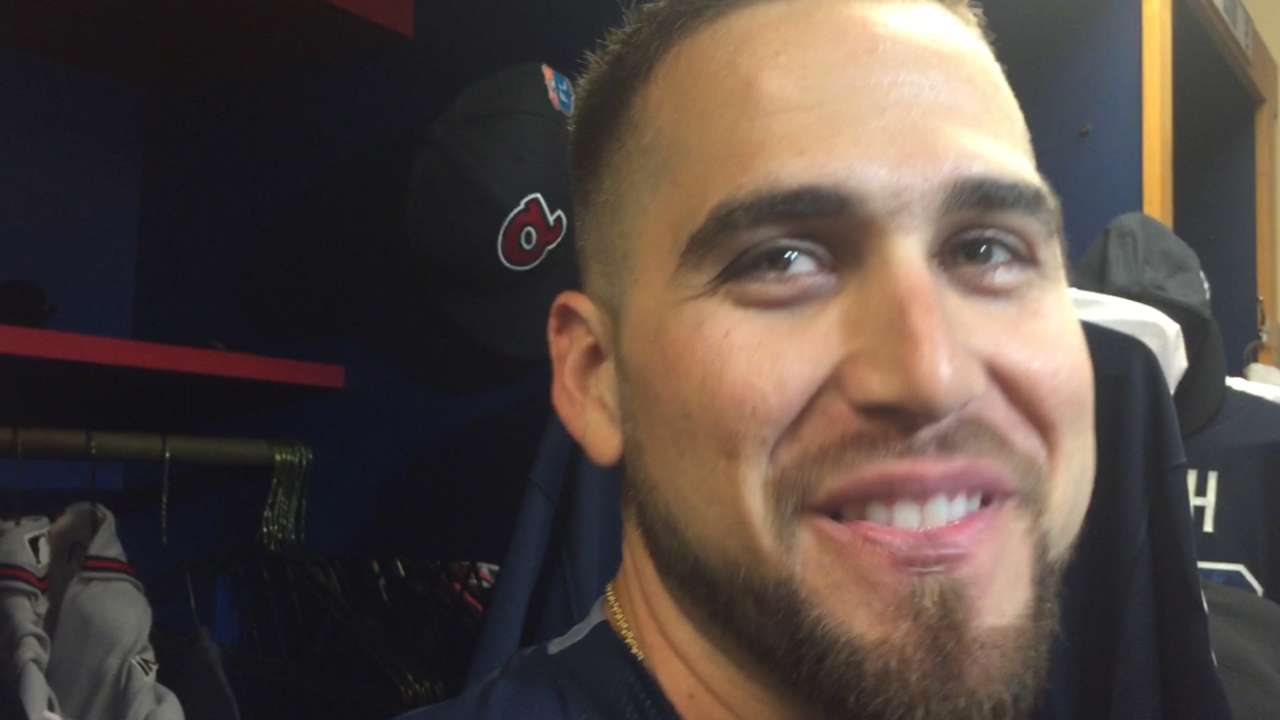 "I'm going to have to take him out of the lineup and just sit him for a week," Gonzalez joked after the game.
Inciarte posted a .303/.338/.408 slash line and hit 27 doubles and five triples with the Diamondbacks last year. One week into the 2016 Grapefruit League season, he's making it tough for Gonzalez not to pencil him into the leadoff spot in the Braves' lineup.
"I mean, you hate to say you're going to write him out for 162 games, because things change," Gonzalez said. "But I feel like he gives us the best spot there to win ball games. On our club, he fits that [prototype] leadoff hitter, if there is such a thing anymore."
Gonzalez said that Inciarte and shortstop Erick Aybar, who hit .270 with 15 stolen bases for the Angels last year, are the best fits to be the team's leadoff hitter and potentially set the table for Freddie Freeman and Nick Markakis.
"I like Aybar in the No. 2 hole just because he's a switch-hitter and you can split up some of those lefties," Gonzalez said.
Inciarte, who started in center field Sunday, ranked second among MLB outfielders last year with 29 defensive runs saved, another aspect of Inciarte's game that pleases Gonzalez.
"Probably as good a center fielder that there is out there," Gonzalez said. "I like to watch him play. I know when he was with the Diamondbacks, he was always one of those guys who was either starting a rally or in the middle of a rally, and hopefully he can bring that to us here."
Steve Dorsey is a contributor to MLB.com. This story was not subject to the approval of Major League Baseball or its clubs.