Mets hold moment of silence for Shannon Forde
Wright fondly remembers beloved media relations director who passed away Friday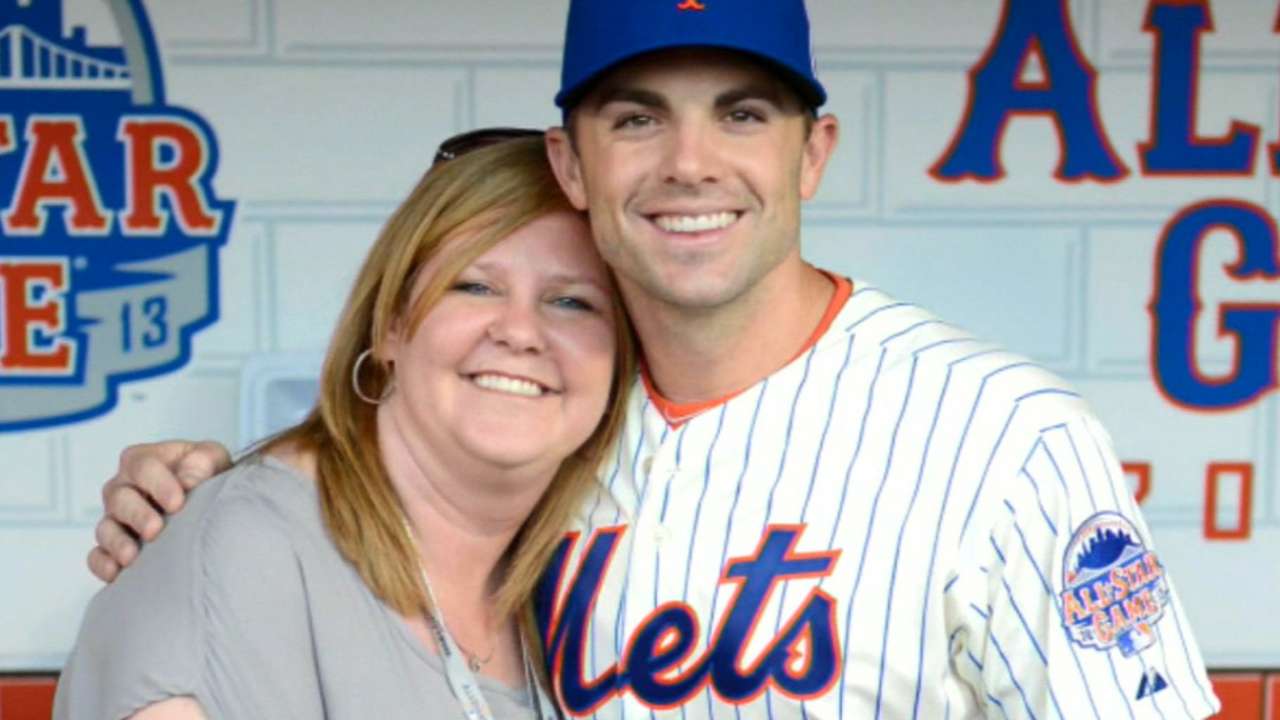 PORT ST. LUCIE, Fla. -- It didn't matter if they knew Shannon Forde or not, if they had worked hand-in-hand with her over the years or never even met her. A few minutes before the first pitch of the Mets' 7-5 win over the Braves on Sunday, they all spilled out of the clubhouse regardless, as the Mets paid tribute to their late, beloved media relations director with a moment of silence at Tradition Field.
"I think it was important and a big deal for everybody to be out there," third baseman David Wright said. "Some people that had no idea who Shannon is, I think just from people talking about her in here, they realized it was a big deal for the people that did know her to get out there and support."
One of the few current Mets to spend significant time with Forde prior to her breast cancer diagnosis in August 2012, Wright said that fans wearing "K Cancer" T-shirts -- a popular item in big league clubhouses ever since Rockies pitcher Jason Motte created them several years ago -- approached him Sunday, telling him they wore them in honor of Forde. The longtime Mets staffer passed away Friday following a more than three-year battle with cancer.
"It's not often that you see somebody that's behind the scenes like that make an impact on players, fans, the community," Wright said. "She certainly did that."
In what remains a subdued clubhouse at Tradition Field, Wright also recalled some of the memories that have come flooding back in recent days -- he and Forde boasting about their old fantasy NASCAR league, for example, or the practical jokes they used to pull.
"People keep showing you pictures," Wright said. "You start thinking about those times goofing around with Shannon. You smile, but at the same time it just kind of hits home that you're not going to get a chance to do that with her anymore. That's sad, because she was one of the people that you really, genuinely enjoyed spending time with when you came to the ballpark. It wasn't just exchanging pleasantries. You really enjoyed spending time with her."
In lieu of flowers, the Forde family has asked that contributions be made to the Daniel P. Ryan Foundation. Checks can be sent to P.O. Box 3145 Point Pleasant, NJ 08742, to the attention of Gaby Ryan. Contributions may also be made online at www.dprf.org.
Anthony DiComo is a reporter for MLB.com. Follow him on Twitter @AnthonyDiComo and Facebook, and listen to his podcast. This story was not subject to the approval of Major League Baseball or its clubs.