Pudge making presence felt in Rangers camp
13-time Gold Glove-winning catcher serving as special assistant to GM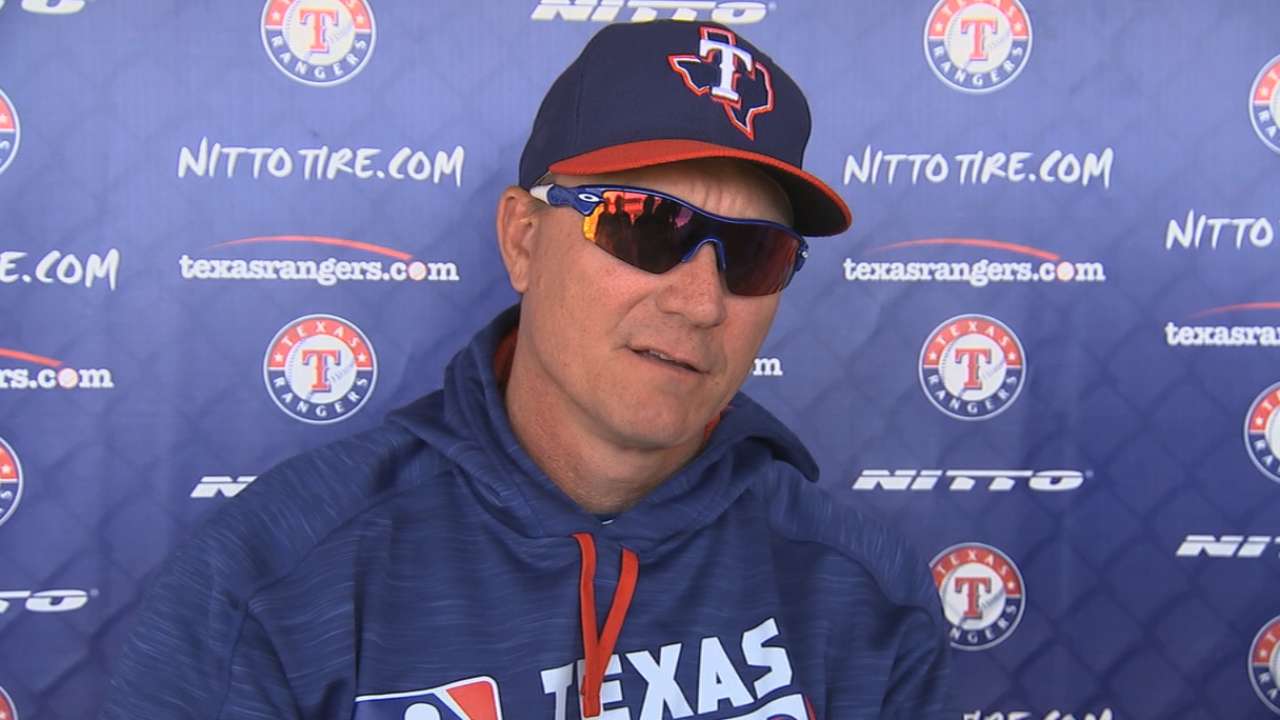 SURPRISE, Ariz. -- Rangers fans are accustomed to seeing him in catching gear, dirt on his uniform, a competitive scowl on his face, and, a lot of the time, a fist being pumped in victory.
On Sunday, Ivan Rodriguez was once again strolling the grounds of the Texas spring complex in his role as special assistant to the general manager of the team for which he played for the first 12 of his 21 seasons in the big leagues. He has some gray in his beard and he was wearing black slacks below his Rangers pullover, but he still wore the cap with the "T" and still spoke like a member of the team.
"It means a lot to be here," said Rodriguez. "It's always good to be in Spring Training and be able to work and help in any way I can, to make sure I have communication with the catchers and to work with them. I've been doing it over the years that I'm retired, probably only one year off, and after that I've been here three years, so it's always good to be on the baseball field."
• Spring: Tickets | Ballpark | 40-man roster | NRIs
"I could have done this for any of the organizations I played for, but this is a great organization. I think this group of guys has a lot of talent, and it's great to be working with them."
The feeling is not lost in the clubhouse.
"He's as dynamic a Ranger as anybody," Rangers manager Jeff Banister said. "You flip the bubble gum card over and look at the numbers, [but it's] the personality that he brings also."
Rodriguez slashed .296/.334/.464 for his career, hit 311 home runs, drove in 1,332 runs, had 2,844 hits and won 13 Gold Gloves behind the plate -- 10 in a row as a Ranger.
"If any of these guys want to know what it's like to be a Ranger, what it means, and then just to add the expertise of being a Major Leaguer, it's incredible [to have him here]," Banister said. "I bounce things off of him, he's constantly talking to me and giving me his input.
"But to have a future Hall of Famer sitting on the bench and walking on the field, you can't replace that."
Doug Miller is a reporter for MLB.com. Follow him on Twitter @DougMillerMLB. This story was not subject to the approval of Major League Baseball or its clubs.