Former Cubs prospect savors chance to coach
SCOTTSDALE, Ariz. -- In January 2014, Jose Zapata was one of five Cubs prospects injured in a car accident in the Dominican Republic. The young pitcher suffered a broken neck, yet he was able to return and pitch in instructional league that October.
But Zapata's comeback stalled. Pain in his right shoulder forced him to retire as a player at 22. Now, he's a coach for the Cubs, and he will work in Mesa this summer with the young pitchers. And Zapata is OK with that.
"The team loves me and they've helped me a lot," he said Sunday. "They're going to give me a second chance. I'm here to help the guys. I love baseball. That's why I'm here."
Zapata will be working with Carmelo Martinez, who is entering his 19th season with the Cubs organization and second in a row as the Mesa rookie league manager.
Spring Training: Tickets | Schedule | 40-man roster
• Kris Bryant has been getting some tips at third base from Kevin Youkilis, who is in camp as a guest instructor. They've discussed footwork, especially on slow ground balls and how Bryant needs to keep his feet moving. Another discussion has been regarding arm angles on his throws, which is something Bryant worked on last season at Triple-A Iowa with Chris Valaika.
Youkilis pointed out to Bryant how Addison Russell is so quick on his throws, but the shortstop is about 6-feet tall while Bryant is 6-5.
"For me to get it and throw it, I have to make sure my arm is in the right position, and I'm continuing to practice that just in case there's a quicker runner and I don't have time to gather myself," Bryant said. "That will really help me out getting rid of it quick and making sure the ball is on line and on target."
Bryant also can learn from tall third basemen like Scott Rolen and Troy Glaus -- and Youkilis.
"He's a pretty big guy," Bryant said. "It's good for me to learn from him."
• Pitching prospect Frank Batista had to leave Sunday's 8-3 loss in the fifth inning when he fell awkwardly off the mound and injured his left quad.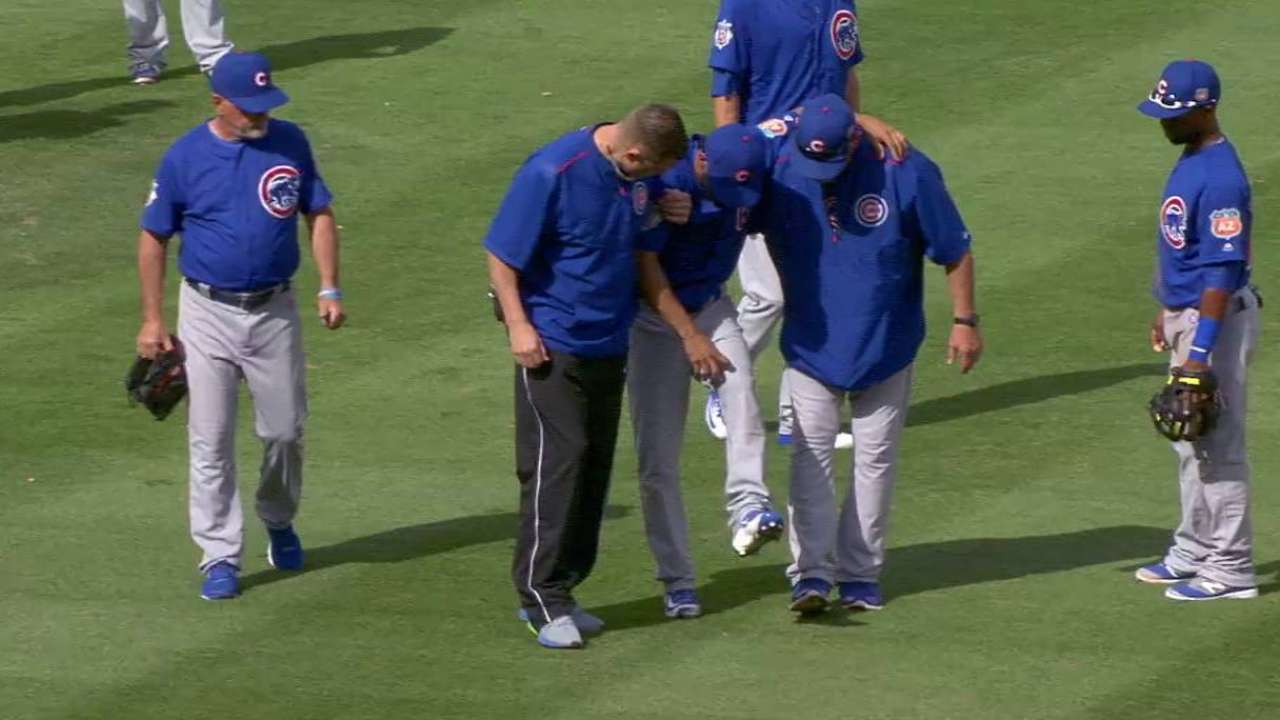 Batista started the fifth inning for the Cubs against the D-backs, and the first batter reached on a throwing error by third baseman Taylor Davis. One out later, Peter O'Brien hit a ball toward second, which Batista reached for. He stumbled and came up limping but was able to walk off the field under his own power.
Batista, 26, was 8-7 with a 2.90 ERA in 27 games last season, pitching at both Double-A Tennessee and Triple-A Iowa.
• John Lackey threw three innings and Manny Parra threw two in a simulated game at Sloan Park early Sunday. Bryant, Jorge Soler and Kyle Schwarber were the batters, and manager Joe Maddon said both Bryant and Soler each hit home runs off Parra.
"It's really interesting to watch," Maddon said. "It's a sim game at 10 o'clock in the morning, on the main field, nobody watching, but the intensity from the hitter to the pitcher and back was very good. John got his work in, Manny got his work in, the hitters got their work in, and it benefits both."
• Dexter Fowler may have reported late to Cubs camp but his hitting seems up to date. He hit a solo home run Sunday in the Cubs' 8-3 loss to the D-backs.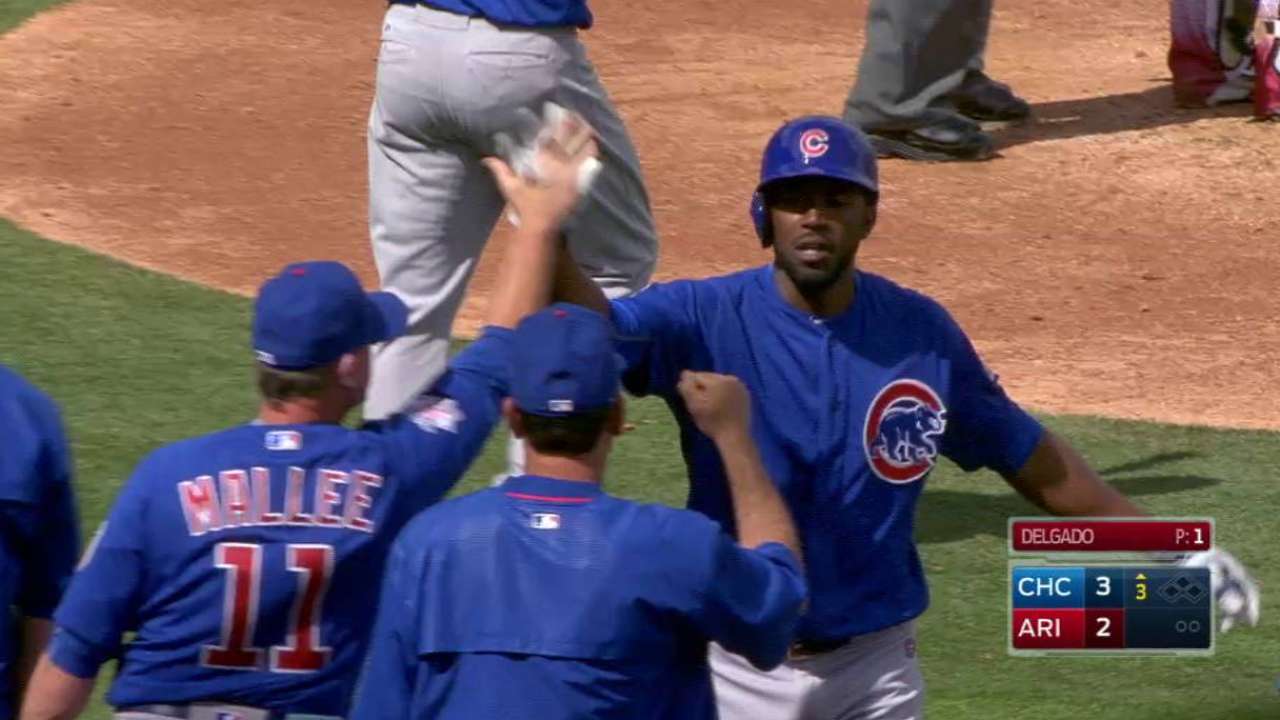 "My timing is coming around on the left side pretty quick," Fowler said. "All in all, I'm seeing the ball well at the plate. That's the most important thing."
Extra bases: Infielder Jesus Guzman, whose arrival was delayed because of visa problems, reported to camp on Sunday. ... Matt Murton, who underwent an appendectomy one week ago, was hoping to hit off a batting tee Sunday. There is no timetable for his return to games.
Carrie Muskat is a reporter for MLB.com. She writes a blog, Muskat Ramblings. You can follow her on Twitter @CarrieMuskat and listen to her podcast. This story was not subject to the approval of Major League Baseball or its clubs.