Nava, Gentry aim to quash LF concerns
With a platoon split projected, both Angels eager to win job outright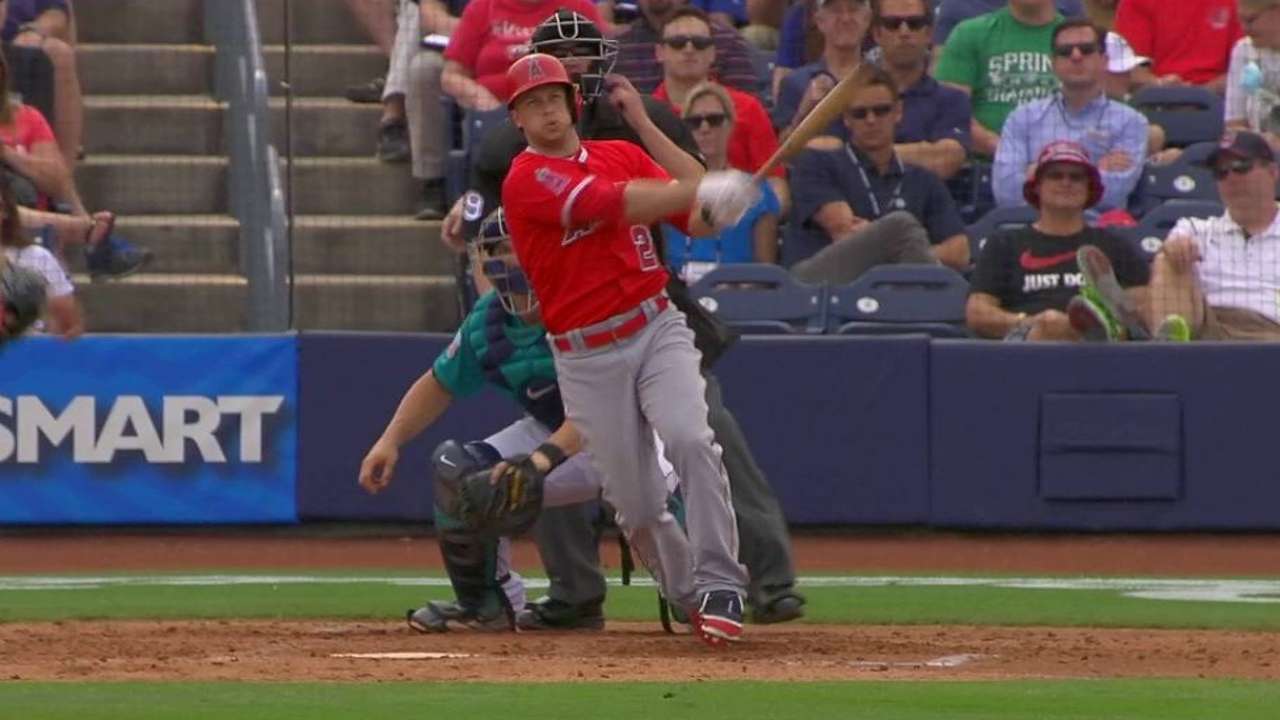 TEMPE, Ariz. -- Not everyone is sold on the Angels' left field of Daniel Nava and Craig Gentry. But -- to no one's surprise -- Gentry and Nava themselves are among those who firmly believe it could work.
It's still very early in Spring Training, but thus far Nava and Gentry have looked sharp. Nava collected three hits and three RBIs Saturday against Seattle, and Gentry had two hits in two at-bats Friday against the Cubs.
Of course, both Gentry and Nava are coming off consecutive, well-publicized, down years. Injuries sidelined Gentry for much of the 2014 season, and he never found a groove in '15. (He got 50 at-bats for Oakland, but spent most of the year at Triple-A Nashville.) Nava, meanwhile, struggled in '14 and was sidelined due to injuries for large chunks of '15.
• Spring Training: Schedule | Tickets | Gear
"I played against Craig when he was in Texas, and he was tearing it up there," Nava said. "Everyone goes through injuries and not playing as consistently as you would like. Some people can write you off. That's what happened with me."
As Nava suggests, the past two seasons don't tell the whole story. Nava posted an .831 OPS and won a World Series ring with the Red Sox in 2013. Gentry, meanwhile, batted above .270 for three straight years before the injury bug bit -- including a .304 mark in '12.
What exactly does Gentry think he has to do to regain his form of pre-2014?
"I've just got to stay healthy, take care of myself and keep working hard every day," Gentry said. "I can't focus on other things. I've got to keep myself healthy and keep a good mindset.
"It's a team mindset. Whatever you can do to better this team. Everything else will work itself out."
Regarding a platoon, the obvious school of thought says that Nava -- a switch-hitter with very good splits from the left side -- will face right-handers. And Gentry -- a righty, who has fared well against southpaws in the past -- will face lefties.
But Nava isn't preparing as if that'll be the case.
"You never know -- somebody gets hurt, and you're playing every day," Nava said. "If I put the right-handed swing to bed for two months, then I've got to play every day."
Angels manager Mike Scioscia noted that it's far too early to draw any conclusions from Cactus League play. But he likes what he's seen from the pair.
"We're trying to get through the stiffness of the spring and get them out there doing the things they're going to need to do during the season," Scioscia said. "There's some work to be done, but those two guys are off to good starts."
Both Gentry and Nava made it clear they'd like as much playing time as possible and that the goal is to win an everyday job.
But if they end up in the currently projected platoon situation, that's fine, too. As long as they're on the field.
"I didn't want to go to a situation where I wasn't going to play," said Gentry, who has spent plenty of time in the American League West with Oakland and Texas. "That's why I'm excited for the opportunity to come here and hopefully get a lot of chances to play.
"I'm viewing this as a great opportunity. I've played against these guys for a long time, and I've enjoyed watching the way they play."
AJ Cassavell is a reporter for MLB.com. Follow him on Twitter @ajcassavell. This story was not subject to the approval of Major League Baseball or its clubs.