Cozart feels good, but in 'no rush' for action
Reds shortstop returning from season-ending knee surgery
GOODYEAR, Ariz. -- Reds shortstop Zack Cozart has yet to test his rebuilt right knee in an exhibition game and he may not until the end of this week. As far as Cozart was concerned, that was fine by him.
"I could play, there's no doubt. Basically right now, I don't need to play. I'm going to play soon," Cozart said on Sunday morning. "I'm ready to get out there. There are no setbacks. I have no pain. I feel great. I do everything, every day. Now it's a matter of getting out there. There's no rush. I'm going to get my at-bats. I'm going to play, take it slow and go from there."
Reds manager Bryan Price is taking a similar stance with not just Cozart, but also with Devin Mesoraco and Billy Hamilton. Mesoraco, trying to come back from left hip surgery, is delayed from making his spring debut after some groin tightness last week. Hamilton, who had arthroscopic right shoulder surgery in September, played one game as the designated hitter, and was scratched from another game on Friday because of soreness in that shoulder.
Hamilton is viewed as day to day and his baseball activities are limited to conditioning for the time being. All three players are expected to be ready for the start of the regular season.
"I don't want to plant any seeds," Price said. "I would tell you if I was really concerned about Opening Day, I will tell you that. At this point in time, I am not. I would certainly like to see these guys here by the time we get to the middle of the month, to be ready to start to get after it."
On June 10 against the Phillies, Cozart tore both the anterior cruciate and lateral collateral ligaments while slipping on first base and needed season-ending surgery. The 30-year-old has been pleased to say he's been setback free throughout his rehab at home and well into the early days of camp.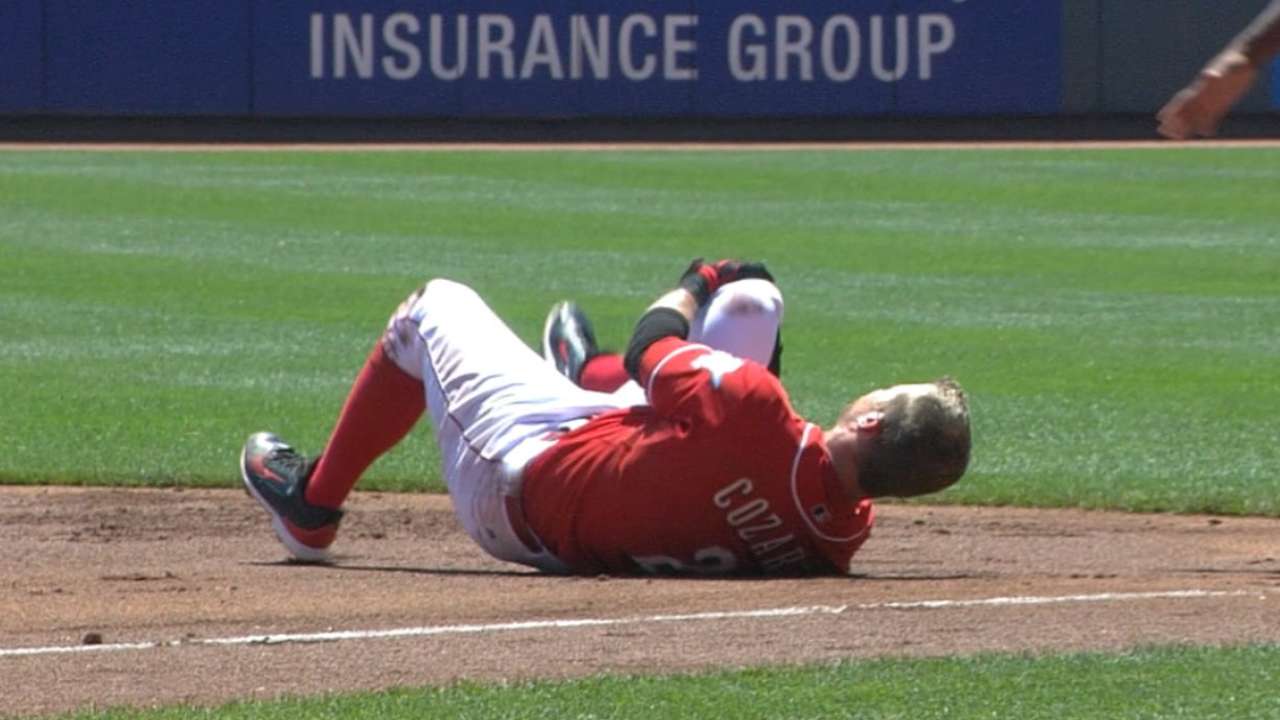 "Spring Training is too long anyway," Cozart said. "The most important thing for me is to get out here every day and get my work done, have no issues. And I've had a pretty large workload the past two weeks and I feel great. I don't anticipate a game being a problem."
Price and Cozart already have an expected date for his first spring game, but it's being kept under wraps for now.
"I would say it would be reasonable in the next five or six days, I would think he would be very close," Price said. "I don't think we're in jeopardy of him not being ready for Opening Day. But he's still got to go out there and play and he's got to respond well to playing on a regular basis before we can know that for sure."
Cozart has remained in a knee brace while on the field for workouts and hitting, and likely will keep it on into the start of the season.
It was expected that Cozart's knee would be tested by the grind of a daily camp and he feels like it's passed.
"Even when you're completely healthy and come out to Spring Training, you're sore at the beginning just from all of the standing around, getting in cleats for the first time," he said. "I definitely had some soreness, but it's a good sore. It wasn't [a] painful, have-to-sit-out sore. I'm recovering really well every day."
Mark Sheldon is a reporter for MLB.com. Read his blog, Mark My Word, follow him on Twitter @m_sheldon and Facebook and listen to his podcast. This story was not subject to the approval of Major League Baseball or its clubs.