Location part of Morton's mound turnaround
Right-hander works 2 1/3 innings in spring debut with Phillies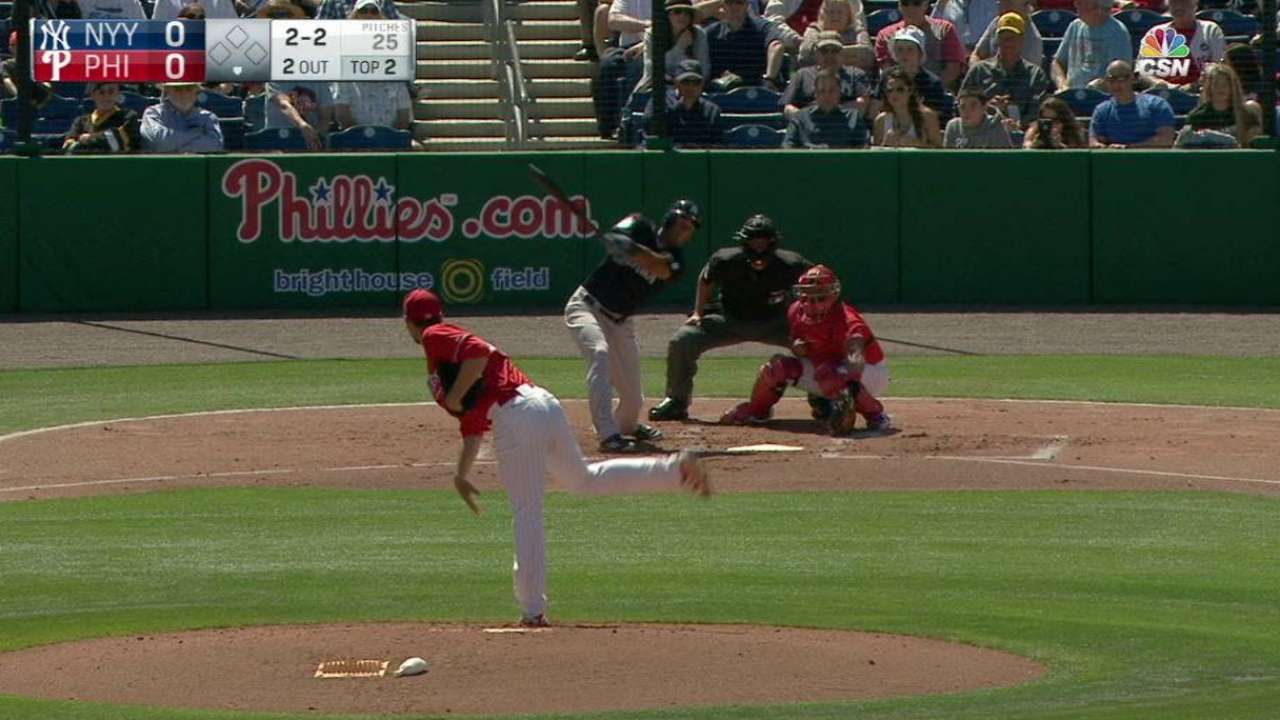 CLEARWATER, Fla. -- On a warm day, balls can fly out of Citizens Bank Park in Philadelphia, so it was an encouraging sign that of the seven outs Charlie Morton earned on Sunday, four were ground balls.
The right-handed starter gave up just one earned run on a hit and a walk in 2 1/3 innings while also striking out a pair of Yankees in the Phillies' 6-5 victory. But the groundouts were the most pleasant sight, and he credits that to location.
• Knapp's 3-run homer part of 6-run sixth
"I'll pitch lefties up and in a lot, trying to get under their hands, and down and in to righties," Morton said. "I try to keep the ball off the barrel with weak contact -- either cut it, sink it in or stay on the corners."
While the location was undoubtedly a factor, Morton also credited the lowering of his arm slot -- which he began in 2011 -- for his evolution into a stronger ground-ball pitcher. In particular, it has given much greater movement to his sinker.
"My arm started to work a lot better, and I was able to repeat pitches," Morton said. "That's kind of when I started to come into my own in terms of an identity in pitching. I found I was making a lot of mistakes, but I was getting away with mistakes. That's a huge weight off your back when you miss and not get hit real hard."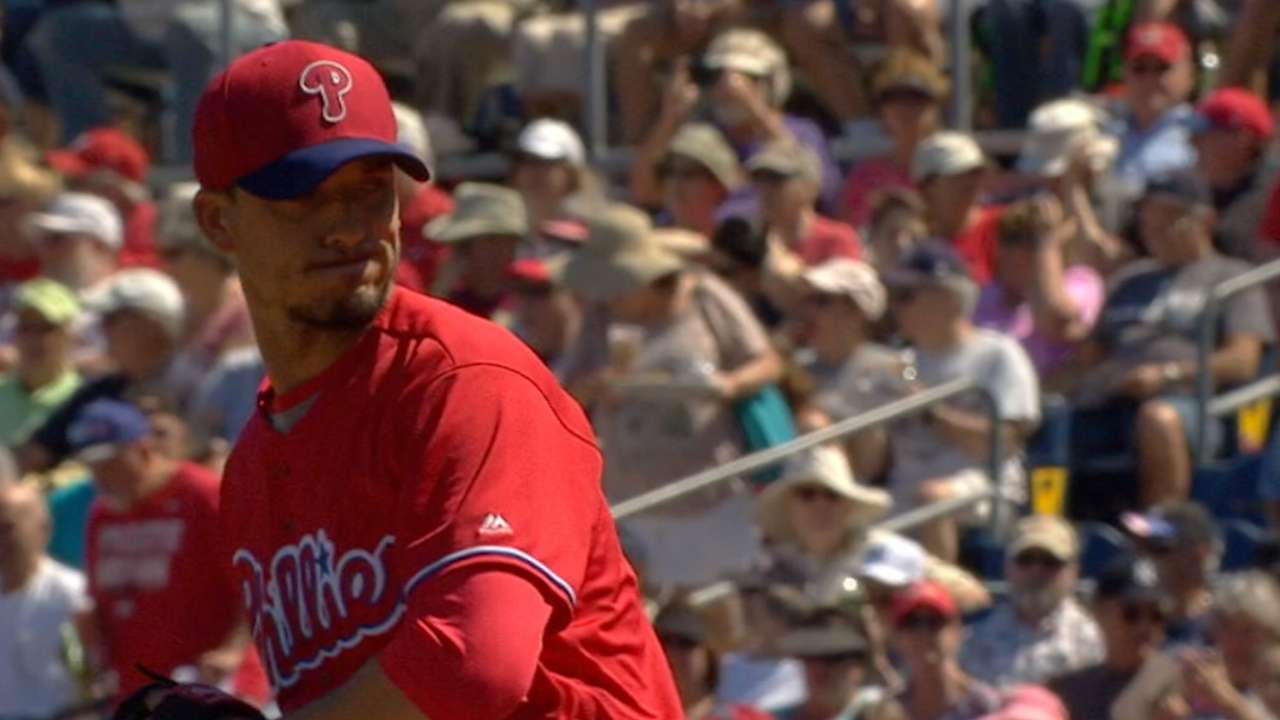 Sunday was Morton's 2016 Grapefruit League debut after facing batters nine days before in batting practice. Morton said that getting the competitive juices flowing was a boost.
"To be able to go up and down and keep the ball in the zone until the third inning, I'm really encouraged," Morton said. "I just wanted to pitch, to get outs."
Morton retired the first six batters he faced -- the first four via grounders.
The third inning was a little trickier, as Rob Refsnyder singled -- on a grounder -- to start the inning. Morton then surrendered a walk to Lane Adams but sent down Slade Heathcott on strikes. Daniel Stumpf came on in relief and gave up an RBI single to Starlin Castro.
"He was a little bit up in the zone with his sinker," Phillies manager Pete Mackanin said of Morton. "He's got an outstanding sinker, just a little bit up with it. He said he got a little tired. We were pushing him to go three innings. He just got tired late."
The 2016 season is Morton's first with the Phillies after spending the last seven with the Pirates. He was acquired in a trade for prospect David Whitehead. Morton went 9-9 last year with a 4.81 ERA in 129 innings.
Greg Zeck is a contributor to MLB.com. This story was not subject to the approval of Major League Baseball or its clubs.