Rodon shines with Avila behind dish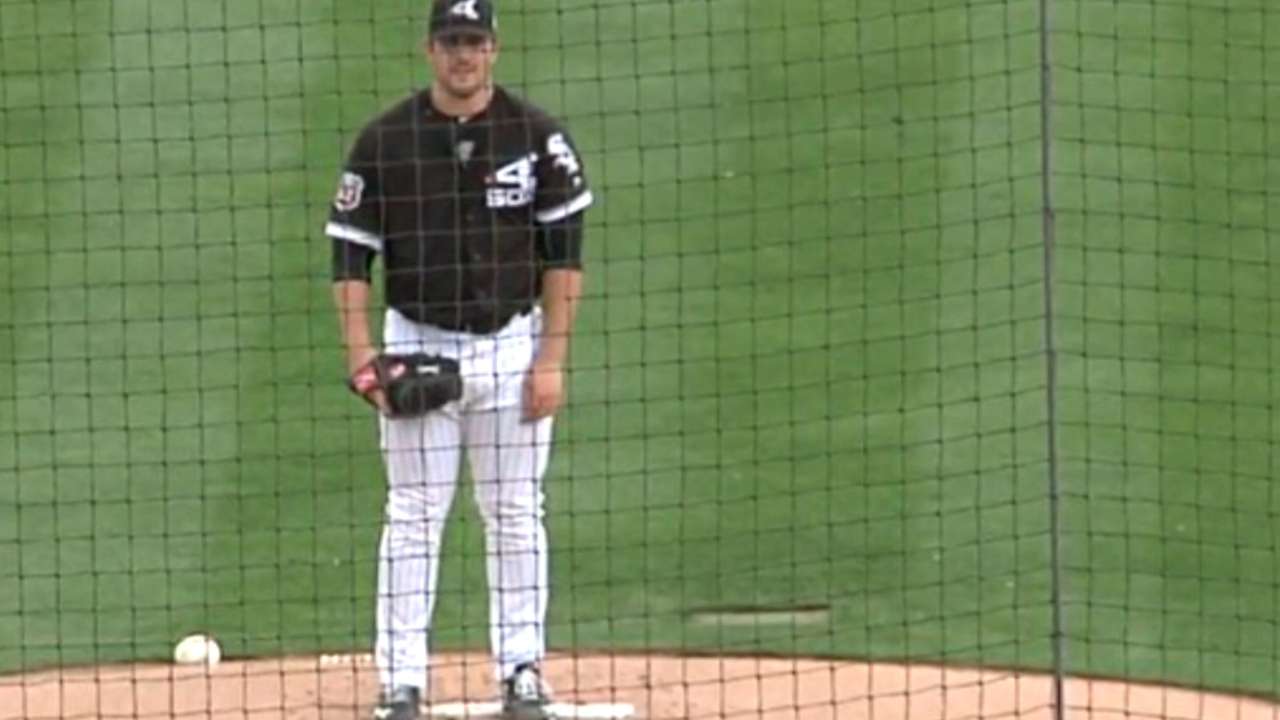 GLENDALE, Ariz. -- Carlos Rodon worked three scoreless innings in an 8-1 White Sox victory over the Padres at Camelback Ranch on Sunday, striking out two and walking one and allowing one hit.
The effort was even more impressive because it was Rodon's first real game with catcher Alex Avila behind the plate. The veteran backstop took the young lefty a little out of his comfort zone and had him throw only a few sliders while focusing on a fastball/changeup combination.
Spring Training: Schedule | Tickets | Gear
"It was fun to be out there with those guys, having fun," said Rodon, who threw eight more fastballs and changeups in the bullpen after the game. "Command the fastball, I guess. Get ahead and let them hit it."
"Everybody knows about his slider, getting ahead, being able to finish guys off," White Sox manager Robin Ventura said. "It was nice today."
Rodon once again spoke of being a little more relaxed this year, in his second big league camp. The White Sox monitored his workload over 23 starts and 139 1/3 innings in his rookie season, giving him extended breaks along the way, but Rodon isn't giving much thought to a similar plan for Year 2.
"Whatever works. Whatever makes us stronger at the end of the year," Rodon said. "What matters most is the last start of the season and making the playoffs and pitching well in the playoffs. That's the most important thing.
"So staying healthy throughout the season and making it into the postseason and being healthy throughout that, that's going to make a difference."
LaRoche making progress
The malady that caused Adam LaRoche's early exit from Saturday's Cactus League contest was back spasms on his lower right side, according to the White Sox. No MRI was taken, as there was no apparent damage. LaRoche made significant improvement on Sunday, and he will be re-evaluated on Monday.
"He says he feels better today," said Ventura of LaRoche. "But who knows how long this is going to be. It has to do with the back, so we don't expect him to be in there tomorrow, either. Hopefully the day after we can get something out of him. But you know, right now, we're just going to see how he feels."
Robertson gets rolling
David Robertson threw 28 pitches during a live batting-practice session Saturday, beginning his push toward being regular-season ready.
"I just sat down with [White Sox pitching coach Don Cooper] and lined up seven outings in games," Robertson said. "Then we've got some 'B' games and I'm going to end up with probably 10 game appearances, either on this field or in the back field. It should be more than enough to get me ready for the season."
Robertson faced righty and lefty hitters on Sunday, working on fastball location and his changeup. He spun a few curves to Avila and bounced a couple of changeups, which he said got him pretty angry.
"But I don't exactly throw a lot of those in the games anyways," said a smiling Robertson. "I feel like I threw the ball pretty well. I was locating pretty well.
"Just an adjustment. I kind of have to get that mental process of throwing in on guys, seeing the ball where I want it, throwing down and away. It's like the feel of actually knowing a hitter is in the box and locating the pitch."
They said it
"I told him, 'No. That might be a curse. I'm all right. Let's move on and forget about it.' We were on the same page with that." -- Adam Eaton, on giving up a shot at hitting for the cycle Saturday in Surprise, falling a triple short
"Extremely thankful, not just for me but my family as well. In the end I'm just very thankful." -- Alexei Ramirez, on his memories of White Sox chairman Jerry Reinsdorf over the past eight years in Chicago
Scott Merkin is a reporter for MLB.com. Read his blog, Merk's Works, follow him on Twitter @scottmerkin, on Facebook and listen to his podcast. This story was not subject to the approval of Major League Baseball or its clubs.