Age is just a number: MLB doesn't end at 40
Over-40 players like Colon, Ortiz, Rodriguez still vital cogs for their clubs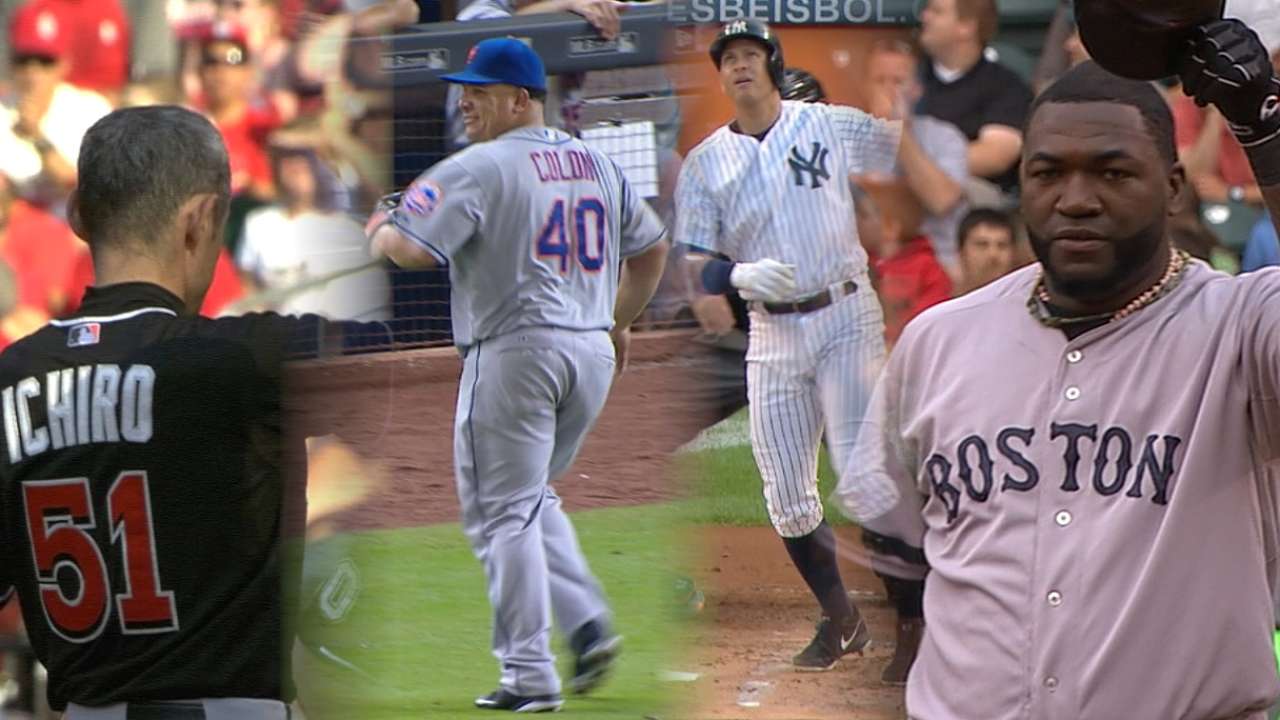 As legendary quarterback Peyton Manning retires from the NFL a few days shy of his 40th birthday, he is hardly the only such elder statesman in sports. In Bartolo Colon's case, for example, 40 has always been just a number -- the one on his uniform for almost his entire career. Still playing long after passing that familiar number in years of age, the Mets' man-child of a right-hander leads a relatively small contingent of players into 2016 playing at age 40 or older.
Colon makes his spring debut on Monday when the Mets host the Tigers at 1:10 p.m. ET on MLB.TV. He is joined by Ichiro Suzuki, R.A. Dickey, Koji Uehara, Alex Rodriguez and David Ortiz as active players over 40 heading into the season.
With reliever LaTroy Hawkins retiring, Colon moved up the one last rung on the Major League age ladder to the very top. Born May 24, 1973, Big Bart will turn 43 early this season. If his recent body of work since passing the big four-oh is any indication, this might not be the last season he stands as the oldest player in the Majors.
"I'm just taking it year by year," Colon said last week. "I knew that I wanted to be back this year. Next year, we'll see what happens."
Colon is followed by Suzuki, who's stalking 3,000 hits at age 42 on the Marlins, on a list of the oldest active players that, as of now, figures to include only six at age 40 or above. That total is down from 11 last season. If it stays at six, it would match 1995 for the lowest total of 40-year-olds in the Majors since there were just five in '78.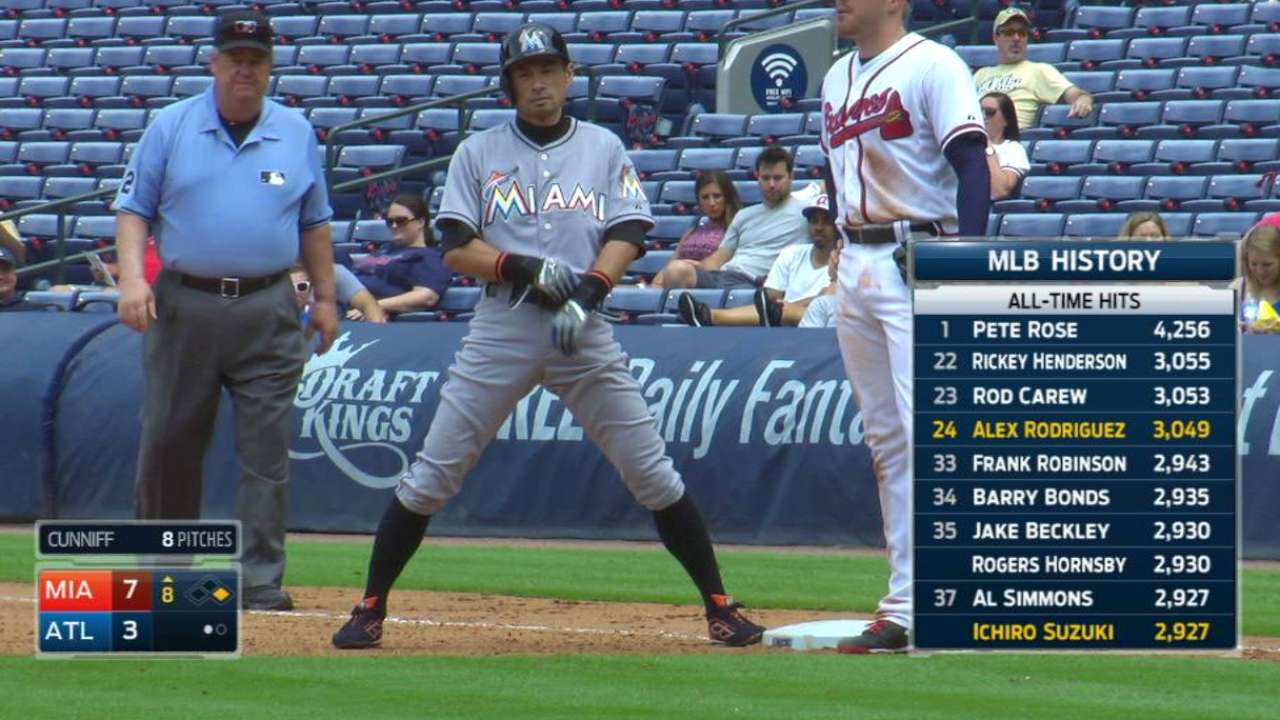 As Spring Training ramps up, the list of the 10 oldest players on 40-man rosters includes those six who are 40 years or older, an eclectic group with All-Star credentials and some substantial accomplishments.
| Name | Team | Birthdate |
| --- | --- | --- |
| Bartolo Colon | Mets | 5/24/1973 |
| Ichiro Suzuki | Marlins | 10/22/1973 |
| R.A. Dickey | Blue Jays | 10/29/1974 |
| Koji Uehara | Red Sox | 4/3/1975 |
| Alex Rodriguez | Yankees | 7/27/1975 |
| David Ortiz | Red Sox | 11/18/1975 |
| Jason Grilli | Braves | 11/11/1976 |
| A.J. Pierzynski | Braves | 12/30/1976 |
| Fernando Rodney | Padres | 3/18/1977 |
| Carlos Beltran | Yankees | 4/24/1977 |
The ranks of 2016's forty-something crowd could grow slightly by Opening Day, if non-roster invitee Joel Peralta, who turns 40 on March 23, makes the Mariners. Later in the season, 41-year-old Joe Nathan hopes to return from Tommy John surgery. As it stands, six guys in their 40s (or even eight) would represent a downward trend -- with just one other total in single digits the last 10 seasons, starting with an all-time high of 26 in '07.
The yearly totals, based on players who participated in any Major League games after their 40th birthday over the last 10 seasons, with the help of baseball-reference.com: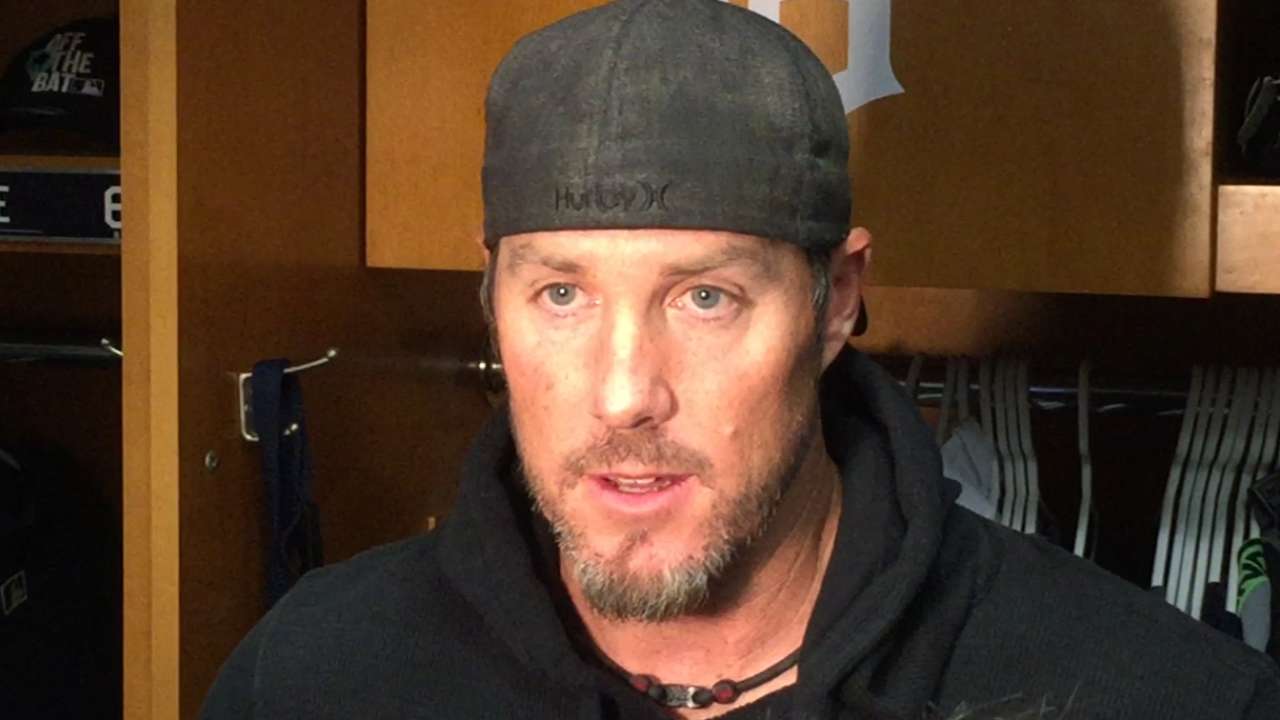 2015: 11
2014: 8
2013: 12
2012: 14
2011: 13
2010: 15
2009: 15
2008: 19
2007: 26
The forty-somethings' remarkable Class of 2007 was led by Julio Franco, who actually got in some swings after his 49th birthday that season, and included Roger Clemens (45 that August), Jamie Moyer (44) and David Wells (44). Hall of Famers Randy Johnson, Craig Biggio, Tom Glavine, Greg Maddux and John Smoltz also played into their 40s that year, one campaign after '06 had set the previous standard with 22.
While those are on the high end, history shows double-digit totals sprinkled throughout the decades, including wartime years, for example. But then there's also 50 years ago, when Hoyt Wilhelm was the only 40-plus player in 1966, at age 43.
The 2016 group has nowhere near the quantity of some seasons, but plenty of quality. Colon is showing just how much a player can do after 40, already racking up three seasons with 14 or more wins (second all-time behind Phil Niekro's five) since hitting that age milestone. There's also A-Rod headed for 700 homers, Ichiro needing 65 hits for 3,000, and Ortiz's final campaign as the most powerful designated hitter in baseball history.
Big Papi is new to the 40 Club. He plans on bringing the same game he brought when he was in his 20s and 30s to his final season -- his first in his 40s.
"Don't think that because I'm retiring after this season that I'm not hungry," Ortiz said when he arrived at Red Sox camp.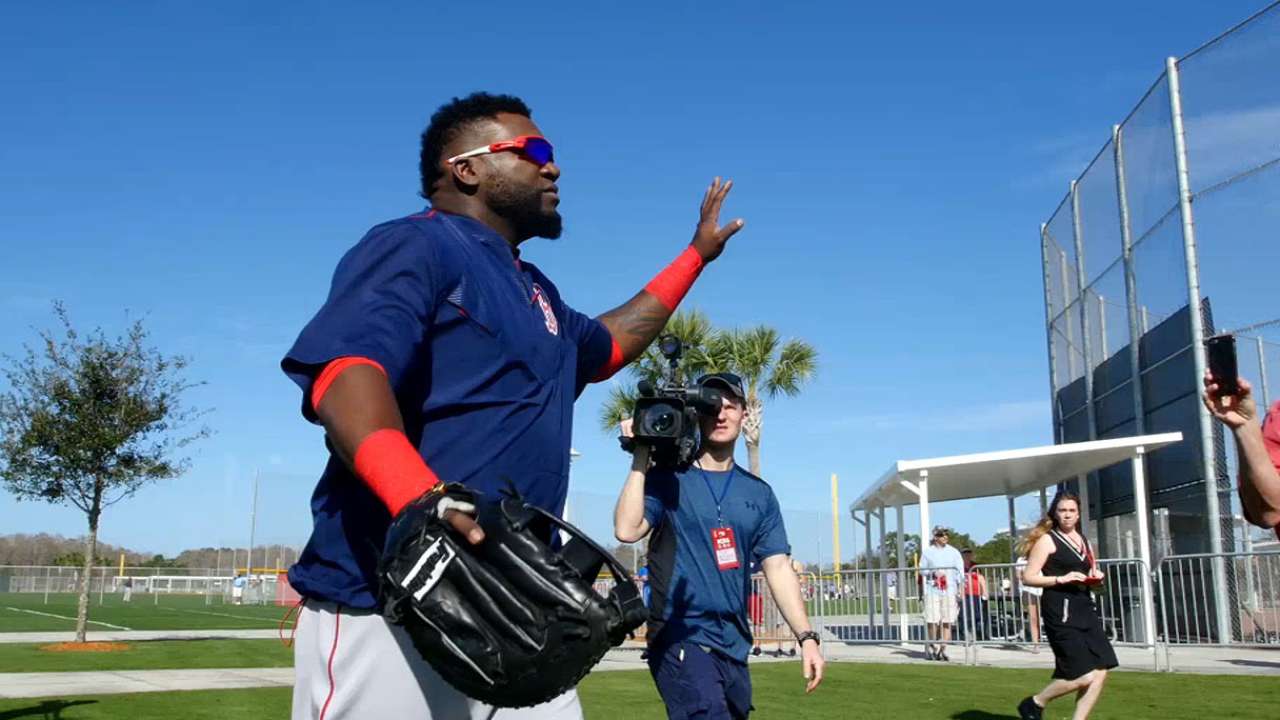 For the veterans who are still playing in the Majors in their 40s, whether there are a half-dozen of them or a whole lot more, it's about contributing on the field. As Ortiz knows, standards don't change for the guys past the big four-oh.
"People are always expecting me to come in and do what I got them used to," Ortiz said. "It has taken a lot away from me to continue to be a guy at that level. I'm not getting any younger."
John Schlegel is a national reporter for MLB.com. You can follow him on Twitter @JohnSchlegelMLB. This story was not subject to the approval of Major League Baseball or its clubs.