Clark refutes Mejia's claims about MLBPA
Executive director of Players Association says righty didn't voice concerns during suspension process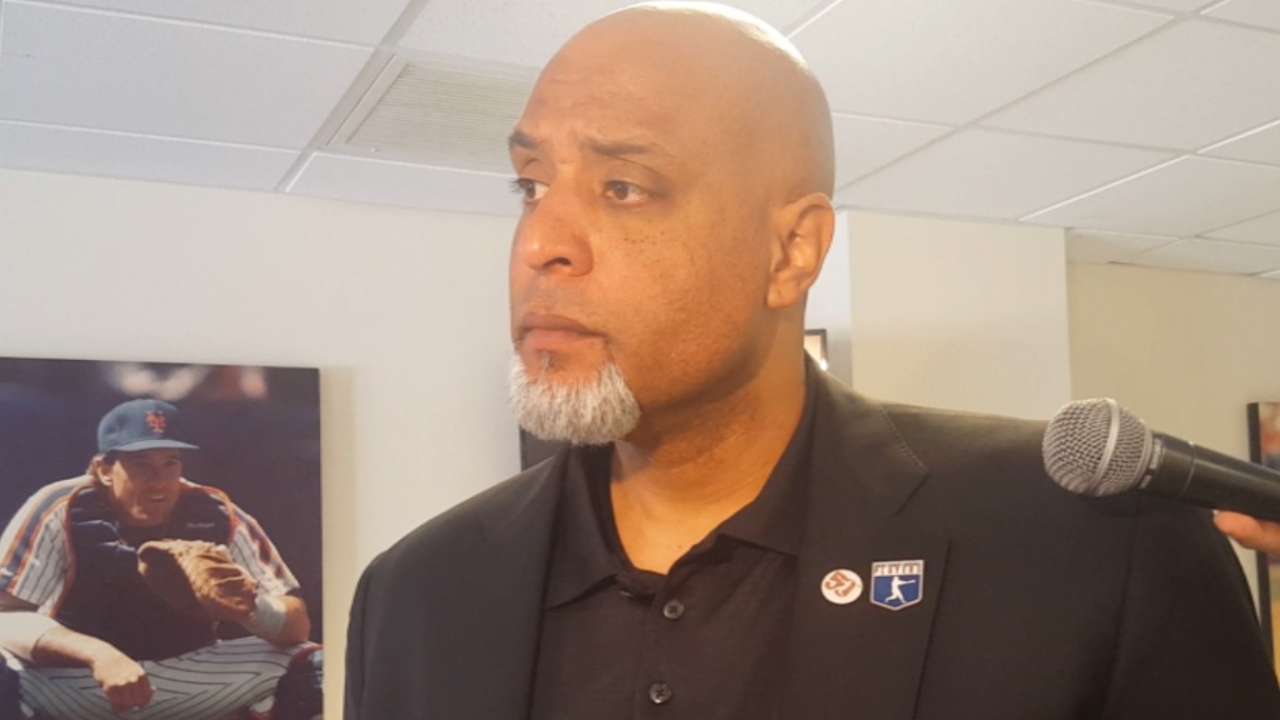 PORT ST. LUCIE, Fla. -- Major League Baseball Players Association executive director Tony Clark said Sunday that if Jenrry Mejia had concerns about how the union operated in the wake of his positive drug tests, he did not adequately communicate them.
"There are opportunities to communicate throughout," Clark said during his annual visit to Mets camp, declining to discuss the specifics of Mejia's case. "Those concerns weren't anything we were aware of during the course of this process."
Mejia told the New York Times last week that MLB suspended him for life because he refused to share information about his performance-enhancing drug connections with the league following his first failed test. MLB has since denied that allegation.
In the same piece, Mejia said that the union did not adequately support him throughout the process -- an assertion that Clark denies.
"Anytime there's a concern from a player about a situation related to the support that he feels he got or he didn't get, it is concerning," Clark said. "But we are confident that we take every case seriously, and provide the support from start to finish for players. Being a player, you can trust that that is the case."
MLB permanently banned Mejia in February following a third positive drug test. He can apply for reinstatement in a year, but even if successful, must sit out at least two seasons.
• Among the issues discussed during Clark's visit to Mets camp was smokeless tobacco, given the New York City health department's recent move to back legislation banning it from all sports arenas. The union chief said he is watching that situation with interest.
"We respect the legislative rules or bills that are in existence in any particular city or state, and it will lend itself to more dialogue at the bargaining table," Clark said. "We are hopeful that the attention that is being given to it now doesn't excite more to pick up the habit. The guys have heard me say on more than one occasion, 'I don't dip and I don't chew, but I respect the right that they have to do so.' So despite not having a desire, I do have an understanding as to why some do and some don't."
Currently, players are allowed to use smokeless tobacco at Citi Field and Yankee Stadium so long as it is concealed from public view. Clark contended that tobacco use among professional ballplayers is already dropping, but added that policing a ban -- whether for players in the dugout or fans in the stands -- would be difficult.
"At this point in time, whether on the West Coast or the East Coast, it is becoming a larger part of the conversation," Clark said. "We're going to have to look into that."
Anthony DiComo is a reporter for MLB.com. Follow him on Twitter @AnthonyDiComo and Facebook, and listen to his podcast. This story was not subject to the approval of Major League Baseball or its clubs.