Souza closer to returning after more BP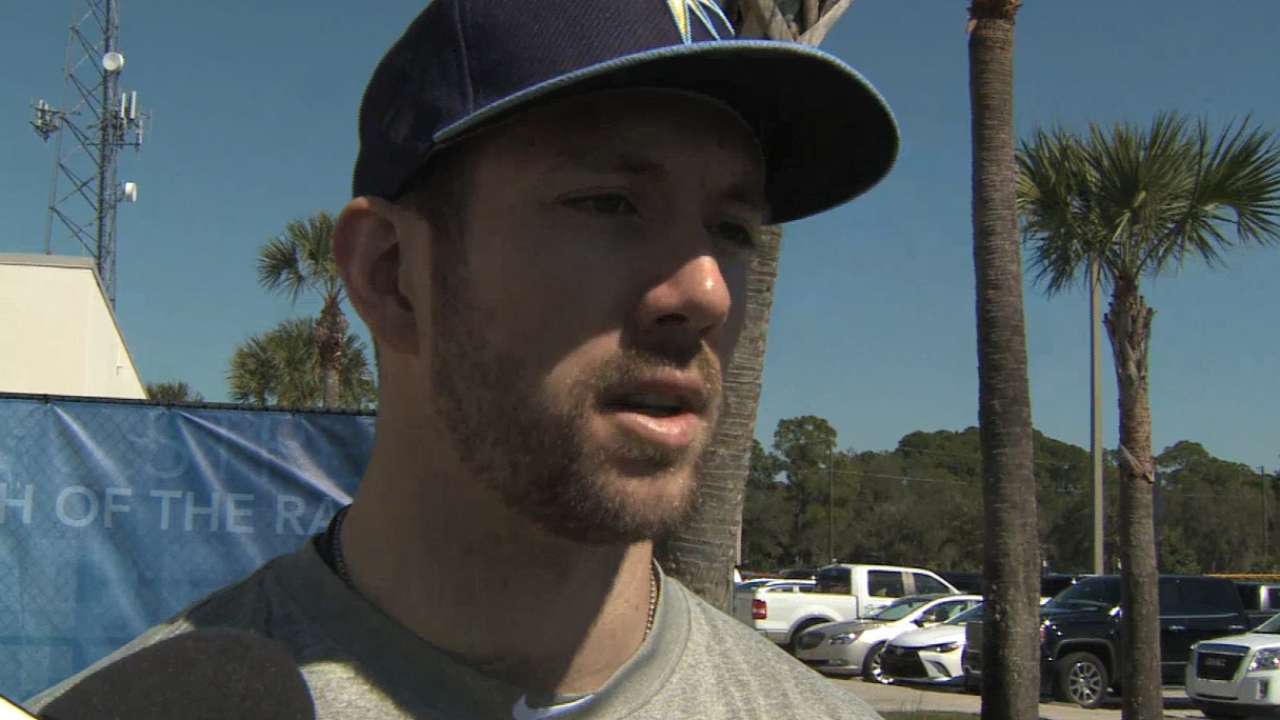 SARASOTA -- Rays outfielder Steven Souza Jr., took batting practice for a second consecutive day on Saturday and said he felt fine.
"I've been taking some pretty good rips," he said.
Spring Training: Schedule | Tickets | Gear
The 26-year-old who has been slowed by a left intercostal injury said he will take batting practice on the big field on Sunday. He explained the difference as being able to track the flight of the balls he hits as opposed to hitting in a cage.
"It was a really positive day [for Souza]," said Rays manager Kevin Cash, who added that Souza remains on track to begin playing in games on Thursday or Friday.
Pearce impresses at hot corner
Steve Pearce played third base for the Rays in Saturday night's 10-6 win over the Orioles. And looked dependable.
"I don't know how many times he'll get over there, but we're going to factor that in," Cash said. "You can make the argument that it's better for Logan [Morrison] to go over there because he's done it, or a guy like Beck [Tim Beckham]. But with Pearce, if he's able to do that, it keeps Logan over at first base, where he was so good. So we're taking in all those factors.
"The nice thing about Pearce in drills and stuff, he just catches the ball and throws it over, hits the guy in the chest. Any time you have a guy that's spelling Evan Longoria or whoever it is. You just want them to make the right routine play. He's shown in drill work that he's capable of doing that and he's shown throughout his career that he can do that."
Miller makes a pair of errors
Brad Miller started at shortstop Saturday night and came through with a two-run single that put the Rays up, 2-0. He also had a leadoff double in the Rays' six-run fifth. On the downside, he made his first error of the spring on a skipped throw to Morrison at first base in the fourth. That led to the Orioles' first run. He then made an identical throwing error in the Orioles' four-run fifth.
Miller made 14 errors in 269 chances at shortstop for the Mariners in 2015, which equated to a .964 fielding percentage. So when Miller joined the Rays via a trade in November, the questions began. Miller can hit, but can he field well enough to be the team's everyday shortstop?
"That's kind of why we have Spring Training," Cash said. "He'll have plenty of time to kind of work some kinks out. We really like a lot of things he does -- at the plate, the way he swings the bat, he covers a lot of ground out there. He'll fine-tune some things out there. He'll be good."
Bill Chastain is a reporter for MLB.com. This story was not subject to the approval of Major League Baseball or its clubs.