LaRoche day to day after exiting with back spasms
SURPRISE, Ariz. -- Adam LaRoche left Saturday afternoon's 7-6 Cactus League victory over the Royals in the third inning with back spasms. He suffered the problem on a popup to third baseman Mike Moustakas in the third.
"It hurts," said LaRoche, trying to force out a smile as he left the Surprise Stadium Complex.
• White Sox Spring Training info
The White Sox first baseman, who homered on Friday in Glendale, also flew out to left field in his two at-bats before exiting. White Sox manager Robin Ventura said LaRoche would not play Sunday against the Padres, but didn't know anything on the extent of the injury past that point.
"I know it tightened up on him," said Ventura of LaRoche. "He did something there that we had to take him out of the game.
"So, we'll monitor that. I know it wasn't good enough for him to go back out there. We weren't going to take any chances. We just took him out and sent him back to Glendale."
Yost glad to keep Gordon
Alex Gordon did not play for the Royals in Saturday's contest.
If the White Sox had their way, he wouldn't be suiting up at all this season with the defending World Series champions. The South Siders made a serious free-agent push for the left fielder this past offseason, but ultimately Gordon decided to return to Kansas City.
"It would have been tough," said Royals manager Ned Yost during a recent interview of Gordon's potential departure. "I just could not imagine Alex Gordon putting on another uniform. It was funny because after he gets signed, I asked him, 'Gordy, you were going to sign with us no matter what,' and he said, 'Yeah.'
"So he knew he wasn't going anywhere. But it scared me for a little while. I really thought there was a possibility of him going to the White Sox or another team. And it was weird sitting back, trying to envision him putting another uniform on."
The White Sox benefitted in the past when Paul Konerko chose to stay in Chicago as a free agent, leaving more money on the table from other teams. As general manager Rick Hahn pointed out, he certainly understood the line of thinking from Gordon and Yoenis Cespedes in his return to the Mets.
Even without Gordon. Yost is impressed with the White Sox additions such as Todd Frazier and Brett Lawrie.
"I wish they wouldn't have done it," said Yost with a wry smile. "Those are high-quality guys. Those are gamer guys. Those are winners that they have. It's just going to make our job that much tougher."
Ventura remembers Forde
Ventura, who played for the New York Mets from 1999-2001, payed his respects Saturday to Shannon Forde, the team's senior director of media relations who passed away Friday at 44 after a long battle with breast cancer.
"It breaks your heart. Married, with two young kids. She was just a sweet person," Ventura said. "Everybody that played for the Mets, you deal with so many people within your organization, but you know, even when you are gone from the Mets, you are still keeping in touch and it just breaks your heart.
"I know my family is very sad about it. She was great to us."
No hesitation necessary
Alcides Escobar scored a run in the third inning on Eric Hosmer's sacrifice fly to second baseman Carlos Sanchez. It was a bit of hesitation that cost Sanchez after he made the catch, as well as not factoring in the Royals' aggressiveness on the bases.
"You can't sit there and catch it and look around," Ventura said. "You already have to know who's on third, and if there is a possibility, and the timing of it. He's got to be able to get back there and come out firing once he catches it."
This and that
• Jose Quintana threw three innings during a Saturday morning B game against the Reds in Goodyear. The southpaw allowed one run on two hits, striking out four and walking one among his 53 pitches.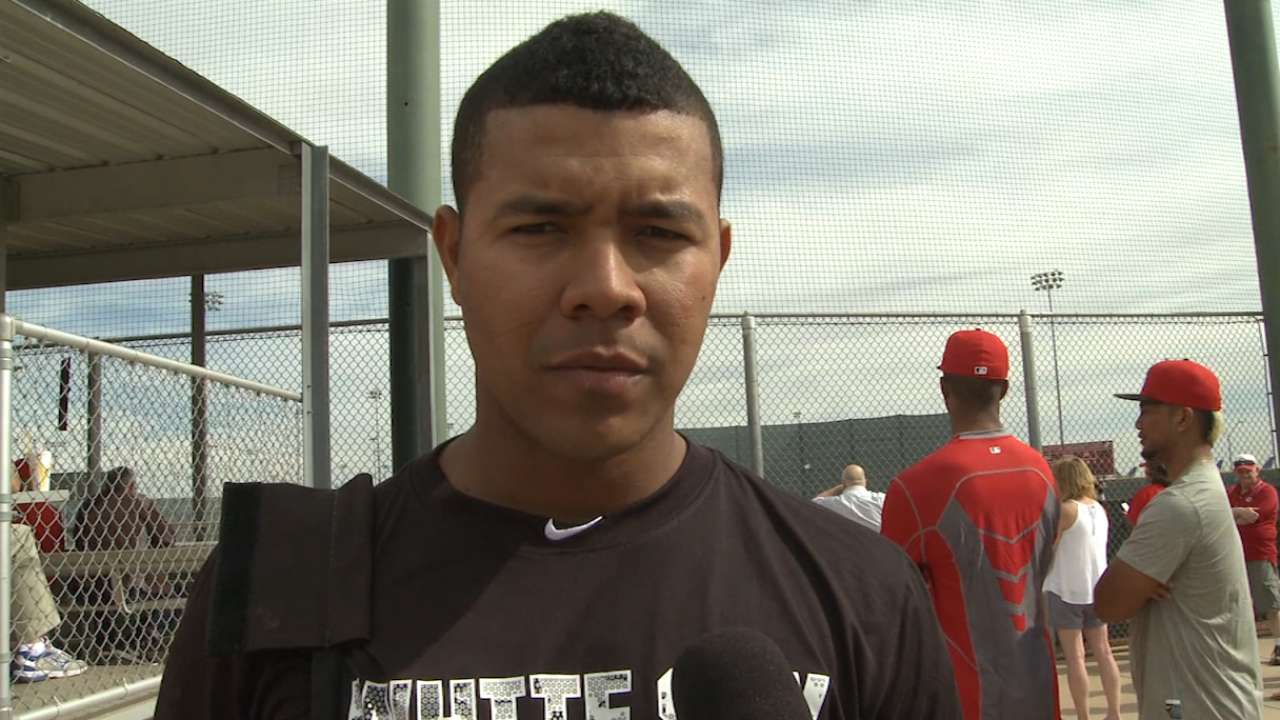 • Konerko celebrated his 40th birthday on Saturday.
• Ozzie Guillen, the manager of the 2005 World Series champions, attended the game on Saturday in Surprise.
They said it
"They are probably a little preoccupied. They are going to have a lot of extracurricular stuff going on. They are going to be just fine." Ventura on the Royals.
Scott Merkin is a reporter for MLB.com. Read his blog, Merk's Works, follow him on Twitter @scottmerkin, on Facebook and listen to his podcast. This story was not subject to the approval of Major League Baseball or its clubs.