For Fulmer, 'awesome' to face World Series champs
'It was a once-in-a-lifetime experience,' top prospect says of debut start
SURPRISE, Ariz. -- It was about eight months ago that Carson Fulmer was a standout pitcher for Vanderbilt against Virginia in the College World Series as part of a repeat title effort for the Commodores.
Fast forward to Saturday afternoon at Surprise Stadium, and Fulmer made his Cactus League debut against the defending World Series champions from Kansas City in an eventual 7-6 win.
In fact, the White Sox top-rated prospect per MLB Pipeline took the mound shortly after the Royals presented their World Series trophy to their fans in Arizona.
• White Sox Spring Training info
"Being able to get thrown out there and get that experience is huge," said Fulmer, featuring the same broad smile he's had since the start of his first big league camp. "It was awesome.
"They're experienced hitters, they know what they're doing, they have a plan. Being able to compete against them and challenge them was awesome. It was an once-in-a-lifetime experience and hopefully it can happen here soon."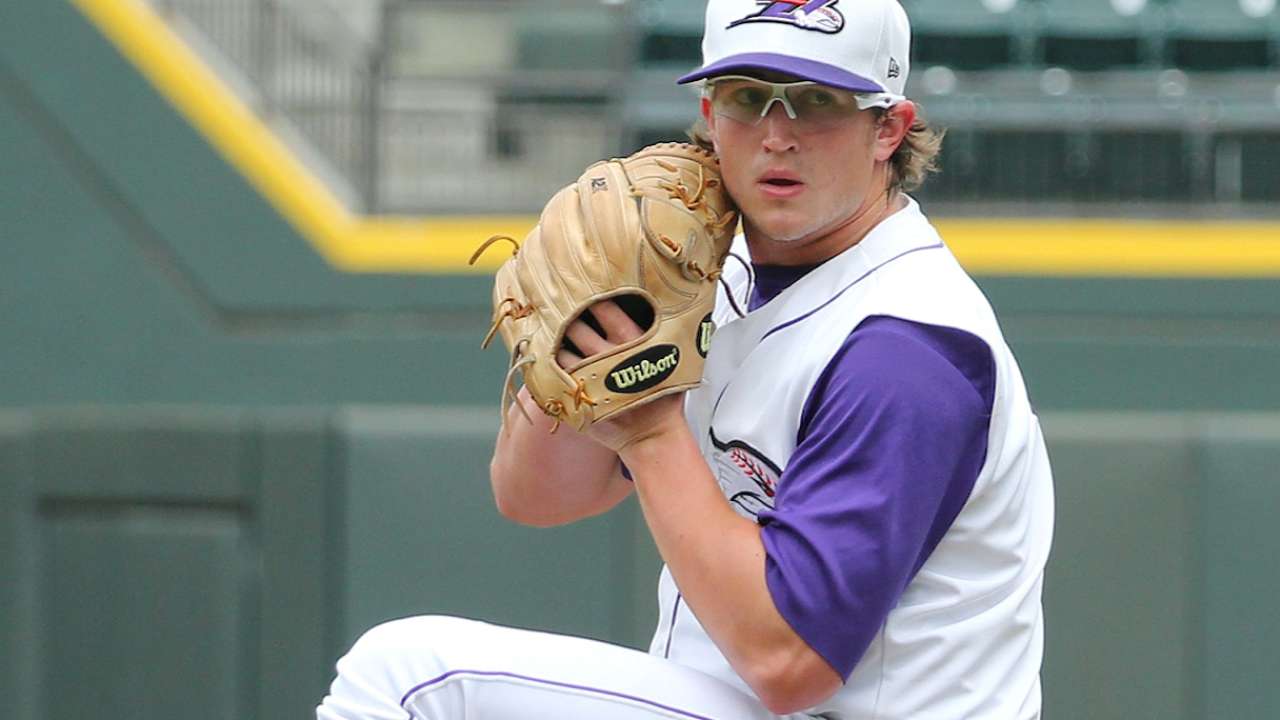 Fulmer went against Alcides Escobar, Mike Moustakas, Kendrys Morales, Eric Hosmer and Salvador Perez, among the players who contributed to the 2015 title. He threw 30 pitches, with 19 going for strikes, and consistently hit 93 to 94 mph on the radar.
Within five pitches, the Royals had scored off of Fulmer via Escobar's double over the head of left fielder Jerry Sands and Moustakas' single. But he got out of the first with a Perez double-play grounder, and his pitch count was economical enough to start the third.
"I felt like I was in the zone. I really pounded the strike zone, slipped up on a few breaking balls," said Fulmer, who allowed three runs on five hits over two-plus innings. "The one that hit Escobar slipped up on me, but I threw my changeup for a strike, four-seam, two-seam, down in the zone. I felt great and I'm very happy with what happened out there. You've got to take the positive stuff and move forward."
"You are trying to give him an experience of facing tough lineups. He gets the World Champions," said White Sox manager Robin Ventura of Fulmer. "I thought he was amped up and probably rightfully so. He was overthrowing a little bit. He's getting to face really good lineups as far as going through that front part."
Ventura said Fulmer would start on Thursday in one of the White Sox split-squad games, either at home against the Royals or in Surprise against the Rangers.
Scott Merkin is a reporter for MLB.com. Read his blog, Merk's Works, follow him on Twitter @scottmerkin, on Facebook and listen to his podcast. This story was not subject to the approval of Major League Baseball or its clubs.