Maeda adjusts quickly in stellar LA debut
Dodgers righty admits to nerves, but pleased with results
PHOENIX -- As two scoreless innings in his Cactus League debut on Saturday indicate, Dodgers pitcher Kenta Maeda's transition from Japan to the Major Leagues is going well, if not without the occasional surprise.
One came early in the Dodgers' 7-2 win, when Maeda suddenly saw his fielders running around like it was some kind of fire drill. That was his introduction to defensive pull shifts, the now commonplace tactic in the big leagues that hasn't made its way across the Pacific yet.
"That was the first time I've experienced that," said Maeda, who hasn't been included in shift drills this spring, either. "I was a little surprised at first."
And at third. Before the first inning was over, the D-backs tested the Dodgers on the shift as Phil Gosselin tried to steal third base with two outs while Dodgers third baseman Elian Herrera was redeployed somewhere in right field.
• Dodgers Spring Training: Tickets | Schedule | Information
Catcher Yasmani Grandal caught Maeda's pitch and played it perfectly, hesitating briefly to allow shortstop Corey Seager to outsprint Gosselin to the third-base bag, then firing a throw that allowed Seager to place a slap tag while he was still moving and the inning was over.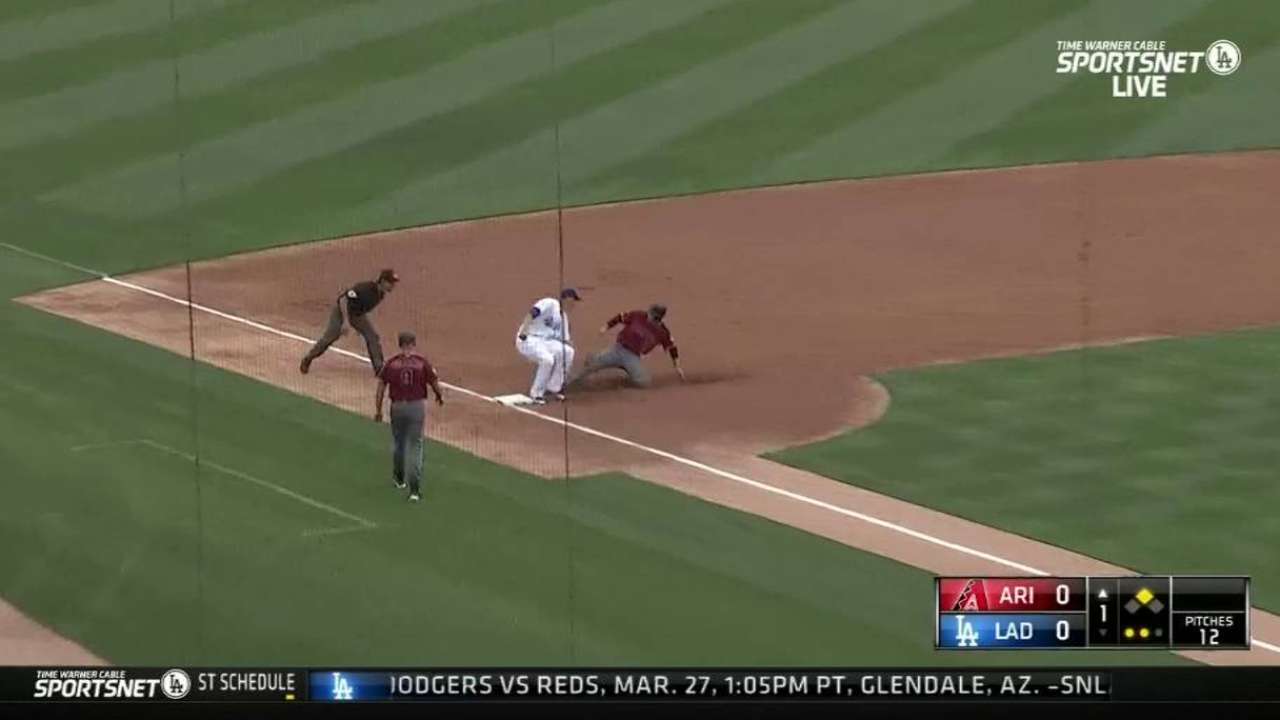 "We might want to practice that a little more throwing to third with the shift," said Grandal. "It was a pretty hard throw there, almost like a quarterback, I had to lead him."
Maeda wasn't really sure what was going on, but he liked the outcome, which ended the inning.
"I was not too worried," he said. "I trust the Dodgers making the right decision. My job is to be able to pitch and get ground balls for the infield."
Also strikeouts, apparently, as Maeda fanned two, the only hit being Gosselin's double just inside third base, albeit the D-backs sent a lineup lacking Paul Goldschmidt, A.J. Pollock and most Arizona starters.
"He was very efficient," manager Dave Roberts said. "Seeing the way they were swinging, some deception is there."
Maeda said he was a little bit nervous before his first start, but was pleased with his command. His fastball topped out at 93 mph and presumably there is more to come, this being his first game against opposing hitters.
"It was my first appearance in front of the fans and I wanted to make a good impression today," he said. "I want to continue what I did today and be even better next time around."
The game was televised live back to Japan, with first pitch at 5 a.m. Sunday, although Maeda wasn't sure how many alarms were set.
"If it was myself, I would have been sleeping," he said. "I'm sure a lot of people will catch the evening highlights."
Grandal said, "Everything I saw I liked. He did exactly what he wanted to do. I'm happy with his performance and hope he keeps it going."
The Dodgers had other solid pitching performances, including two innings with four strikeouts from Jose De Leon, a scoreless inning each from Luis Avilan and 41-year-old Jamie Wright; and two scoreless innings with three strikeouts from Chris Anderson. De Leon and Anderson are longshots who could fight their way into the rotation competition.
Ken Gurnick is a reporter for MLB.com. This story was not subject to the approval of Major League Baseball or its clubs.