Oh ends rally in perfect first outing for Cardinals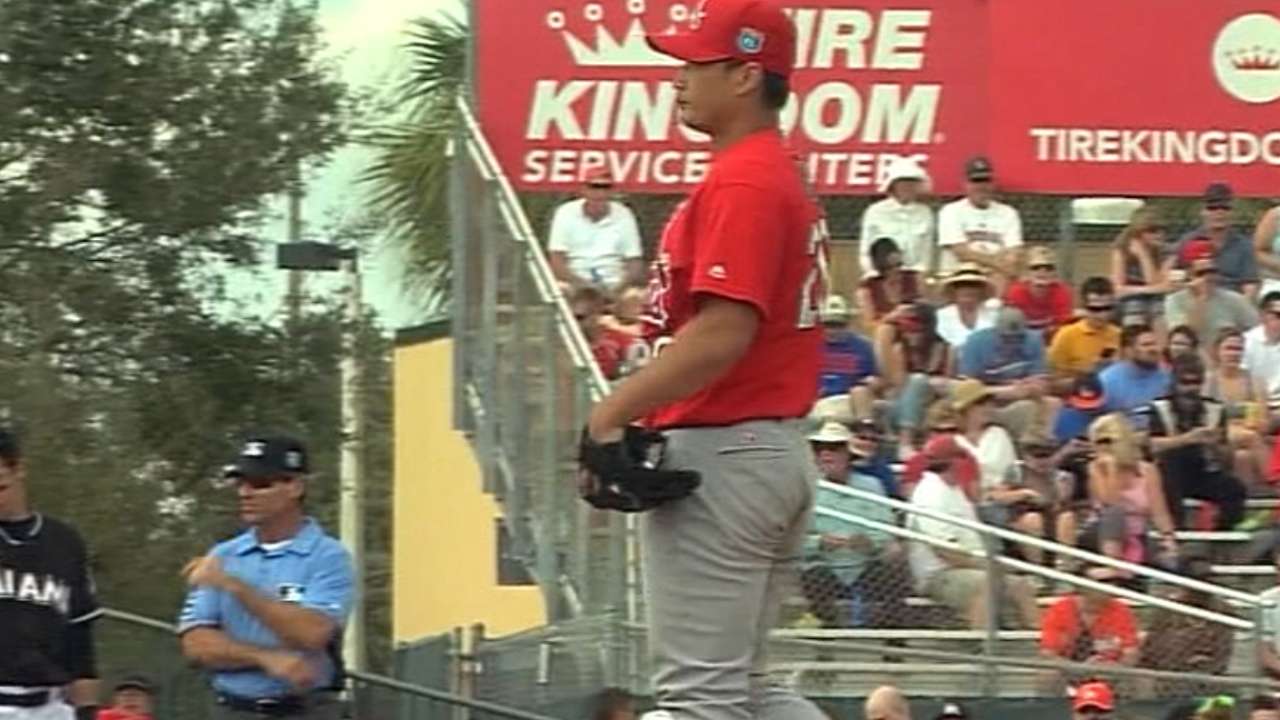 JUPITER, Fla. -- Cardinals fans got a glimpse Saturday afternoon of what Korean and Japanese baseball fans witnessed for several years before Seung Hwan Oh signed a free-agent contract with St. Louis in January.
Oh retired all four batters he faced in relief of starter Marco Gonzales in the Cardinals' 3-2 win over the Marlins at Roger Dean Stadium. He entered the game with two outs and the bases loaded in the bottom of the third inning and got out of the jam when he got J.T. Realmuto to fly out to right field to end Miami's two-run rally.
Oh pitched a perfect third inning to put an exclamation point on his first Grapefruit League appearance after spending the past 11 years pitching in Asia.
"I wasn't too much thinking about the results yet, just more about balancing," Oh said through an interpreter after his outing. "I'm pretty satisfied in terms of my pitches, satisfied with movement on my pitches. I felt good, throwing where I wanted."
Oh is the all-time saves leader in the Korea Baseball Organization, and the Cardinals signed him hoping to add some much-needed depth to the back end of their bullpen. It's only one appearance, but Oh has made a positive impression on Cardinals manager Mike Matheny.
"He was good. He missed a good part of the bat. That's what he does," Matheny said. "He's moving the ball around. He's changing speeds. Movement looks good. He's getting outs. If he gets outs, we're going to love him."
Oh said he doesn't want to get too excited about only one game this early in Spring Training, and that his primary goals the next four weeks are to be in shape by Opening Day and further honing his control and command.
"I'm just taking it step by step," Oh said.
Worth noting
• Gonzales was victimized by two Cardinals errors that led to the Marlins' only two runs in the third inning. Gonzales gave up four hits in 2 2/3 innings. He threw 45 pitches, 29 for strikes. Matheny had nothing but praise for Gonzales after the game.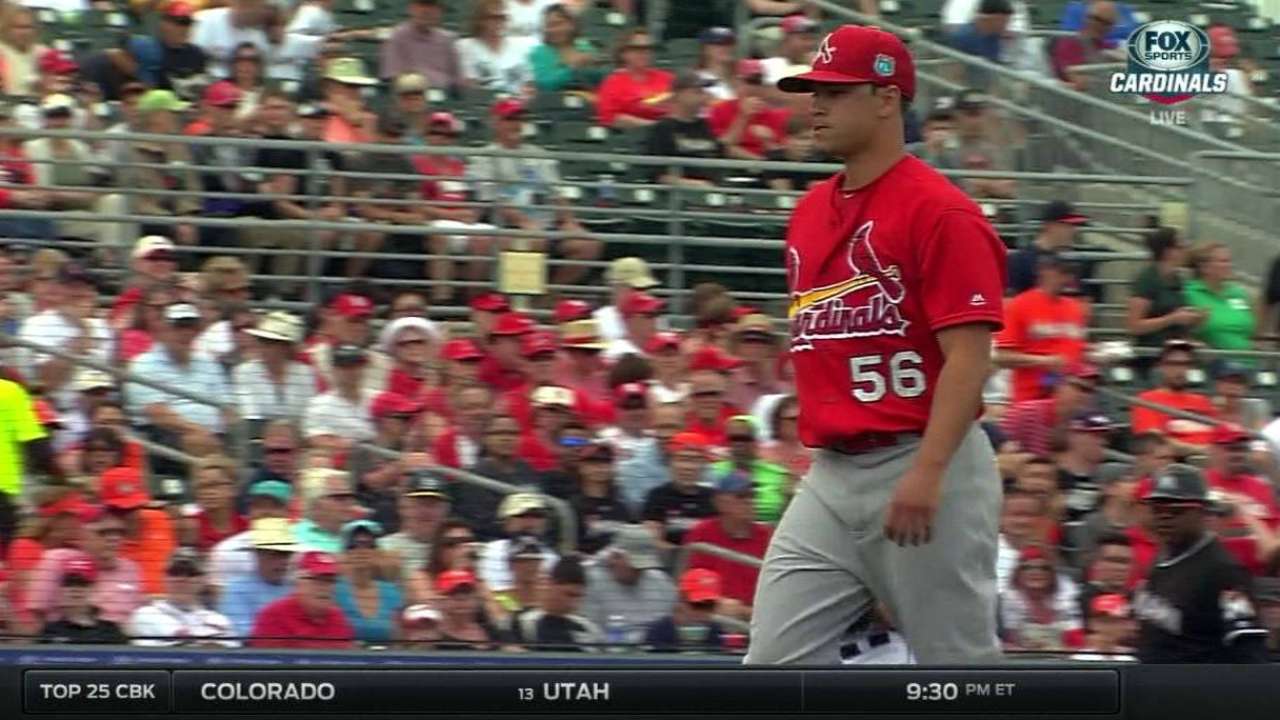 "Marco was good," Matheny said. "I liked the way the fastball was coming out. The changeup was good, good speed to it, and he used quite a few cutters."
• Mike Ohlman had a nice game behind the plate after taking over catching duties for starter Brayan Pena. Ohlman went 1-for-2 with an RBI and was impressive defensively.
"He had two quality at-bats. Big day," Matheny said. "Big RBI, did a nice job behind the plate, threw out a very good basestealer. Michael had a good day. [It's] night-and-day difference from last year. He's a tremendously better receiver. He's throwing the ball better."
• Matheny said that ace Adam Wainwright will make his first Grapefruit League appearance on Monday when the Cardinals face the Mets in Jupiter. Michael Wacha is scheduled to make his first start this spring on Tuesday when the Cardinals travel across Florida to face the Twins in Fort Myers. Matheny said that it's "possible" that Mike Leake could follow on Wednesday against the Marlins in Jupiter.
Steve Dorsey is a contributor to MLB.com. This story was not subject to the approval of Major League Baseball or its clubs.