Eager Miller relies on curveball in debut
D-backs pitcher experiences familiar butterflies in first outing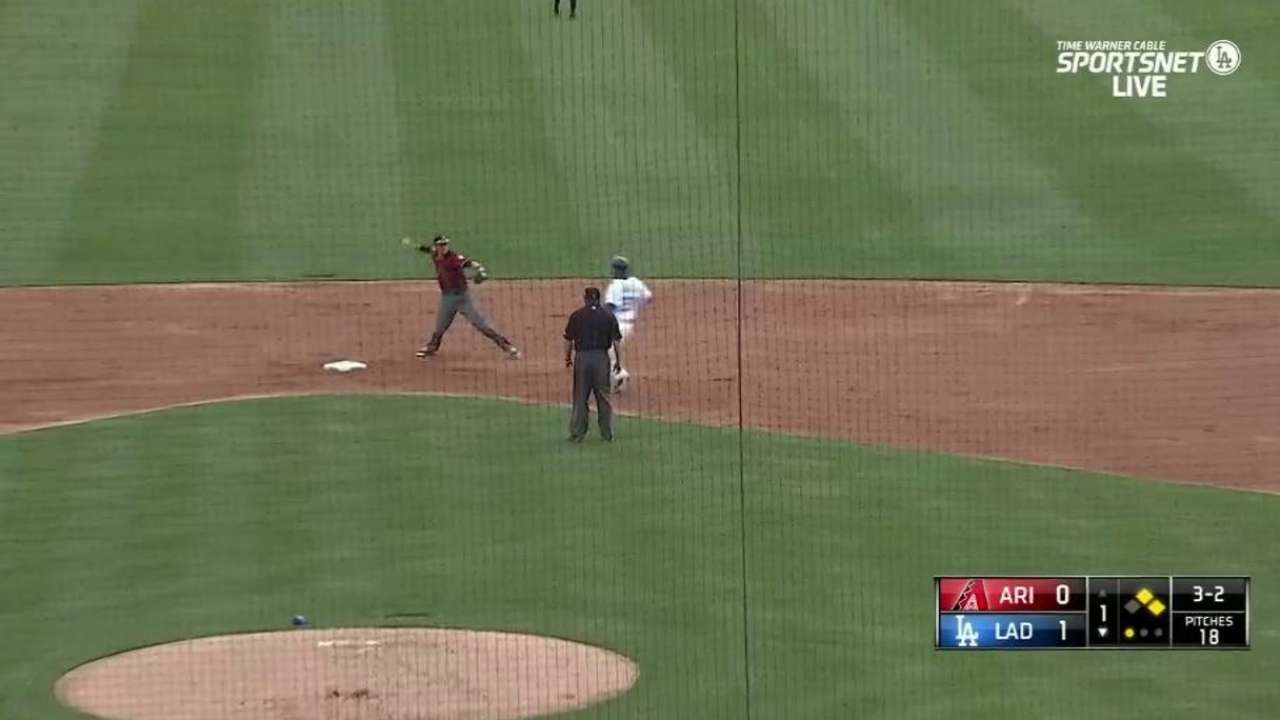 PHOENIX -- There were nerves for Shelby Miller on Saturday afternoon when he toed the rubber for his first spring game for the D-backs -- a 7-2 loss to the Dodgers -- since the December blockbuster trade that delivered him to the desert.
But that's standard for Miller when he takes the mound and was not related to his D-backs debut.
"We're pros, but at the same time we're kids doing this as well," Miller said. "If we weren't getting butterflies it wouldn't be as fun. I know every guy is excited to get back out there and anxious. It's nice to get that first one out of the way. Personally I have butterflies. I like pitching with them."
• Spring Training: Tickets | Schedule | More
Miller's outing was an example of the balancing act that pitchers go through during the spring as they try to work on a particular pitch while at the same time the competitor in them wants to get outs.
After talking with pitching coach Mike Butcher, Miller wanted to work on throwing his curveball more after his usage of the pitch dropped from 19.2 percent in 2014 to 9.8 percent last season.
"Me and Butch and have kind of decided it's one of my better pitches and the biggest thing is building confidence in pitches," Miller said. "The more you throw them, the more you throw them for strikes. And then you can throw them for strikes when you're behind in the count. I'm working on my curveball right now and I felt like I did a good job throwing that for some strikes and I felt like it was sharp."
Miller was pleased with a few of the curves he threw Saturday, though he would have rather had a better overall result.
In two innings of work Miller allowed two runs on five hits with a walk and no strikeouts.
There was a positive to take out of the hits as four of the five came on grounders and the other was a bloop single to right.
Keeping the ball down is a focus for Miller.
"Felt like the fastball was down for a majority of the time," Miller said. "One of the biggest things is you want to get ground balls. One of the things we preach is there are only two places on the field where you can give up an extra-base hit on the ground and that's down the lines."
Steve Gilbert is a reporter for MLB.com. Follow him on Twitter @SteveGilbertMLB. This story was not subject to the approval of Major League Baseball or its clubs.