Davis 'happy' in new home in Oakland
Ex-Brewers slugger expected deal as Crew rebuilds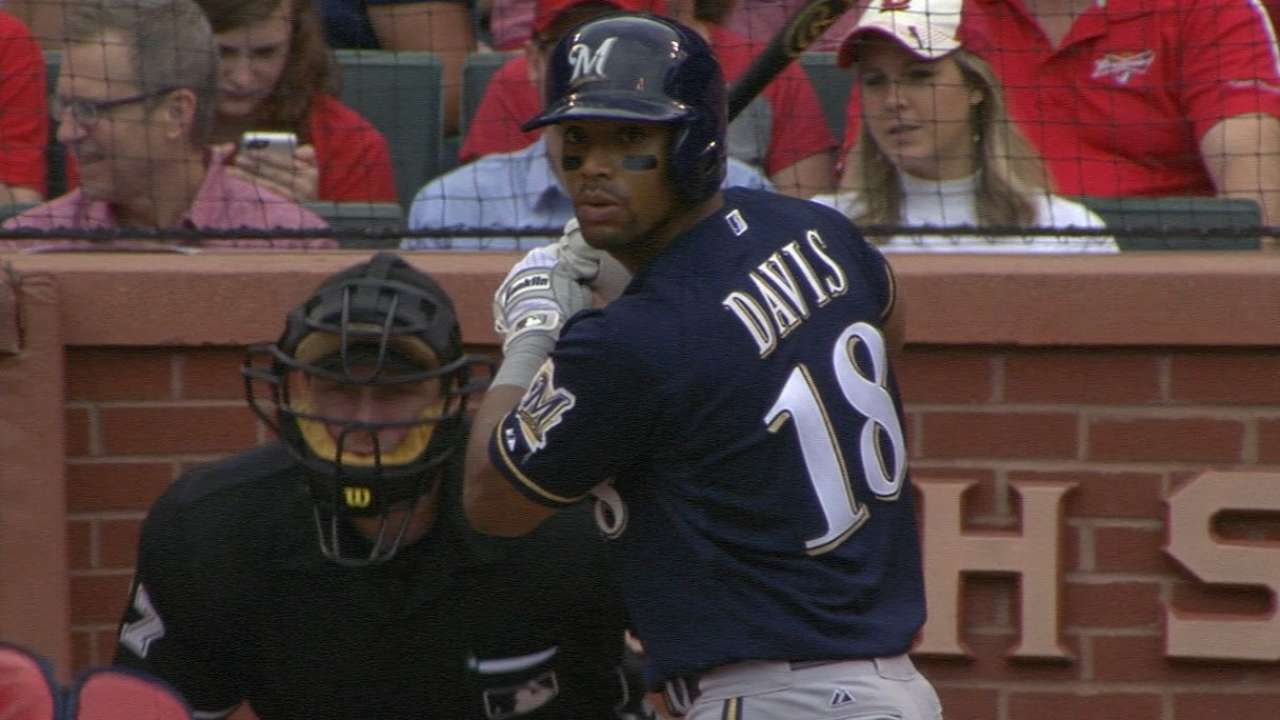 MESA, Ariz. -- Khris Davis bore a look of concern as he inquired about an old friend from Brewers camp.
"What am I hearing about Hank and these rumors he died?" Davis asked Saturday, when his old team visited his new one, the A's, at HoHoKam Stadium.
• Brewers Spring Training info
Hank the Dog was just fine, a visitor assured, and Davis returned to his previous state of contentment. He's a happy man these days, feeling right at home with the A's since they acquired him Feb. 12 in a trade with the rebuilding Brewers.
Davis had the day off Saturday, but is penciled in as Oakland's starting left fielder for the regular season. In Milwaukee, he would have had to battle up-and-comer Domingo Santana for playing time.
"I'm happy," Davis said. "I come to the ballpark with a smile on my face. It's been a while since I felt like this."
He did not necessarily mean that as a knock on the Brewers, who drafted Davis in 2009, developed him in the Minor Leagues and gave him his big league break in 2013, when Davis became Milwaukee's everyday left fielder in the wake of Ryan Braun's suspension.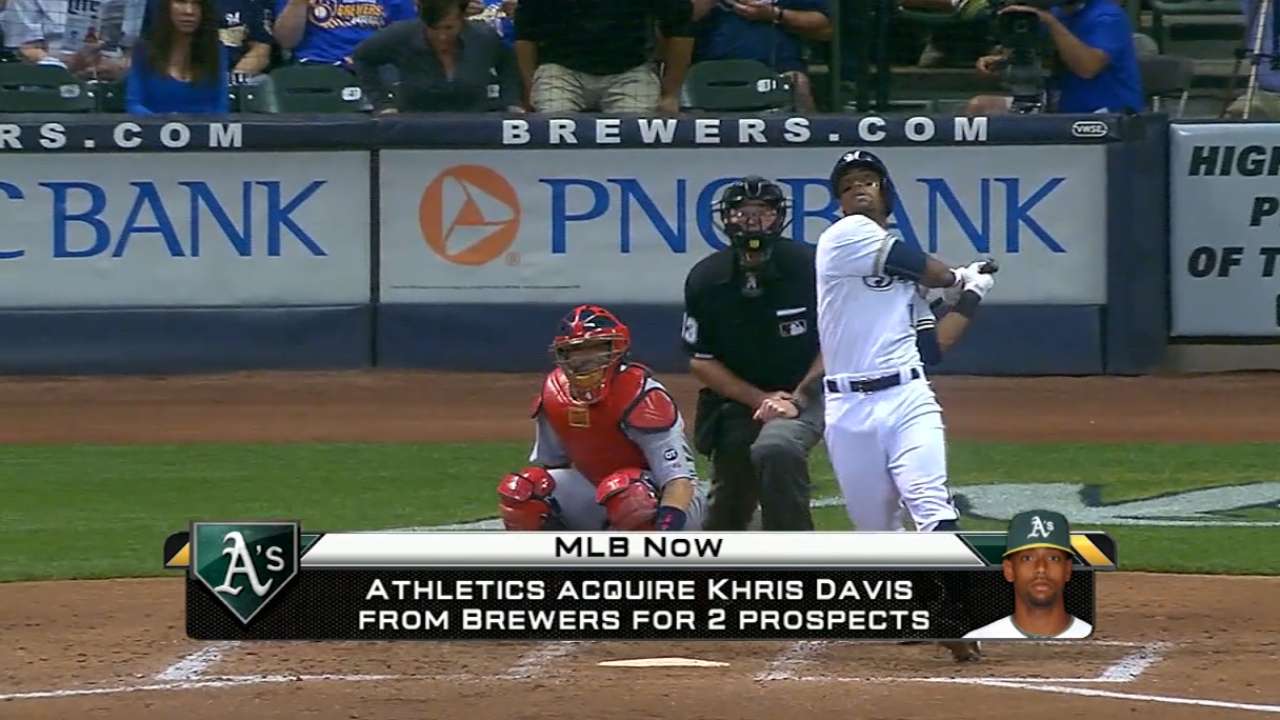 Davis remained there for the next 2 1/2 seasons, hitting 60 home runs with an .809 OPS while Braun manned right field. But Santana's arrival late last season as part of a trade with the Astros gave the Brewers three players for two corner outfield spots, and with Braun just entering a five-year, $105 million contract extension, and new GM David Stearns making trade after trade to rebuild the Brewers' prospect stockpile, Davis wondered whether his days were numbered.
A week before Brewers pitchers and catchers reported for Spring Training, Davis was shipped to the A's for catching prospect Jacob Nottingham and pitching prospect Bubba Derby.
"I know they traded [Francisco Rodriguez], and I heard Stearns mention that the bullpen was expendable," Davis said, referring to Stearns' assertion that the team was deep in relievers. "I looked at my situation and knew there were options. I was expecting something. Not necessarily me, but I was open-minded. I never know where this game was going to take me."
Davis described a laid-back A's clubhouse, which happens to include a couple of other former Brewers in John Axford and Chris Smith.
Will he follow the Brewers?
"A little bit," Davis said. "I came up with Scooter [Gennett], so that's my only little connection to the Brewers. ... A lot of the guys that I was linked up with, who I looked forward to going to the park, close friends, got released or whatnot."
A glance at Davis' Draft class bears that out. Eight of the Brewers' selections in 2009 made it to the Majors, though only Gennett and pitchers Hiram Burgos and Tyler Cravy remain in the organization. Notable Minor Leaguers from that Draft have also moved on, including top pick Eric Arnett to supplemental first-rounders Kentrail Davis and Kyle Heckathorn.
"Paths separate," Davis said. "It's nothing I haven't dealt with."
Adam McCalvy is a reporter for MLB.com. Follow him on Twitter @AdamMcCalvy, like him on Facebook and listen to his podcast. This story was not subject to the approval of Major League Baseball or its clubs.