Glasnow struggles in spring debut against Braves
Pirates' top prospect allowed two runs in 1 2/3 innings
LAKE BUENA VISTA, Fla. -- Throwing more balls than strikes was not what Pirates top pitching prospect Tyler Glasnow had in mind for his Spring Training debut. But when his 1 2/3 innings of work were complete, a trip through the Braves' lineup left Glasnow with 23 balls and 22 strikes on the day.
"I think I'm thinking too much on mechanics and the things I need to work on, rather than just go out and compete," Glasnow said after the Pirates' 9-6 win.
• Taillon solid in spring debut with Pirates
After a leadoff single by Michael Bourn squirted past second baseman Sean Rodriguez, Glasnow got a first-pitch flyout to center from Nick Markakis.
But then Glasnow stuck himself in the fire for a long first inning in his 2016 spring debut: He balked, walked Freddie Freeman on a full count and then threw a wild pitch to Kelly Johnson, leading to a walk to load the bases.
"I was confused, too, on that [balk]," Glasnow said. "Just brushed it off and … kept going."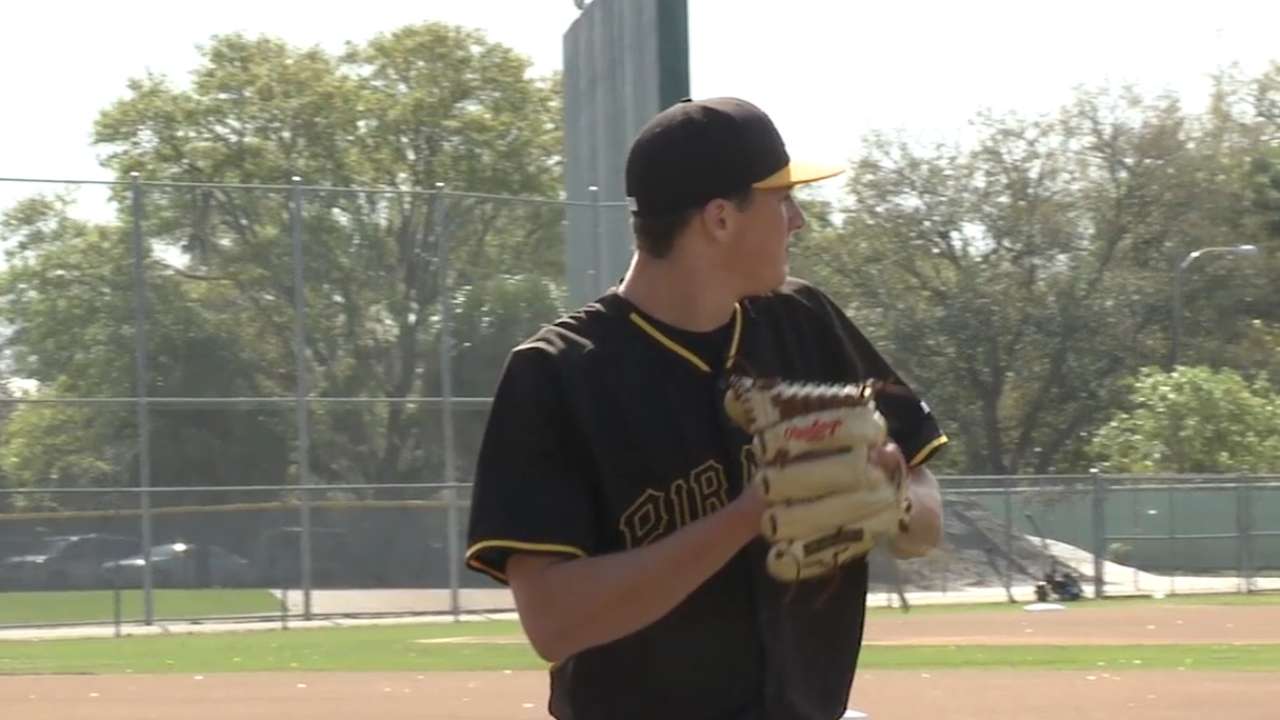 A.J. Pierzynski turned up the heat with a comebacker that scored Bourn and Freeman, before Tyler Flowers grounded to Rodriguez to start an inning-ending double play and remove Glasnow from a laborious jam.
"I had a lot of pitches, and I knew I was going to be on a shorter leash in the second," Glasnow said. "I just tried to go out and try to treat it like any other inning."
Glasnow continued to struggle in the second, falling behind in counts. He walked Gordon Beckham with one out and then got Daniel Castro to fly to right, escaping one of many full counts.
After 45 pitches through 1 2/3 innings, manager Clint Hurdle decided Glasnow's day was done.
"For younger players that want to do well, they work hard, they throw their sides, they want to dot everything up," Hurdle said of Glasnow. "I said, 'Son, just get out there and play ... Go have some fun with it.'"
Zak Kerr is a contributor to MLB.com. This story was not subject to the approval of Major League Baseball or its clubs.