Stronger Rea seeing early gains this spring
Padres No. 4 prospect put on size this offseason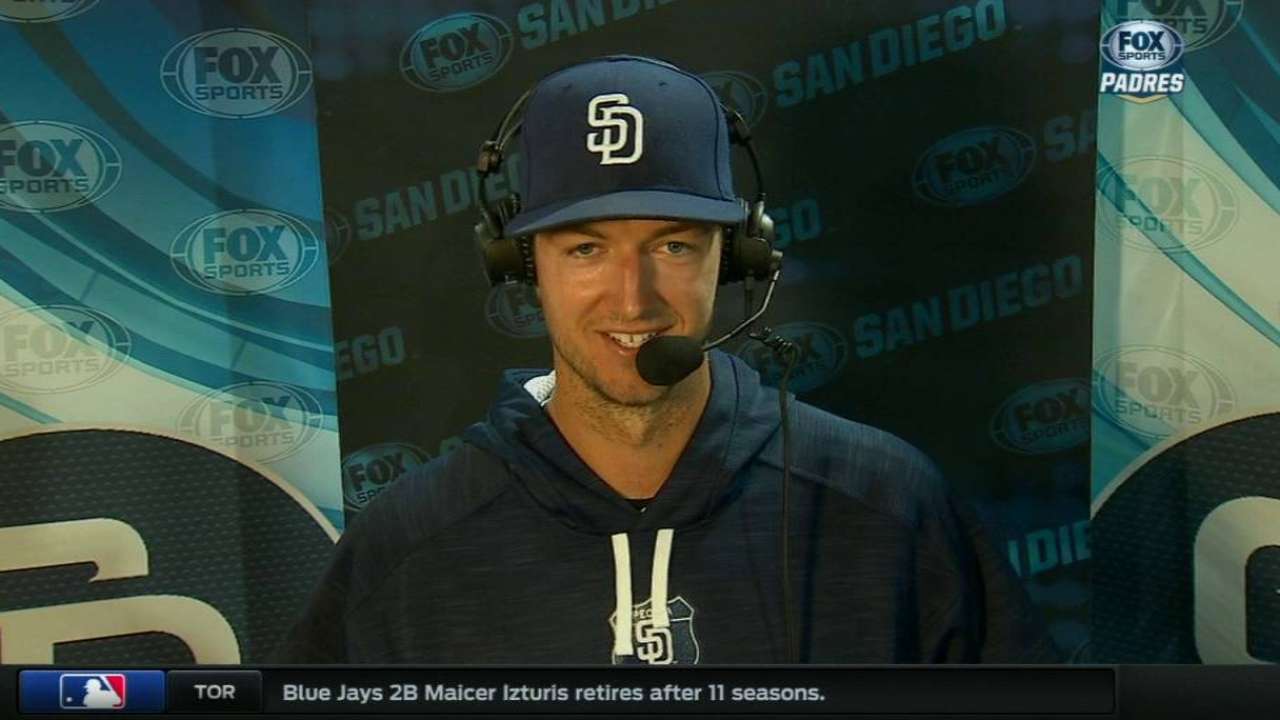 PEORIA, Ariz. -- Colin Rea didn't need to go over a chart of his pitches or check his velocity from his first start Friday to validate that he feels like a different pitcher.
His body affirmed as much for him.
"Last night after [the game] I went in the weight room and I noticed that my legs were a little more fatigued than normal," Rea said. "I hope that means I'm using my lower body more than I have in the past. If I do that, it will take some stress off my arm."
Rea's body rebuild this spring -- he's 23 pounds heavier than he was at the end of the regular season -- is already producing big gains.
Rea threw 15 pitches that were clocked at 93 mph or higher in his two-inning stint against the Royals, including nine at 94 mph or higher.
Last season in his six-start stint with the Padres, Rea averaged 92.65 mph with his fastball, according to Brooks Baseball.
A rigorous offseason workout plan, designed by Padres strength and conditioning coach Brett McCabe, which included lifting heavier weights and fewer repetitions to build muscle, has reshaped Rea's frame.
Rea, the team's No. 4 prospect, according to MLB Pipeline, said he finished last season feeling unstable while on the mound, like his legs weren't under him as well as feeling his core strength wasn't where it needed to be.
Rea reported to camp at 230 pounds with the intent of playing at 220 pounds most of the season.
"I felt pretty good last night," he said. "For the most part, my timing was on. All my pitches felt pretty good."
Rea also landed three curveballs for strikes, a pitch the Padres want him to use more moving forward.
"That felt good last night," Rea said. "The biggest problem for me with that pitch is not trying to do too much with it. Throwing it like my fastball and not trying to overthrow it."
Rea's two scoreless innings weren't without drama, as he loaded the bases with two outs in the second inning. That's when he struck out Drew Butera, catching him looking at a called third strike.
"That one felt pretty good," Rea said, smiling.
Corey Brock is a reporter for MLB.com. Keep track of @FollowThePadres on Twitter and listen to his podcast. This story was not subject to the approval of Major League Baseball or its clubs.