Eovaldi feels good after simulated game
Righty says he is ready to make first spring start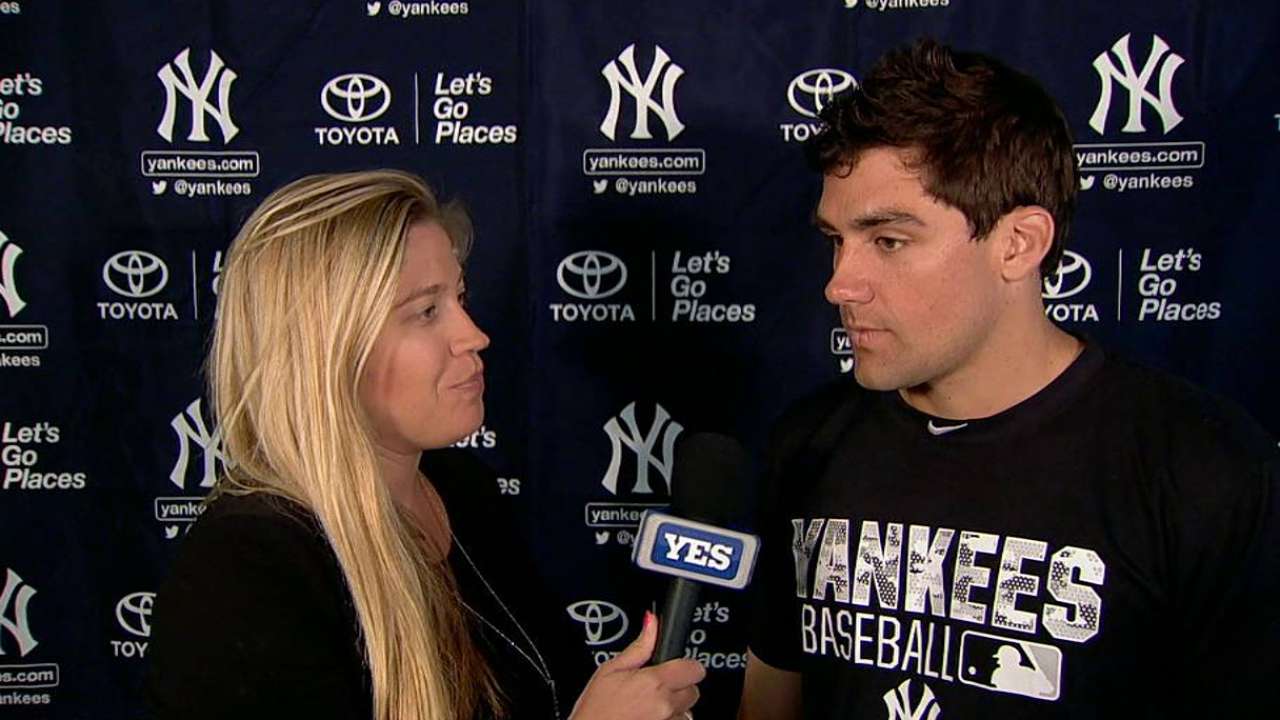 TAMPA, Fla. -- Yankees right-hander Nathan Eovaldi threw 31 pitches in a simulated game on Saturday at George M. Steinbrenner Field, and said he is ready to make his first start of the spring.
"Everything felt good today; just trying to work on fastball location," Eovaldi said, on a day the Yankees also beat the Red Sox, 6-4. "The split and slider, I was trying to [get] those into the mix, as well. I didn't throw any curveballs, we're going to wait. [Pitching coach] Larry [Rothschild] just wanted to work on that a little later. We'll work on these three pitches first."
• Spring: Tickets | Ballpark | 40-man roster | NRIs
Eovaldi was slowed early in camp by tightness in his groin, sustained while performing conditioning drills. He induced two grounders to the right side of the infield on Saturday, facing Carlos Corporan and Chris Denorfia, and had no trouble as he simulated covering first base.
The Yankees have scheduled Eovaldi to make his first spring start on Thursday at home against the Blue Jays. Eovaldi led the Yankees with 14 victories last season, but had his season cut short in early September by right elbow inflammation.
"I haven't had any issues with my arm. Everything has been feeling great," Eovaldi said. "Ready to go."
Jury still out on Judge
Aaron Judge has just 228 Triple-A at-bats under his belt, all coming last season during a time when he struggled against a steady diet of offspeed pitches. While Judge is expected to open the season back there, manager Joe Girardi left the door open -- if just a crack -- that Judge could hit enough this spring to force his way onto the Major League roster.
"There's that process that you want to see a player finish off, so when he comes, he's an everyday player," Girardi said. "And you want to make sure that it's finished off. Anything's possible, but my thought process is he'll be an everyday player and eventually we're going to see him everyday up here.
"... You can't get too caught up in it -- especially early on. But things happen. Sometimes guys end up making the club. I don't ever rule anything out."
Judge has wowed the Yankees with some moonshots in batting practice, plus Saturday's opposite-field, three-run homer off the Red Sox's Anthony Varvaro.
"I'm just trying to get at-bats, work on my timing, get into a groove," Judge said. "I'm trying to get all the ugly swings out now -- so when the season comes, we're ready to go."
Who's on third?
Rob Refsnyder will appear at third base on Sunday against the Phillies, as the Yankees audition him as a possible backup for Chase Headley. Refsnyder, normally a second baseman, said that he last played third base as a freshman at the University of Arizona, but he has been working with coaches to prepare for the assignment.
"Honestly, I'm not anticipating it's going to be smooth sailing, but I'll put in the work -- whatever it takes," Refsnyder said. "I'm pumped. Just to get the speed of the game, it's going to be tough, but I think I'm up for the challenge."
Yankees manager Joe Girardi said that he will be watching to see how comfortable Refsnyder looks at the hot corner; assuming, of course, that the Phillies cooperate and hit a few balls his way. If not?
"I won't be able to tell a thing," Girardi said, chuckling. "Sometimes that's what happens, too. You put a guy out there and they don't even get a ground ball, and you're like, 'Are you kidding me?' I hope he gets five or six, honestly."
Worth noting
• Dellin Betances and Andrew Miller will make their first Grapefruit League appearances of the spring on Monday, when the Yankees host the Astros at George M. Steinbrenner Field. There is no set date for Aroldis Chapman to pitch in a game, since he does not need to be ready for Opening Day.
Bryan Hoch is a reporter for MLB.com. Follow him on Twitter @bryanhoch, on Facebook and read his MLBlog, Bombers Beat. This story was not subject to the approval of Major League Baseball or its clubs.