Lefty prospect Strahm turning heads early
'He's one of those guys who is really coming on,' Yost says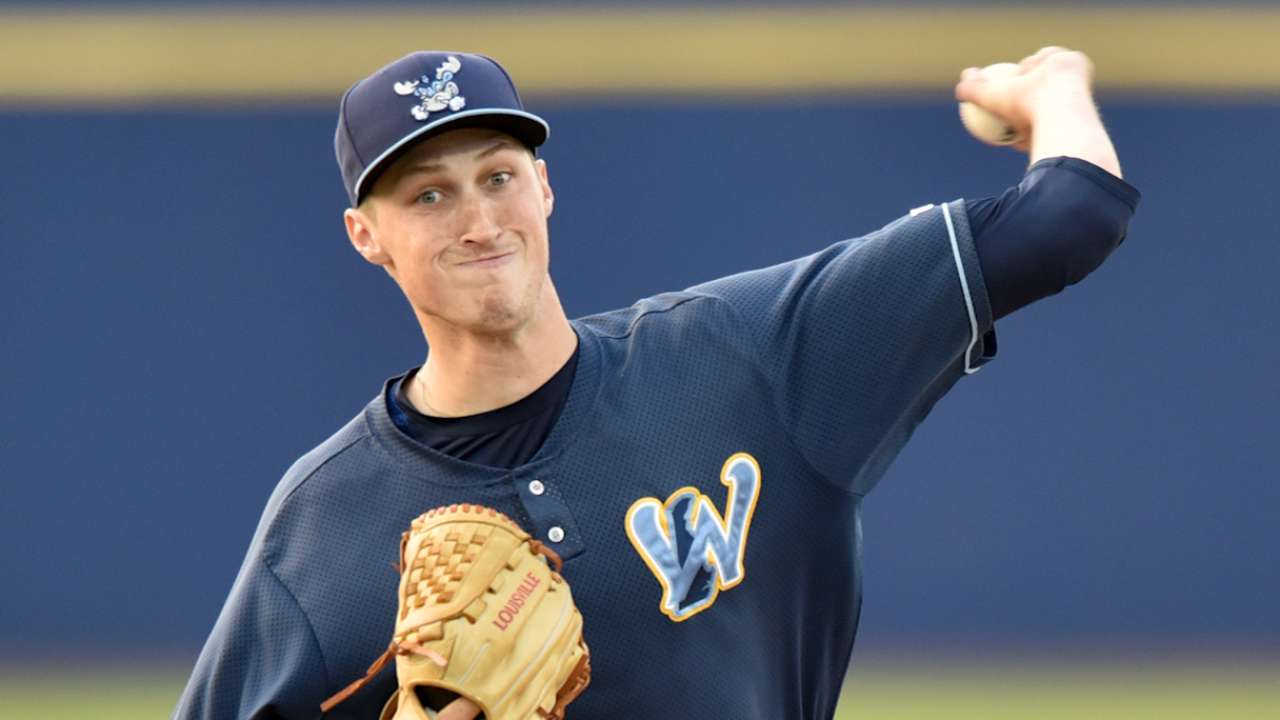 SURPRISE, Ariz. -- Every spring presents its share of early surprises, and here at the Royals' camp, that has been left-hander Matt Strahm.
Strahm, a 24-year-old who was a 21st-round pick in 2012, has impressed manager Ned Yost in side sessions and during live batting practice.
• Royals Top 30 Prospects list
And when Strahm got to show his stuff in a Spring Training game Friday night against the Padres, he didn't disappoint, tossing two scoreless innings. He worked quickly and at times seemed to overmatch big league hitters.
"He's one of those guys who is really coming on," Yost said. "There are a lot of things to like about him. He attacks, he competes. He doesn't look out of his element.
"Those are the type of kids that make you feel good about your depth."
Strahm, from West Fargo, N.D., had a rather large contingent of fans for his spring debut in Peoria, Ariz.
"Yeah, my mom was there with her two sisters," Strahm said. "And I had two cousins there with their kids. It was nice to see."
It isn't just Yost who has been impressed with Strahm. The Royals' front office raves about him as well.
"He's not scared out there," Royals assistant general manager J.J. Picollo said. "He's really got good stuff. And he works fast.
"We drafted him in the 21st round and there was a little hesitation. At the time he had a little bit of a funky delivery, but hey, 21st round, you go with the talent and work with it."
Strahm, who went to Neosho County Community College in Kansas, was a disappointment early on in his pro career. He posted a 5.64 ERA in rookie ball. But there was a reason.
"I had just been drafted and I didn't perform well," Strahm said. "I knew something was wrong [with my elbow]. I did the offseason throwing program, and then about a week before Spring Training something really didn't feel right in my elbow. I got to Spring Training and tried to rehab it and it never fixed itself."
The Royals' medical staff determined Tommy John surgery was necessary, and Strahm missed all of the '13 season rehabbing.
"It was a long 22 months," Strahm said.
But Strahm came back strong. He pitched 10 games in rookie league at the end of '14 and posted a 2.29 ERA.
Then Strahm came back even stronger last season. He had a 2.59 combined ERA in Class A Wilmington and Lexington.
The Royals thought enough of him to protect him from the Rule 5 Draft and put him on the 40-man roster.
Strahm throws a fastball that can reach 95 mph and said his out pitch is his curveball, which is a little more "slurvy" -- a combination of slider and curve.
Strahm's other weapon is his tempo. He works with a sense of urgency.
"I've always been quick," he said. "Even when I do my bullpens, I do them quick. It's something my junior college coach preached: Don't let the defense fall asleep behind you."
There was no chance of that Friday night when Strahm mowed down the Padres.
"He's someone to watch," Yost said.
Jeffrey Flanagan is a reporter for MLB.com. Follow him on Twitter at @FlannyMLB. This story was not subject to the approval of Major League Baseball or its clubs.