Cecil 'easygoing' when it comes to free agency
Reliever unsure about future, but open to any team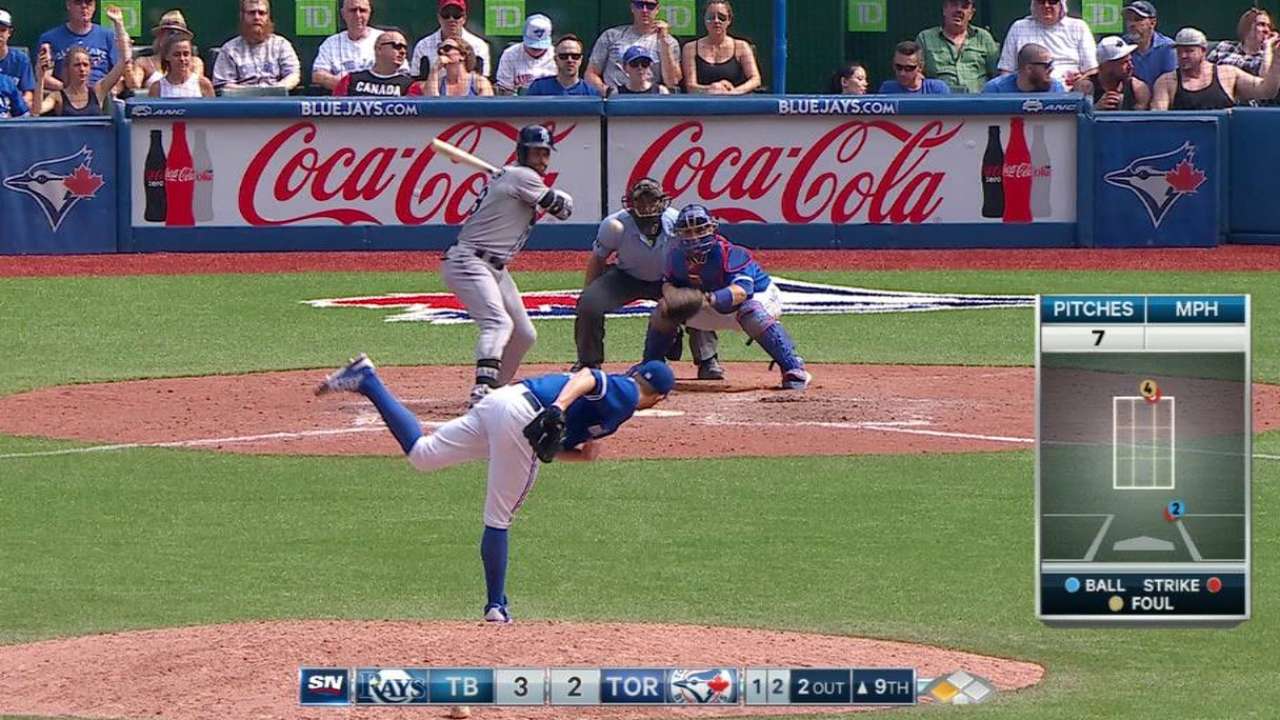 DUNEDIN, Fla. -- Jose Bautista and Edwin Encarnacion are not the only prominent pending free agents at this year's Spring Training. Eventually, the Blue Jays will also have to decide what to do with veteran left-hander Brett Cecil.
Cecil has been one of the most reliable relievers in baseball over the last three years. He was an All-Star in 2013, but an even more impressive feat came in '15, when he didn't allow a single earned run during the second half of the season.
• Spring Training: Tickets | Schedule | More
The 29-year-old has become an integral part of Toronto's late-inning relief, but it's possible this season will be his last with the Blue Jays. He's in the final year of his contract, and with skyrocketing salaries for relievers over the last few years, Toronto must decide whether to ante up or let him walk away at the end of the season.
"I'm up for whatever," said Cecil, who went 5-5 with a 2.48 ERA last year. "I'm not saying I'm doing this, I'm not saying I'm doing that. I'm open. I'm very easy to work with. That's one thing, I've heard I'm very coachable -- I don't know necessarily if this is a coachable situation -- I'm a very easygoing person.
"I'm very easy to work with, so there's not necessarily going to be any demands on what it's gotta be and stuff like that. If they want to talk, then we can talk. If not, then we don't."
The Blue Jays recently held preliminary discussions on a contract extension with Encarnacion, while Bautista met with the front office prior to his arrival in Florida. Despite the dialogue those parties had, Cecil admitted he's not aware of any planned contract discussions between his camp and Toronto's top brass.
Relievers used to be drastically underpaid compared to a lot of their counterparts around the game, but that is no longer the case. A large number of relievers struck it rich this winter, with Darren O'Day (four years, $31 million), Ryan Madson (three years, $22 million), Joakim Soria (three years, $25 million), Tony Sipp (three years, $18 million) and Mark Lowe (two years, $11 million) among those who received lucative deals.
Cecil will be in the same boat next offseason if he's able to continue on his current course. During parts of four seasons as a reliever, Cecil has a 2.85 ERA, 11.3 strikeouts per nine innings and is coming off a 2015 season that was arguably his best yet. He's going to get paid, but which team will be writing the cheque remains a big unknown.
"I've been able to see that through the last couple years," Cecil said of the soaring prices. "When the dollars start jumping like that, then you're going to see them one way or the other. I mean, it's great. Those guys are getting what they deserve, and like I said before, sometimes the hardest outs are in the seventh or eighth inning. We come in with runners on base, and typically closers get those clean innings. So, good on them for doing that."
Gregor Chisholm is a reporter for MLB.com. Follow him on Twitter @gregorMLB and Facebook, and listen to his podcast. This story was not subject to the approval of Major League Baseball or its clubs.