D-backs fund scholarship in Hahn's name
Club teams up with Arizona State University on endowment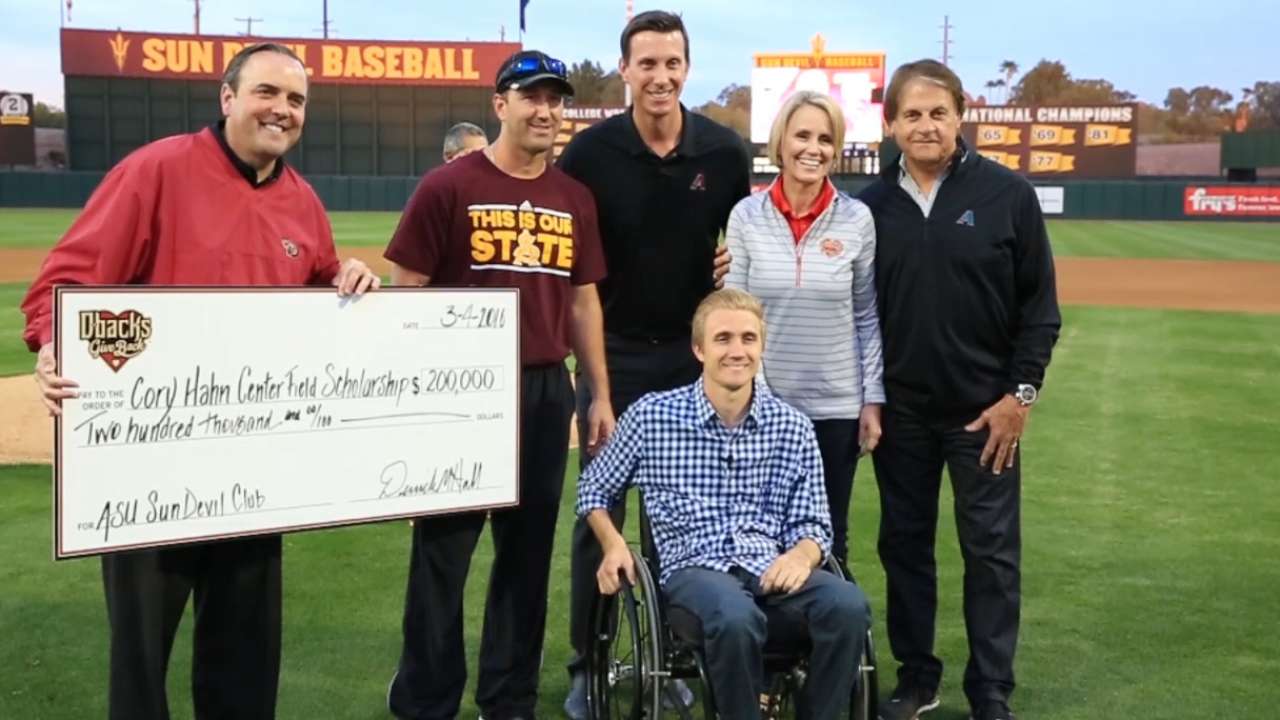 Another chapter was added to Cory Hahn's inspirational story on Friday night when he was honored with the Cory Hahn Center Field Scholarship Endowment.
The scholarship, a partnership between the Arizona Diamondbacks Foundation and Arizona State University, was created to honor Hahn's legacy to the program and provides athletic scholarships for the baseball program to recruit student-athletes.
"It bears my name on it, but it's much more than just me," said Hahn, now a scout for the D-backs. "It's everyone that's been there throughout the whole process, from ASU to the D-backs. This is going to help impact this program in a positive light."
Hahn was a top recruit out of high school, but in the first weekend of his freshman season he was paralyzed from the chest down sliding into second base. He remained active in the program while rehabbing, then in the 34th round of the 2013 Draft was selected by the D-backs with a job waiting for him upon graduation.
"When we first drafted him and promised him a job, it wasn't a gift for him, it was a gift for us," said Derrick Hall, president and CEO of the D-backs. "We did it because we know how special he is. Any recognition for him is well deserved, but then when there's an educational element to it as well … it's a perfect fit."
With a $700,000 goal for the endowment, the Arizona Diamondbacks Foundation jumpstarted the funding by committing $200,000 toward the $350,000 needed to establish it. ASU will then match those funds to reach the full amount needed for a lifetime scholarship.
Debbie Castaldo, vice president of community affairs for the club, said the D-backs were excited to jump on board as soon as they heard about the opportunity.
"Everybody knows what Cory means to our organization," Castaldo said. "But for our foundation to be able to step up to the plate and help create this scholarship that will live on in perpetuity is really special to Derrick, to Cory's family, to all of us that know and love him."
On "Cory Hahn Night" at Phoenix Municipal Stadium, the ASU baseball team surprised Hahn by unveiling his No. 34 on the right-field wall, opposite former ASU football player Pat Tillman's No. 42.
"It's pretty special, to just be on the same wall as him," Hahn said. "That's probably one of the few times I've been pretty speechless."
.@ASU_Baseball also surprised @CoryHahn34 by putting his #34 on the outfield wall, joining Pat Tillman's #42. pic.twitter.com/XHqgo8MJZE

— Arizona Diamondbacks (@Dbacks) March 5, 2016
Willie Bloomquist, another Sun Devil with D-backs connections as he donned the Sedona Red for three seasons, was honored to witness the ceremonies, calling Hahn an inspiration.
"Mentally he's still ready to take on the world, and I think that's a tribute to the kind of person he is," Bloomquist said. "For there to be a scholarship recognition in his name is awesome. Flat-out awesome."
For Hahn, the scholarship endowment and number unveiling are just the latest accomplishments he can add to a growing list since the incident. While he works toward his bigger goals, like regaining the ability to walk, he appreciates being a part of two supportive organizations that he described as families.
"When you see the two most important things to me come together," he said, "it leaves you with a whirlwind of emotions."
Kyle Payne is a social media coordinator for the D-backs and contributor to MLB.com.