First base goes better than CF for Baez
Cubs are having 23-year-old play multiple positions during Spring Training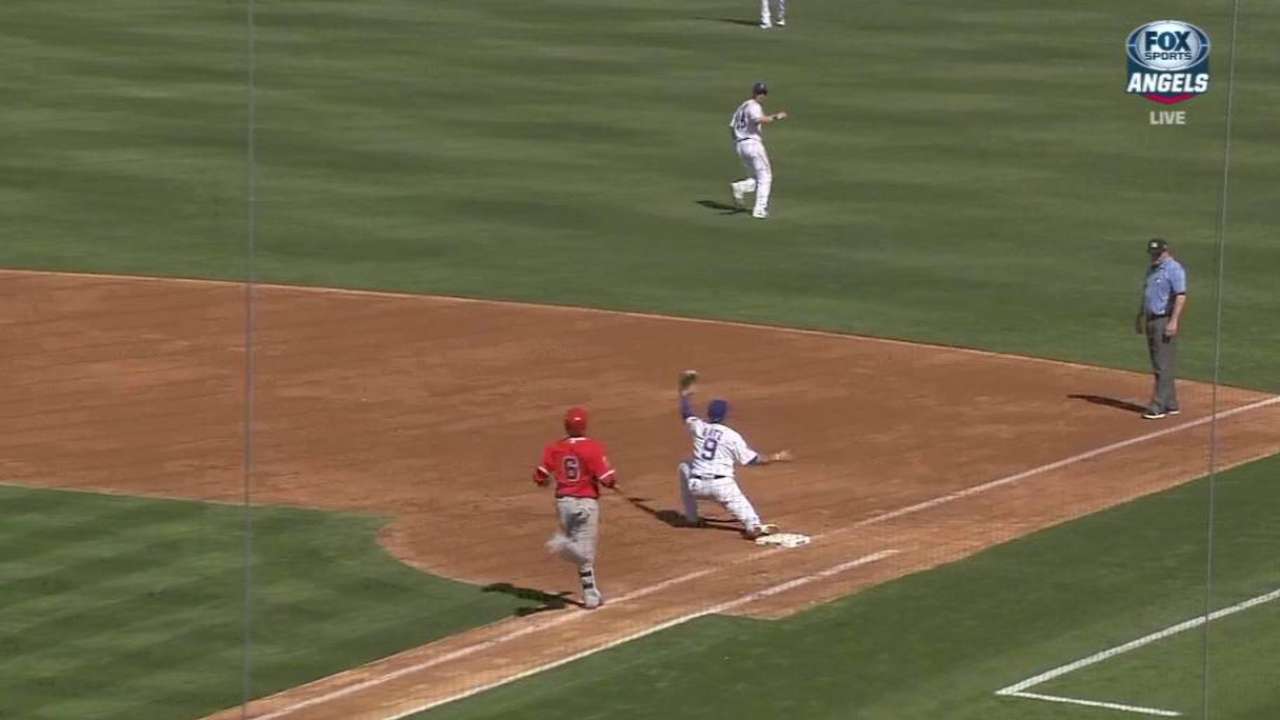 MESA, Ariz. -- Javier Baez may have to find a bigger locker to handle all the gloves he needs.
On Thursday, Baez started in center field in the Cubs' Cactus League opener, and during the club's 3-0 win on Friday, he was at first base, although he had to borrow a glove from a teammate. For a player who has spent his career playing middle infield, it's quite a switch. Is he a first baseman now?
"For now I am," Baez, 23, said Friday. "I know [Anthony Rizzo] is going to play every day. I'm there just in case they need me."
Spring Training: Schedule | Tickets | More info
Baez had an adventurous debut in center, misreading the first ball hit to him by Brewers leadoff man Jonathan Villar, which resulted in a triple. Villar then scored on a sac fly to Baez, who made an error on the next play, dropping a fly ball in right center.
"The only thing he did wrong on that first play was to not get off the wall," manager Joe Maddon said Friday. "As a young outfielder, you have to understand if he gets off the wall and keeps it to a double, that's the right play and it keeps [Villar] from scoring."
Maddon said it's tough to evaluate outfielders in Arizona because of the conditions.
"I've seen some really good outfielders here in Spring Training have a difficult time," Maddon said. "I don't worry about things like that. The mechanics are good, he cares, and that's all that matters."
Friday was a little easier for Baez, who handled all the throws, including an acrobatic toss from second baseman Ben Zobrist to get the Angels' Yunel Escobar leading off the third. The Cubs are hoping Baez can become more versatile, and more valuable, by playing multiple positions.
"My biggest concern right now with him is that he gets as much work in at a variety of positions as he can and just give him experience now," Maddon said. "There's nothing on the line, he can make mistakes and we can talk about it. He's a really good athlete and we can settle into one, maybe two positions. Right now, this helps us fit him in and it's good for him."
Carrie Muskat is a reporter for MLB.com. She writes a blog, Muskat Ramblings. You can follow her on Twitter @CarrieMuskat and listen to her podcast. This story was not subject to the approval of Major League Baseball or its clubs.